Building a home is no easy task. Homebuyers need to navigate the complexities of budget, design, and construction throughout the entire process. But there are additional obstacles that can significantly impede progress: material shortages and other unforeseen issues during the construction process.
Navigating these obstacles can be overwhelming, but with the right strategies and support, you can ensure a smoother and more enjoyable home-building journey.
In this article, we'll look at the causes of material and construction disruptions, discuss their impact on home construction projects, and explore strategies for coping with them effectively.
Common Causes of Material and Construction Timeline Changes
Turbulence with materials and construction times can be attributed to several factors, each of which can significantly impact the home-building process. 
The global pandemic and economic factors have been key contributors in recent years, as they have created uncertainty in the market. 
Supply chain disruptions, such as transportation issues or factory closures, directly affect the availability and cost of building materials.
Labor shortages, both skilled and unskilled, play a significant role in extending construction times, as fewer workers are available to complete tasks on schedule. 
Weather-related issues, such as heavy rainfall or extreme temperatures, can also cause delays by making it difficult or unsafe to work on construction sites. 
Finally, shifting trends in technology and design can influence material availability, causing sudden changes that affect the speed of construction.
Impact of Material and Construction Delays on Home Building Projects
Road bumps with material transport and construction deadlines can have a significant effect on home construction, often leading to a domino effect on various aspects of the project.
One of the most noticeable impacts is increased costs with material delays. When building materials are in short supply, prices can surge, putting pressure on budgets and potentially causing homeowners to compromise on their desired design or quality.
When one aspect of the construction process is delayed, it can cause a ripple effect, pushing back the completion date and disrupting the carefully planned schedule. These postponements  can also cause logistical problems, such as difficulty booking subcontractors or vendors within the same timeline.
Slow-down can strain builder-client relationships. Homeowners may become frustrated with their builders for issues beyond their control, while builders may struggle to manage client expectations and balance multiple projects affected by delays.
For buyers who are utilizing a construction loan, changes to the project deadline can impact the bottom line drastically.
Maintaining open and honest communication is crucial in navigating these challenges and ensuring a successful experience. Working with a builder who offers home financing options or guarantees about the final cost is highly recommended.
How to Choose the Right Builder to Cut Material Costs and Navigate Delays
When faced with material delays and extended construction times, selecting the right builder is crucial to ensuring a successful home project.
Begin by researching builders' reputations and experience. Look for reviews, testimonials, and referrals from previous clients to gain insight into their ability to manage and adapt to unexpected challenges.
Reach out to builders to set up a consultation or ask quick questions via phone or email. During the process pay attention to the builder's communication style and responsiveness. Effective communication is essential for managing issues and preventing them from escalating. This early interface is a great exercise for seeing how the building company handles the relationship before signing any contracts.
Ask your builder about their process for updating clients on the construction progress, timelines, and necessary budget changes. Additionally, inquire about the builder's flexibility and cost transparency about any out-of-pocket expenses to expect.
Ask about the suppliers they use and their approach to handling increased material costs. Some builders may even have designated alternative materials or designs to accommodate budget changes before they even occur.
At the end of the day, you are looking for a home builder who has developed their processes and distributor relationships over the years to accrue 'buying power'. A home builder who runs a tight ship can provide efficiencies and reduced costs for their customers. This is what you want!
By carefully considering these factors, you can select a builder who is well-equipped with quality long-lasting materials and is able to navigate any unexpected situations that may arise. If you find a builder that meets this criteria during the vetting process—all signs point to a smooth working relationship during the build as well.
Tips for Minimizing and Managing Material Issues and Construction Delays
Homebuyers and builders should take proactive steps to minimize the risk of potential issues that could cause project disturbances. Here are some tips to avoid unexpectedly long wait times for project completion.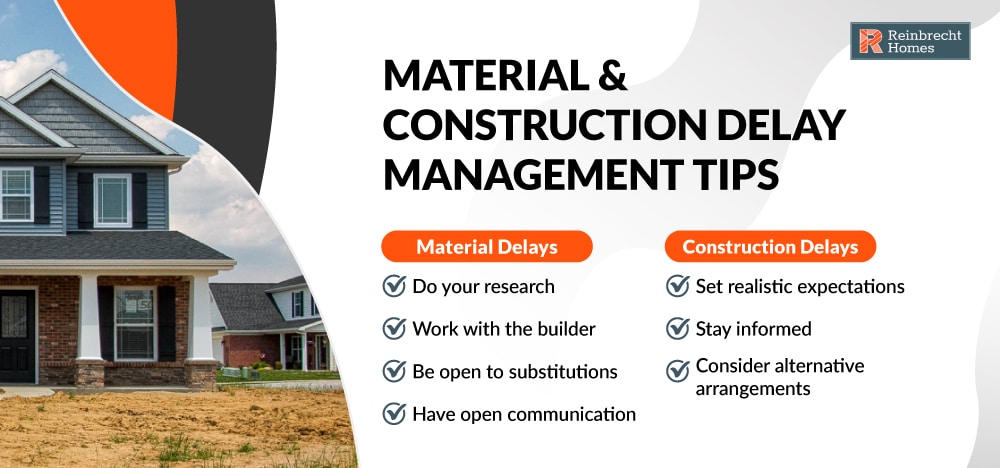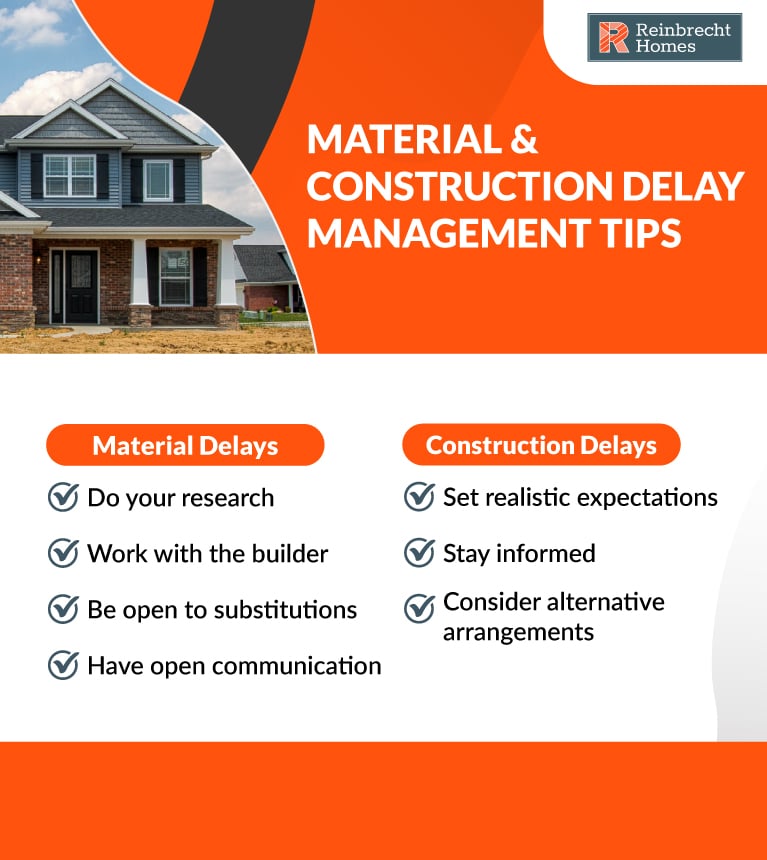 Do your research– The first step is researching building materials, or the builders chosen distributors, well in advance. By identifying and procuring necessary materials you can avoid potential shortages and disruptions in the supply chain.
Select a builder with distributor relationships – Selecting a home builder who already has established relationships with supply vendors can help alleviate the chance of issues arising in the first place. During the build, work closely with the builder to ensure a clear understanding of material availability and lead times to prevent any surprises during the construction process. 
Be open to substitutions – If materials become scarce or unaffordable, be open to other options that may be more readily available or have shorter lead times. This can help keep your project on track and potentially save time and money in the long run.
Collaborate with the builder – Working with a builder who you trust and who communicates clearly and unites with you is essential for managing material delays or adjustments that may have to be made. Maintaining open lines of communication helps you work together to find solutions. This collaborative approach can help minimize the impact of delays on your project.
Set realistic expectations – One effective strategy for coping with extended construction times is setting realistic expectations from the outset. Working with an experienced builder who is knowledgeable about the local market can help you create realistic timelines based on factors such as other projects in the area or historically consistent weather patterns that occur seasonally.
Stay Informed – Staying connected with your builder and subcontractors is another critical strategy. By being in the loop about your project's progress and any potential issues, you can make informed decisions and plan accordingly. This continuous dialogue also enables you to proactively address concerns before they escalate, further minimizing construction delays. Look for a builder who offers a solid solution for keeping their customers in-the-know.
Consider alternative arrangements – When faced with extended construction times, it's essential to consider alternative housing arrangements during construction. This might include renting a short-term property, staying with friends or family, or opting for temporary accommodations like hotels or extended-stay facilities. Planning for these contingencies in advance can help you manage your living situation with minimal disruption and stress.
Government Incentives and Programs to Assist with Construction Delays
Tax breaks and rebates can help offset the financial impact of construction delays. The government often provides these incentives to encourage home construction and stimulate the local economy. Make sure to research federal, state, and local tax incentives available for new home construction or renovation projects.
These incentives vary from state to state, so it's essential to familiarize yourself with the options available in your area.
In some cases, monetary grants or low-interest loans may be offered. These financial aid options can help cover additional costs associated with material shortages and extended construction times. 
Investigate programs offered by government agencies, such as the U.S. Department of Housing and Urban Development (HUD), as well as local housing authorities for potential assistance.
How to Find a Reputable Builder Near You
Choosing a builder based on their experience, reputation, and specialty can help ensure an efficient construction process. Many builders specialize in certain architectural styles or building methods and have distinct approaches to working with delays.
Doing the research beforehand can help you save time, money, and stress. 
Online forums, social media groups, and word-of-mouth referrals are excellent sources for gathering builder recommendations. Additionally, look out for any red flags during your search to help you identify any untrustworthy builders.
Local suppliers and manufacturers can play an essential role in mitigating material delays. Choosing to work with a local builder can potentially reduce wait times and support the regional economy. 
Working with a builder who has years of experience and is well-established within the community likely already has local resources that they work with. This is a benefit to you because they've already done the research and the grunt work to find the right suppliers for the job—which means less leg work for you.
Reinbrecht Homes offers Unwavering Dedication to Homebuyers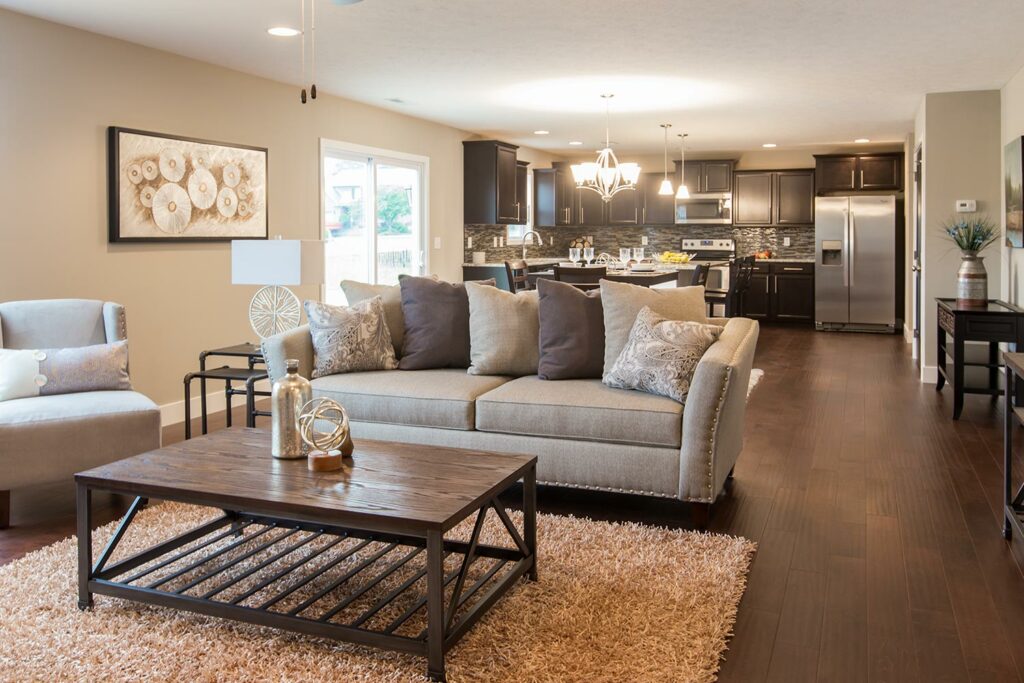 Building a home can come with an array of hurdles. Material delays and extended construction times can be particularly difficult to manage. By being proactive, staying flexible, and maintaining open communication with your builder, you can successfully navigate these challenges.
Additionally, accepting that timelines might need to be adjusted can help reduce stress and frustration during the construction process.
If you're looking for a trusted partner to guide you through the complexities of building a custom or semi-custom home in Southern Indiana, Eastern Illinois, or Northern Kentucky, consider Reinbrecht Homes.
With over 25 years of experience, we are well-equipped to manage and overcome any construction delays. We hold ourselves accountable for your satisfaction and there are no hidden costs with our projects. We also offer free construction loans up to $250,000 with as little as $1,000 down to provide an affordable option to make your dream home a reality.
Reinbrecht Homes provides total transparency from the beginning of the process and we utilize our Buildertrend project monitoring tool to keep our customers abreast throughout the entire process.
Let us take the worry out of your next home-building project. Contact us today to learn how we can help bring your dream home to life.