When you're searching for a home, it can be frustrating to find nothing on the market that piques your interest. You may have thought about building a home, but maybe you found the process (and the cost) a bit overwhelming. Now you're stuck wondering what to do.
If you aren't finding a great move-in ready home and you're pretty sure you don't want to design and build a house from scratch, a semi-custom home offers a great alternative. 
What Is a Semi-Custom Home?
A semi-custom home is a house that offers you a sort of combination between pre-built and fully custom. It gives you the ability to create the home of your dreams with a much less complex process. While you aren't starting with a blank slate, you'll also be able to create a home that's unlike anything else on the market. In essence, it can be the perfect middle-ground to getting the house you want. 
Why Choose a Semi-Custom Home?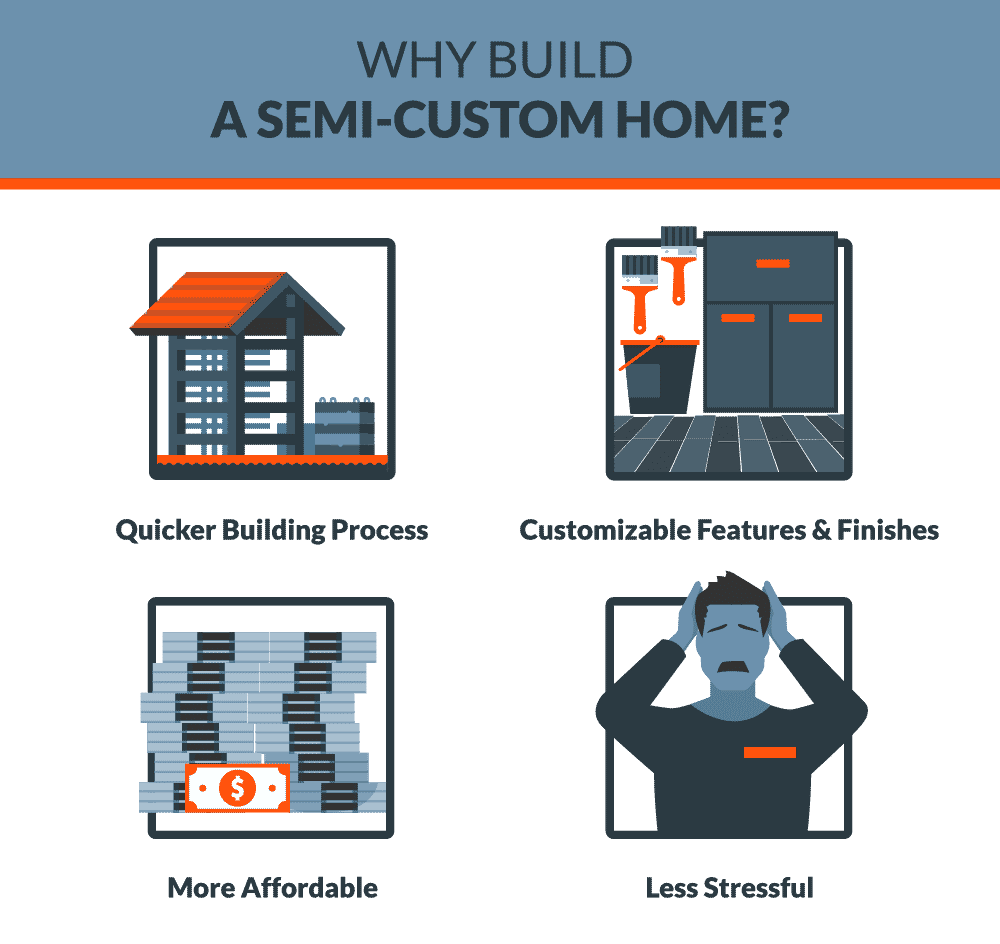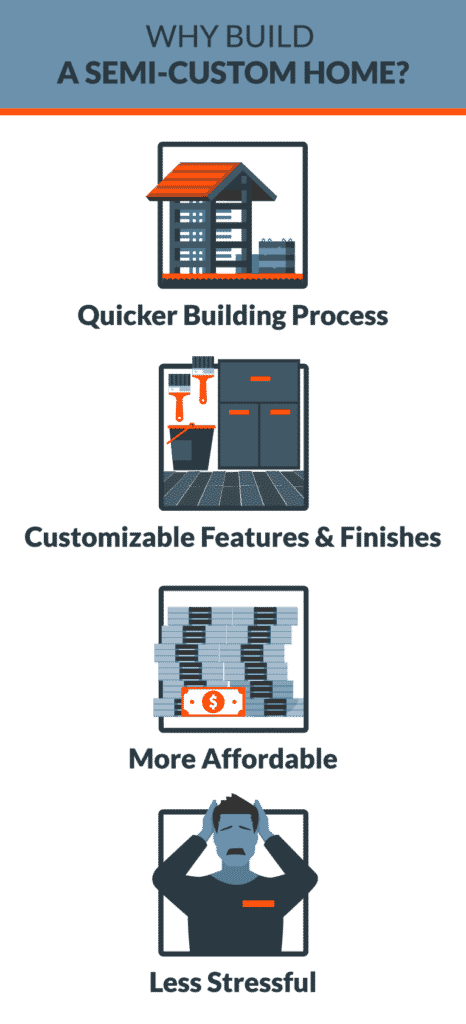 Here are 4 reasons to consider choosing a semi-custom home:
1. The Building Process Goes More Quickly
Building a home is the best way to ensure that you get your dream house. However, when you choose to go completely custom, the process can take a while. While build times will vary depending on various factors, such as the size and complexity of the house, it often takes a year (if not longer) to complete the project. 
Semi-custom homes take much less time. While you have a range of floorplans and customization options available, experienced builders know their plans. Some outside factors can influence construction time (such as weather or delays in material delivery), but the process generally takes about six months to complete. 
2. You Get to Customize It to Your Needs and Wants
One of the most significant draws to a custom home is customizing everything about your new home. That includes not only the siding, interior finishings, and fixtures, but the square footage, number of floors, layout, and more. In many cases, people who want a fully-custom home work with an architect to transfer their vision onto paper.
When some people hear semi-custom home, they tend to think that they don't have options. That couldn't be further from the truth. When you go semi-custom, your builder will present you with a catalog of floorplans, finishes, and more. They'll often even work with you to shift walls so you get the room sizes you need. Now, you won't have the same number of options as you would with a custom home, but you could argue that fewer options are actually better. Fewer choices can make your decisions a lot easier. 
3. It's More Affordable Than You Might Think
With a custom home, you have to start from square one. Not only that, but you have to decide every single aspect of your new home. You may also need the help of an architect. As such, these homes tend to be on the expensive side. 
If cost is a concern, a semi-custom home provides a more suitable alternative. For one, you save on the cost of an architect because you're picking from plans that already exist. On top of that, a semi-custom home builder has their set designs. They'll know where to go to get the highest quality materials for the lowest possible price. They may also get some great deals from their suppliers. Generally speaking, those cost savings get passed along to you, lowering the cost of a home you helped create. 
Now, one thing to keep in mind is that some customizations do cost more than others. The more upgrades you select, the higher your overall cost. An experienced semi-custom home builder will go over all costs with you, allowing you to make the best choices that fall within your budget.
4. There's Less Stress Involved
As fun as the thought of designing your very own custom home can be, the actual process can be pretty stressful. You have a lot of decisions you'll have to make before and during building. While an architect or custom home builder can help, the sheer number of choices may quickly become overwhelming. 
With a semi-custom home, a lot of the heavy decision-making and running around gets lifted from your shoulders. Once your builder has an idea of what you need, they'll be able to show you floorplans that fall within your parameters. You won't have to worry about flipping through hundreds of pages in massive catalogs or trying to explain your vision for someone to draw on paper. Not only does that save you time, but it can also help you avoid a lot of unnecessary stress during the home building process.
You will, of course, have some choices to make. However, you have fewer choices to mull over. That can help simplify the process. Once you've decided on all the personal touches you want to add, the construction of your new home begins. You won't have to worry about making even more decisions later. 
Additionally, you won't have to bear the responsibility of preparing the construction site. Your semi-custom home builder takes care of that for you. With less stress, you'll be able to enjoy the whole experience even more. 
Design Your Perfect Semi-Custom Home with Reinbrecht 
The freedom of customization combined with its more affordable cost, faster build time, and reduced stress can make a semi-custom home an ideal solution for your needs. After making your decision, the next step is to choose your builder. That's where Reinbrecht comes in. 
Reinbrecht Homes has a library of floorplans with several predetermined features and a wide range of customizations that will allow you to turn your semi-custom home into the house of your dreams. Whether you need one floor or two, three bedrooms or four, we can help you get your perfect semi-custom home in about a six-month timeframe. Visit Reinbrecht Homes today to learn more.