Semi-custom homes offer a custom look and feel with the simplicity of a move-in-ready home. Whether you build in a neighborhood or on your own land, it's important to understand what goes into the price of a semi-custom home.
Straight Costs
Reinbrecht Homes eliminates the frustrations of building allowances by offering straight costs. Straight costs are when the buyer knows exactly how much their home will cost with no price adjustments throughout the process. This means that you choose your customizations upfront so that you have a firm price before you ever sign a contract.
What Makes Up a Semi-Custom Home Estimate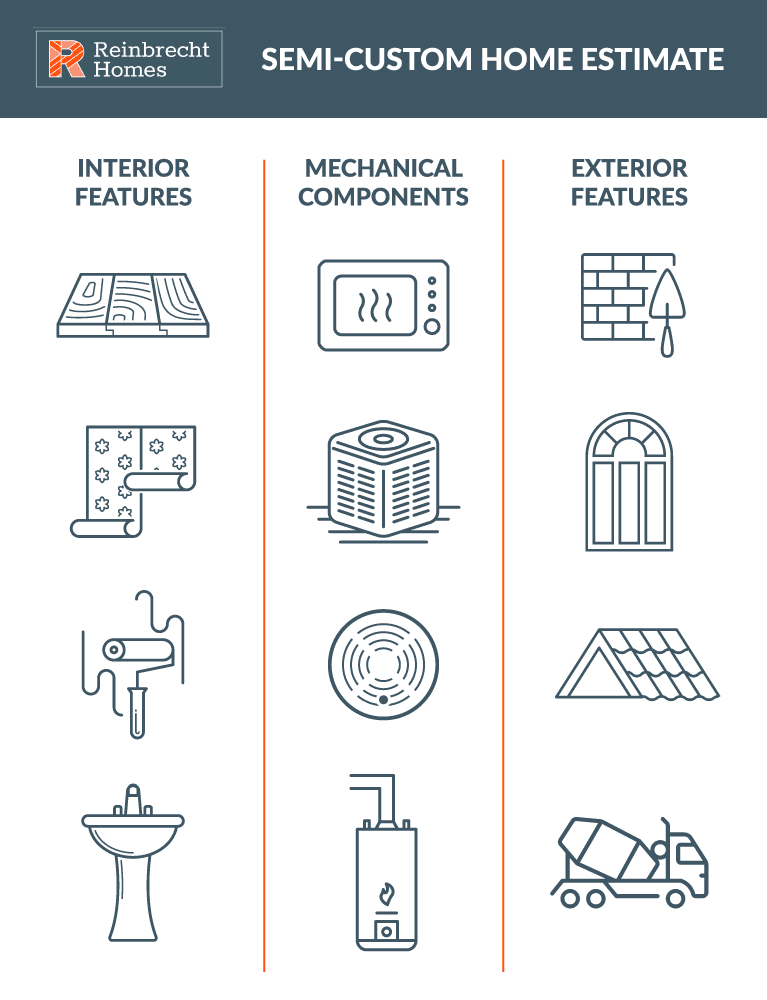 Interior
The floor plan is the drawing that illustrates the layout of the home and its design elements. This allows you to visualize the space and start planning the details.
The interior features that will be included in the estimate are:
Flooring
Walls
Ceilings
Trim
Paint
Stairs
Doors
Door & cabinetry hardware
Countertops
Plumbing
Bathroom counters & accessories
Shelving
Our Standard
We have sets of available options for flooring, countertops, paints, and other customizable features. This allows us to determine the costs for your customizations upfront with no price changes throughout the process.
All interior trim will be caulked, puttied, sanded, and painted with two coats of white semi-gloss paint. The interior walls will be half-inch drywall that is screwed to the studs with a smooth finish. All bathrooms have sheet glass mirrors affixed to the wall above vanities. Metal wire mesh shelving will be installed for all closets, pantry, and laundry room.
Kitchen counters are available in 14 different styles, carpet is available in 10 styles, and luxury vinyl flooring is available in 14 different wood looks and 2 different tile looks. These options present many different combinations, allowing the homeowner to choose the styles that best suit their design vision.
Mechanical Components
The mechanical components are the essential parts that make your home function. examples of mechanical features are:
Electric
Appliances
Heating & air systems
Smoke & carbon monoxide detectors
Furnaces
Water heaters
Garbage disposals
Our Standard
Reinbrecht uses a spray-in fiberglass insulation system to seal every place that may allow air in or out. We also caulk around all exterior wall joints. This means your heating and air systems are going to cost less in the long run because you aren't losing energy.
For plumbing, all water lines will be cross-linked polyethylene tubing. All drains will be schedule 40 PVC piping.
All bedrooms, living room, and office/study will have access to Cat-6 network cabling and Coax cable for internet and television access. Network wires lead to a central location for future hook-up.
Exterior
Exterior features include the structure and cosmetics of your home, like:
Siding or brick
Roofing
Shutters (where applicable)
Exterior doors
Windows
Garage doors
Decking
Concrete
Our Standard
Reinbrecht builds energy efficiency into your home. We use a Tyvek House Wrap System to keep the moisture and air out while still allowing moisture to escape. It's the highest quality product of its type- and that's why we use it.
Before the exterior concrete is poured, we create a minimum 3-inch rock bed for support. The concrete will be at least 4 inches thick and reinforced with wire mesh or fiber. We'll also finish the lawn with seed and straw.
For the roof, we use dimensional shingles with a 30-year warranty. An ice and water shield will be included in all valleys. Soffits will be vinyl, facia will be aluminum, and guttering will be stainless aluminum baked-on finish.
What else is included in the price of a semi-custom home?
All permits, inspections, & associated costs
Builders risk insurance
All temporary utilities during the build, like water and gas.
All utility hookups, connections, and fees for water, sewer, gas, and electricity.
The site will be finished to allow for proper water drainage. We will also seed, fertilize, and cover the yard with straw.
We offer free construction financing up to $200,000 on any home that we build.
Want to learn more?
Reinbrecht's standards guide explains the brands, materials, colors, and styles that come standard with a semi-custom home. Download the guide.