It's important to understand the value you're getting from every cost associated with the construction of your new home.
You might expect to pay out-of-pocket costs going into the home building process. But, with Reinbrecht, all expenses are included in the purchase price of your home.
Here, we're exploring the service costs and hidden costs in homebuilding and how they fit into Reinbrecht's building process.
Service Costs and Hidden Costs in Homebuilding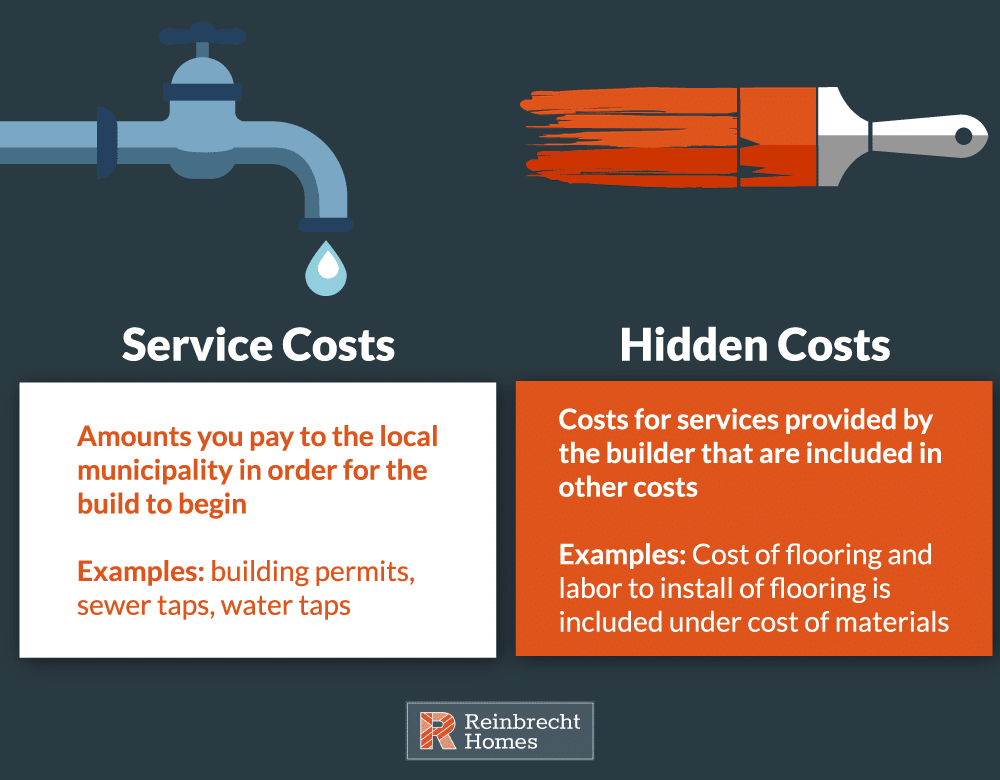 Service costs are amounts you pay to the local municipality in order for the build to begin. Building permits, sewer taps, and water taps are examples of costs that will go to your local municipality. Until those services are available, the building process cannot begin. With service costs, you typically don't get anything tangible in return.
Hidden costs are costs for services provided by the builder that are included in other costs. For example, flooring installation will be included in the cost of labor and the flooring itself will be included in the cost of materials. With hidden costs like labor & materials, you get something in return.
Permits and inspections are other examples of hidden costs for services. In counties that have inspectors, there are no fees for inspections. That's why Reinbrecht pays the permit fee for a new build most of the time.
In counties that do not have inspectors, we hire an independent inspector in order to provide you with a 2-10 home warranty. Reinbrecht does not charge extra for the inspection, but we don't pay for the permit itself in these cases.
Can service costs and hidden costs differ depending on the build?
Service costs only change if the home is being built on an individual's property and not a standard subdivision.
Example:
In all subdivision lots, Reinbrecht situates homes about 30 feet from the road. This helps us to know roughly how much pipe and labor it takes to hook up the water, sewer, electric, and gas. So, the costs for these services are roughly the same for each home built in a subdivision.
If someone is building on their own land and they want their house to be 200 feet from the nearest road, the increase in distance will increase the costs for all of those connections (and the cost of the driveway). We will calculate these costs after meeting with the client and determining exactly where the home will be situated on the property. This way we can still over a fixed price contract when building on the customers' land.
Reinbrecht's Homebuilding Process
Some builders make the client get and pay for all of their permits and taps. Some builders also require clients to pay for utilities (like water, gas and electric) that the builder uses during the construction of the home.
With Reinbrecht, all temporary utilities like water and gas during the build will be included in the cost of the build. All utility hookups, connections, and fees will also be included for water, sewer, gas, and electric.
Download our standards guide to learn more about the features and brands that come standard with a home built by Reinbrecht.