If you're planning to have a house built or are looking to buy a new one, you'll have plenty of decisions to make. Some of those decisions are going to be about the kind of basement you want. To make the right choice for your current and long-term needs, you should have a good understanding of the different basement types. Then you can get what works for you and feel confident about your choice.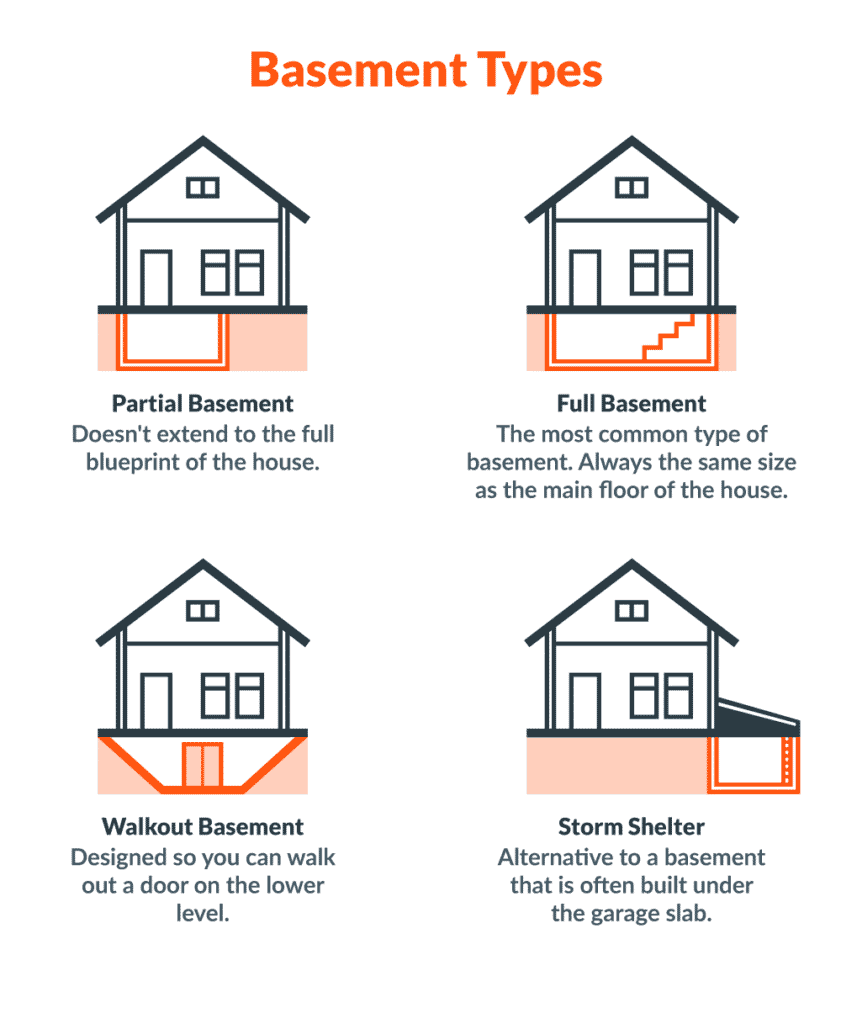 There are several types of basements available. Most of them are pretty self-explanatory, but if you've never had a basement before, you'll want to be clear on what you're getting. Knowing the difference between a partial and a full basement, for example, can help you ask your builder or real estate agent for the right kind of space to meet your needs. To help you out, we're going to focus on the four main basement types.
A partial basement doesn't extend to the full footprint of the house. In other words, the square footage of the partial basement will be smaller than the square footage of the home's main floor. This usually happens when there's been a home addition added onto the house at a later date, instead of at the time the home was constructed.
Structurally, a partial basement will be under the original part of the house, while the addition may be on a slab and not have any basement underneath it. This basement type is typically about half the size of the home's main floor. In some cases, a partial basement is a good solution for much-needed storage space or another living area.
Of all the types of basements, a full basement is the most common. The ceiling is typically high enough for an average-height person to stand up straight, but might be lower than a typical above-ground ceiling like you would find in the rest of the house. These basements are built for comfort and use, and they can be turned into a finished, usable space very easily. 
A lot of people use their full basement for separate living quarters, a family room or rec room, a home gym, or in other ways that help them get more value from their home. Unlike a partial basement, a full basement foundation is always the same size as the main floor of the house and shares that footprint. There are multiple ways to construct this kind of basement — some work better than others for durability, efficiency, and cost-effectiveness. 
Choosing Between a Full Basement or a Partial One
There are plenty of homes with partial basements, but most people who are having a home built don't choose this option. At Reinbrecht, we typically tell people not to choose a partial basement for their new-construction home because it's generally not cost-effective. If you're going to get a crew out to your home site to dig a basement and pour walls to build it, it's generally better (and easier) to make it a full basement that's the same size as the main floor of the house.
This type of basement is designed so you can walk out through a door that's on the lower level. These are almost always built on a hill and are partially underground like a daylight basement. In other words, the front of the basement may be under the ground and the back of the basement may be exposed with a door to the backyard, due to the placement of the house on a hillside.
It's typically more expensive to create a walkout basement, as you usually have to add a deck to the home in addition to the normal concrete pad out the door.
A Crawlspace Is Like a Basement, But…
A crawlspace has some of the same basic attributes as a basement, but it's not the same. It's typically much shorter, and it's not a space where you can stand up or move around comfortably. The term "crawlspace" is very appropriate since crawling is what it takes to get around inside of it.
The cleaner, neater, and more well-sealed a crawlspace is, the healthier it can be for the long-term quality of the house. A crawlspace should never be viewed as a space that would be livable, it is simply a way to access mechanical systems of the home from below the floor.
Why Turning a Crawlspace Into a Basement Isn't Worth the Trouble
Can a crawlspace be turned into a basement? The short answer is maybe, but it's probably not worth the effort and cost. Depending on factors like the type of soil and the height of the water table in your specific location, it may be possible to dig out the crawlspace, pour walls and a floor, and turn it into a basement. Keep in mind that your house will likely have to be raised to do that work, too.
Not only is that work costly, but it brings the risk of damage, settling, and other problems. So you'll need to make sure you're prepared for any issues to crop up. Once your house is raised to turn a crawlspace into a basement, you won't have too many options if something goes drastically wrong. You'll generally have to go along with the process, handling any issues as they surface.
Storm protection is the primary reason a lot of people have basements, especially in areas of the country where tornadoes and other damaging storms are a real threat. If you're building a new house, you probably just want to go ahead and have a basement. If that's not the case or if you're looking for solutions for your existing house, there are storm shelters that can be built under the garage slab. 
That's a more affordable option than trying to create an entire basement under a home that's already been built. It's also faster and easier, so you can get your storm protection in place during the quiet season and be ready when the weather becomes more active again. If you don't have a basement at your current house and don't intend to move to a home that does anytime soon, a storm shelter can be the next best thing for security and peace of mind.
What Your Basement's Made Of: The Factor That Really Matters
Size and type aren't the only factors you need to consider when you're determining what basement type best suits your house. The materials you chose to build it with do, too. Your basement needs to be right for your needs, but it also has to be secure and sturdy. A basement collapse is extremely dangerous and could easily destroy your home.
You want to make sure your basement is built in a way you can feel good about. The best thing you can do is make sure you know a bit about basement construction materials, so you can choose wisely. Some options cost more, while others cost less. In the end, though, price shouldn't be the deciding factor — safety should.
Masonry Block Wall
Basements built with cinder or concrete masonry blocks are an option. After every block is stacked, they're all sealed together with mortar. Despite this advantage, masonry block wall basements can be prone to dampness and leaking. If you live in a location that has a high water table or are concerned about moisture impacting your basement, then a masonry block wall may not be the right option for you.  Most areas have building codes in place that keep block walls from meeting the building standards, unless excessive amount of rebar and fill are used in the construction, this making them less cost effective than poured walls.
Precast Panel
This basement type is built from poured concrete panels that are lifted into place with a crane. Naturally, this isn't a good option if you're trying to put a basement under an existing house or are attempting to turn a crawlspace into a basement. For new construction, these kinds of panels can work well. But they aren't going to be as strong as a concrete wall that's formed and poured on-site.
Poured Concrete Wall
This is the most popular type of basement construction material. It's the only type that Reinbrecht builds due to its quality and durability. It can be formed up and poured at the building site, so it can accommodate different sizes and configurations depending on the house's footprint. After the walls are poured and cured the outside is sprayed with a waterproof coating that will keep virtually any change of water penetration from ever occurring.
Many basements don't have these attributes because they've been constructed differently. When you're having a home built, though, and you're given a choice of basement construction materials, you want to choose the poured concrete wall.
Finished vs. Unfinished Basements
Another big question to think about when it comes to basement types is whether you want your new basement to be finished or unfinished. If you buy a house that's one way or the other, you might just leave well-enough alone. Or you might choose to finish out a basement that was previously unfinished. But what about when you're building a new house? Do you want your basement to be finished out when you move in or would you prefer to leave it unfinished, at least for now? 
The answer to that question generally comes down to how you plan to use your basement. That's a personal decision and not one that others can make for you. But it's definitely a decision you want to make before you start building. It can affect the price of the house by a significant amount, especially if you want to finish it out with higher-end features or add options such as plumbing or additional electrical fixtures.
Benefits of a Finished Basement
A finished basement is a fully livable basement with complete walls and ceiling heights that are comparable to what you'll find in rooms on the main floor. It matches the overall look and feel of the rest of your home. A finished basement adds huge value to your space, both from a financial standpoint and in the ways you can use it. Finished basements can be used in a variety of ways, which is what most homeowners value most about them. 
Because all of the fixtures and features are in place, you can easily turn a finished basement into:
A second living area, such as a family room
A suite for in-laws, an adult child, or another family member
A home theater or game room
A home gym or workout space
A workshop or hobby room
If you have a large finished basement, you may be able to incorporate several of those ideas into the space to use it as efficiently as possible. Many finished basements also have a bathroom or at least a half bath, so you can spend time in the down there conveniently without the need to go back upstairs too much. 
Choosing how you want your finished space to look is an important part of deciding whether a finished basement is right for you. For example, you may want your basement to look like the rest of your house in terms of colors and finishes. But you may also want it to be a large and open space. 
By contrast, you may prefer a basement that's divided into several rooms in the same way the main floor is partitioned. Then you can use those rooms for different things and get multiple types of uses from the square footage. With a finished basement, you have a lot of options. 
The potential downside of having a finished basement is that you may decide later that you'd like to use the space differently. If that's the case you could end up having to re-do part of the basement to meet your needs. If you decide you want a home theater, you'll probably need to have some rewiring done. If you want to add a bathtub to that half bath, you'll need additional plumbing.
Some people choose not to have a finished basement when their house is built because they want to save on the cost. Others make that choice because they just aren't sure about the best use of the space. If that's where you are, waiting until you're sure and then finishing out the basement at that time can be the right option. There are many ways to finish a basement, and you can do it at a later time if that works better for your needs.
You Can Leave Your Basement Unfinished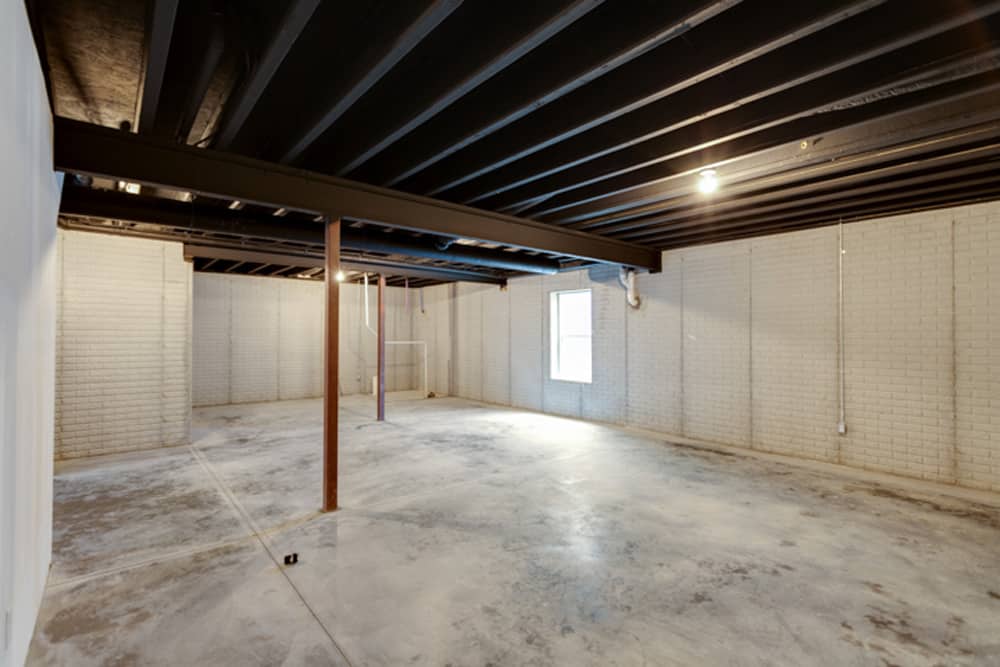 Leaving your basement unfinished has its pros and cons. You may feel like it's a "loose end" or something you need to finish as soon as possible. Or you may view it as a blank slate with all kinds of potential for the future. No matter how you see an unfinished basement or what type of plans you may have for it, there can be good reasons to choose it as an option when you're having your new home built. 
One of the biggest reasons for choosing an unfinished basement is the cost. It's less expensive to leave the basement that way, instead of finishing it out fully. Another reason many people leave their basement unfinished is so they can have easy access to the wiring and other systems in it. That gives them the chance to move things around more easily and with less expense, especially if they decide to make changes later on.
Not sure what you want to do with all the space in your basement just yet? Leaving it unfinished is probably the right option. When you get settled into your home and feel comfortable with the ideas you have for the basement space, you can have it finished at that time. You can finish out only parts of it, for example, or work on it one step at a time. The options are nearly endless, and the space is all yours. You can take your time if that works better for you.
Typically, an unfinished basement might be a little less comfortable from a temperature perspective. You'll have solid walls and everything will be sealed up well, but you won't have additional insulation or sheetrock. Depending on the level of finishing you've decided on with your builder, you may have interior walls that are just studs or studs with insulation between them. You can also expect to be able to see what's in the walls, including wires, plumbing pipes, and HVAC system ducts.
There's nothing wrong with any of that, but it's not the same as the sheetrock and paint you'll have on the main floor of your home. Make sure you talk with your builder often and ask a lot of questions. Doing so will help you be clear on what your unfinished basement will look like and what you can expect. That way, you can be sure you've made the right decision and feel good about the choice you've made.
Bottom Line on Types Of Basements
A basement can be a great asset for your home. It can provide additional space, and when it's full-size and finished out, it can feel almost like having another floor to your home. It typically isn't considered that way for listing or recording purposes, but the space you'll have is still going to be there. A two-story home with a basement, for example, is still considered a two-story home — that doesn't negate the extra square footage or stop you from using and enjoying it.
Basements come in all shapes and sizes. A basement can add a lot of value to your home, and depending on your lifestyle, it may be a very important part of the floor plan you want, too. If you want your basement to feel more like an additional floor or you want to finish it out and use it as a living space, ask your builder about the size and placement of windows that can be included. That can bring some much-needed light into your basement and make it a more welcoming space. If there's no option for larger windows, good lighting can also help the basement feel more like a part of your home.
Now that you have a better understanding of the different types of basements, you can decide which one is right for you. It's a very individual choice, especially if you want to live in your home for a long time. Full, finished basements are going to bring the most value to your home, and are going to give you the highest level of usable square footage. If that's not the right choice for you, there are plenty of other basement types to consider. When you choose the one that works for you, you'll have a great space you're happy with, as well as peace of mind.