When building a new home, one of the first decisions you need to make is what the footprint will look like. How will you get the most out of your living space? Will you build a single-story or two-story home? Will it have a basement?
With any home, you can essentially build up, down, or out.
You can have the square footage you desire in all three options, but the decision to build up, down, or out depends on your lot shape and budget.
For example, building a single-story 2,000 sq. ft. ranch home may be out of your budget, but 2,000 sq. ft.is something we can still help you achieve by building a two-story home.
To explain how, we'll be exploring the advantages and disadvantages of building your new home up, down, or out.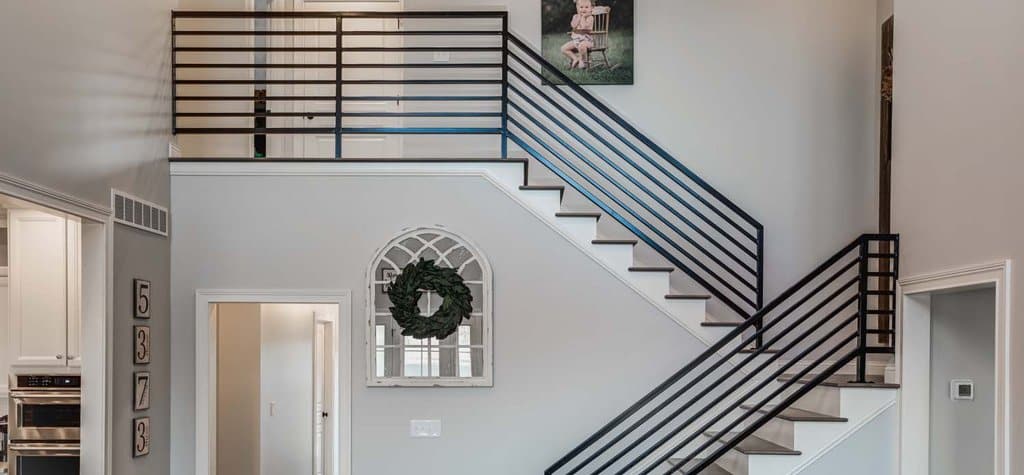 By building up, you can take your new home to the next level (literally). And if adding another story isn't quite what you have in mind, it is still a great solution for adding additional living space above one-story wings, like a garage.
Advantages of Building Up:
Building up is always the least expensive option for increasing your home's square-footage because it requires less material and labor. For example, if you have 1,000 sq. feet on the main level and want to add 1,000 sq. feet as a second floor, all you have to do is add more wood and framing labor. On the other hand, if you build out, you'll have to add footers, concrete, fill rock, roof system, and more excavation cost.
Another positive aspect of building up is you don't have to give up any of your yard. Since you're not expanding the footprint of the house, it eliminates the need to worry about zoning restrictions, which we'll discuss in more detail later.
Disadvantages of Building Up:
Most towns actually limit the allowable height for houses.
You'll also need to consider stairs, which could change the floor plan significantly. This type of addition could take away from space inside your house as stairwells can easily require 80-120 sq. ft. (or more) of living space.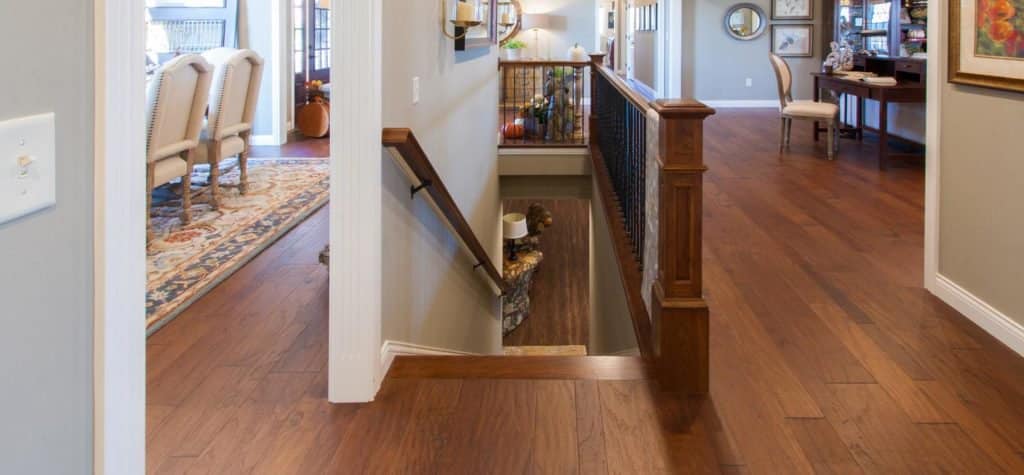 Building below ground level is the second most affordable solution of the three.
Advantages of Building Down:
Adding a basement or finishing one is great for a low-cost, extra bedroom, family room, or workout room.
Adding a basement also creates peace of mind for homeowners as it adds a safe space for you and your family in the event of inclement weather.
Disadvantages of Building Down:
Building down opens you to potential issues with keeping the home build on schedule, specifically because of weather — if there is a lot of rain or the ground is frozen, it's harder for crews to get started. To help you learn more about what type of foundation you may be dealing with, you can read more about the three different types of foundations.
Furthermore, some lots cannot have basements due to potential flooding, solid rock in the ground, or excessive excavation costs.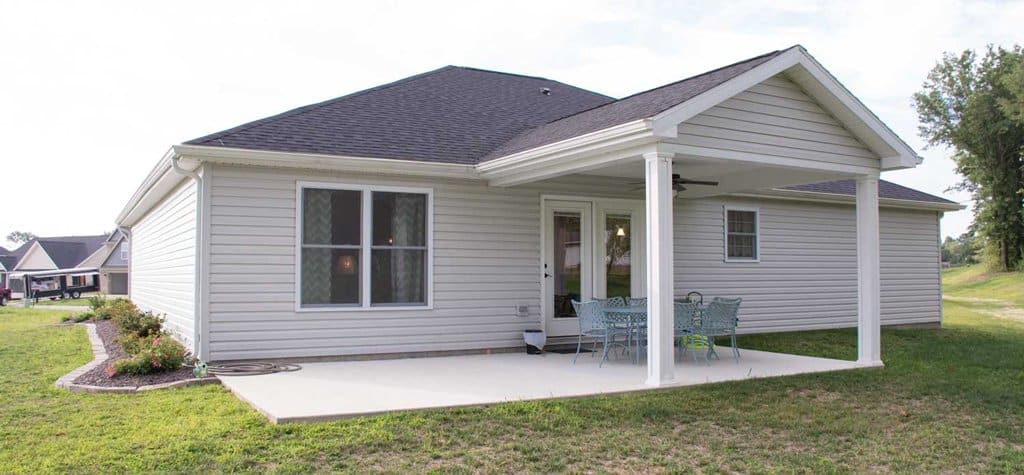 This is the probably the most popular (and expensive) option.
Advantages of Building Out:
With a single-story, ranch-style home, you have more options for different ceiling heights and skylights. And there won't be any noise from stairs and second story traffic.
As far as maintenance and upkeep in the future, it will be easier to access and clean gutters, the roof, and outside walls. It's also safer for families with young children and is more practical for those with mobility issues.
Disadvantages of Building Out:
Building outwards increases the footprint of the home and will require more excavation to dig up the yard. Maneuvering around power lines and sewer lines could add to your costs as well.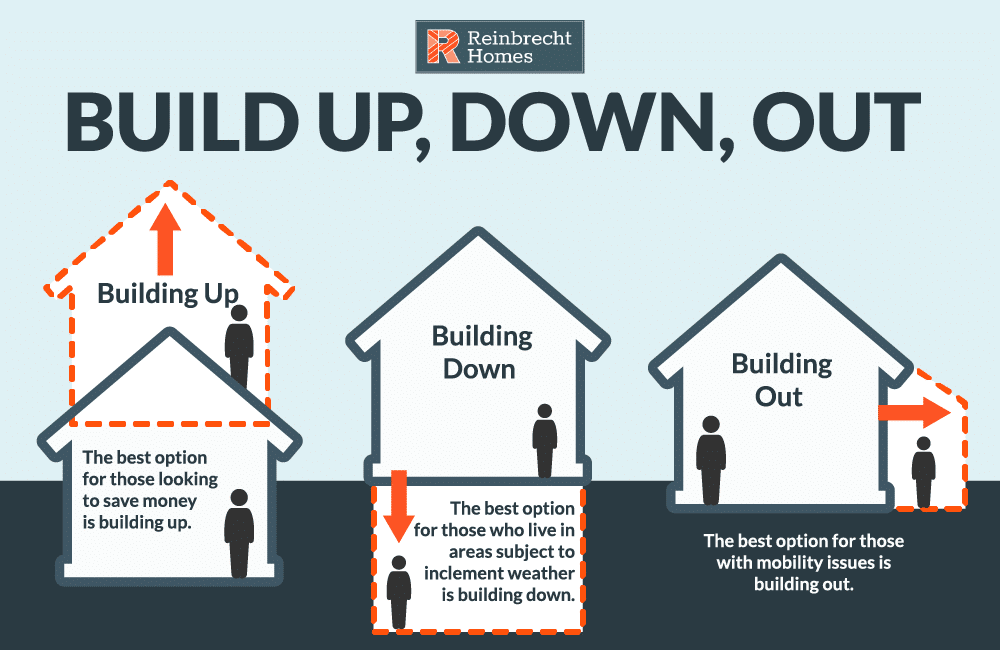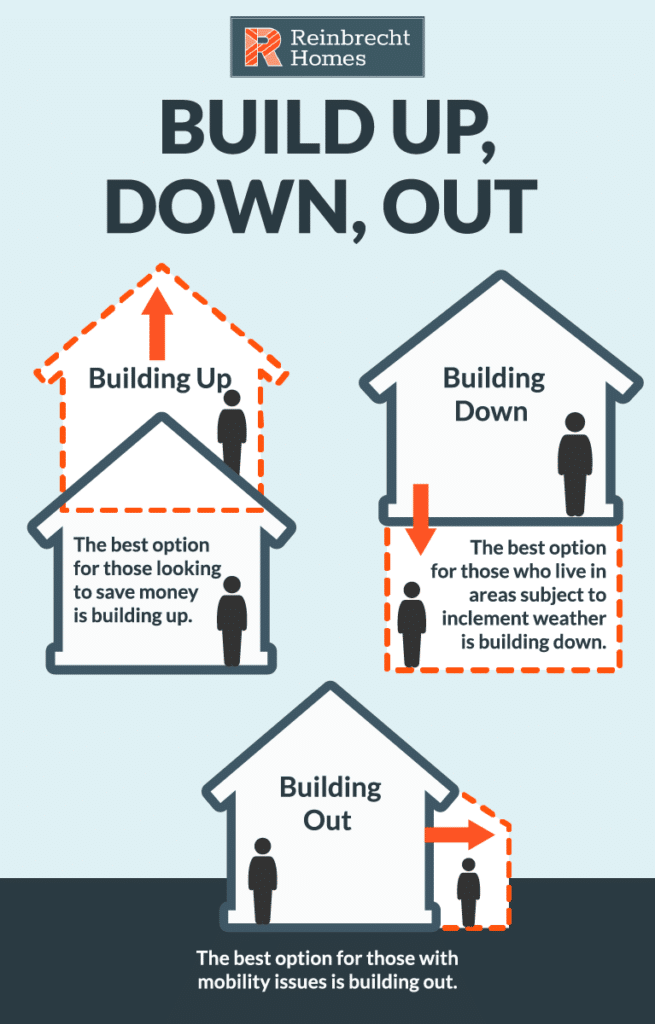 So which option is the best option: Building Up, Down, or Out?
In summary:
The best option for those looking to save money is building up.
The best option for those who live in areas subject to inclement weather is building down.
The best option for those with mobility issues is building out.

Other questions you might need to ask yourself:
If this is my forever home, will stairs ever be an issue for me or my family?
Do I have room in my yard/lot to build out?
Are there required setbacks in my neighborhood?
Just remember: every new home is expandable in all ways.
There may be reasons you can't make a house bigger, but they all have to do with location. For example, certain subdivisions have restrictions on home sizes and have square foot requirements for each level of the home. There could also be set back requirements that keep you from building within a certain distance of the edge of the lot. In some cases, you won't have to decide which way to build because your property guidelines may decide for you!
Every home and situation is different, but we're happy to talk with you and discuss the best options to fit your budget. Download our home guide to learn about all features that come standard with a semi-custom home.