Some of life's most important (and costly) lessons are learned through trial and error. And, no matter how much they teach you in school, there will always be a handful of topics that never make it into the classroom.
For example, we'd wager no one ever taught you how to file your taxes, pick a health insurance plan, or even buy a car. Along those lines, it's likely no one will ever teach you the ins and outs of buying your first home.
Quite frankly, we think that's crazy.
To fix that, we're going to offer some homebuying advice for first-timers by exploring the most common mistakes we see couples make as they shop for their first home.
Let's get started by talking about a pretty big topic: money.
Mistake #1

– Overshooting Your Original Budget

Notice how we said original? That's because it's not uncommon for first-time homebuyers to set a budget and, over time … inflate it.

When buying a home, it is absolutely critical to remove all emotion from discussions of money. While doing your research, you might fall in love with granite countertops or stone walls, but you must keep your budget firm – for multiple reasons. Mostly because life is full of uncertainties. What happens if you change jobs, your salary dips, or the housing market takes another dive?

The easiest way to adhere to your budget is simple: before you begin your home buying journey, get pre-approved for a home loan.

Pre-approval on a home loan is a great validator if you're planning to hire a realtor or homebuilder. Plus, when you know what you can actually afford, you'll save countless hours (and emotional energy) by researching only the homes and plans within your predetermined price range.
Mistake #2

– Not Accounting for Additional Costs

First time homebuyers are usually surprised to learn the final cost to build or buy a home is a lot more complicated than taking out a loan and paying a mortgage. All kinds of costs need to be considered during your budgeting phase.

To start, there are:
Closing Costs – A lot of people get themselves into trouble by forgetting to budget for closing costs, the average amount being $3,700. We suggest budgeting 2-5% of your purchase price.
Property Taxes – Taxes vary widely from county-to-county, so do your research! This is less of an issue if you escrow for your taxes.
Homeowners Insurance – You MUST shop around for homeowners insurance. There's a good chance you'll end up paying more than you should if you get lazy and decide to just bundle homeowners with your car insurance provider.
Appraisal Fees – Typical homes cost about $300-500 to appraise, and the fee is typically attached to your closing costs.
Escrow Fees – Lots of people escrow their homeowner's insurance and property taxes, which can be really convenient (as long as you make sure to factor those additional costs into your monthly mortgage payment).
Moving Costs – You not only need to get where you're going, but also furnish it (at least partially) once you have the keys.
Homeowners Association Fees – HOA fees vary broadly; they can be next-to-nothing or very steep, depending on your neighborhood. Be sure to ask!
Annual Maintenance – A good rule of thumb is to annually budget about 1% of your home's purchase price for maintenance work. You're less likely to need that much with a new home, but it's important to be prepared for things like storm damage.
Home Furnishings – A lot of people become "house poor" by designating too much (or all) of their money for the actual home purchase and down payment. Seriously, it's no fun getting the keys to your dream home knowing there's no money left to furnish it (or even buy groceries). Another mistake is pouring your finances into all new furnishings as soon as you move in. Remember, a new home doesn't necessarily mean you need 'new everything else'. Make smart, deliberate decisions and add to your new home over time!
Mistake #3

– Skimping on Your Down Payment

You want your down payment to be as large as possible, and there are several reasons why, but the three biggest are:
Higher Mortgage — With a low down payment, your monthly mortgage payments will be higher.
Less Equity — You'll have less equity in your home, making it harder to stay in the black if you need to resell.
Private Mortgage Insurance — Until your equity in the home exceeds 20%, you'll likely need to pay Private Mortgage Insurance (PMI) ON TOP of your regular insurance policies.
Mistake #4

– Ignoring Your Own Plans for the Future

Where are you in life? Your career? Where do you want to be in a few years? Ask yourself these types of questions before committing to a home purchase.

Are you planning on moving in the near future? If so, you should probably keep renting. If you're not sure about your timeline, a good rule of thumb is to not buy a home unless you can commit to living there for a minimum of 2 years — or just long enough to build equity and avoid a potential loss at resale. Because, while paying rent isn't fun, neither is being trapped by premature homeownership.

What will your family look like in the coming years? If you're planning on having more kids, that's one thing; but if you already have children (or teenagers), don't let them affect your long-term decisions on a new home. Be realistic. They'll be leaving in a few years, and you don't necessarily need specialized space for just for them.

Look beyond the short-term and focus on finding a layout that suits your long-term needs.
Mistake #5

– Compromising on Your New Home's Function

We all love home renovation and house hunting television programs, but they've done a lot to skew the average consumer's perception of what's important in a home. Oftentimes, first-time homebuyers will fall in love with aesthetic features of their new home while overlooking (or compromising) on its overall functionality.

For instance, don't spring for quartz countertops if the bump in price forces you to compromise on a particular drawer configuration that makes more sense for your needs. Get it? A lot of the time, overall function is more important than material upgrades.

Similarly, don't build a two-bedroom home if you're planning on having a big family!

Here's a tip for those planning to build a home: go ahead and price all the features you might want. By absorbing certain costs into your mortgage, there's a good chance you can afford the more expensive, functional additions instead of paying for them out-of-pocket years later. For example, adding a fence at our Kinway neighborhood costs $4,500 out-of-pocket, but that only translates to a little more than $20 per month on a mortgage payment.
Mistake #6

– Failing to Get on the Same Page As Your Partner

This is especially true when it comes to home selections.

We see it lot. One party is set on all kinds of high-end options while the other … simply isn't. A lot goes into preparing to talk with a homebuilder, but clear communication with your partner prior to the home selection process can save you (and your relationship) a lot of unnecessary stress.
Needs vs. Wants List
It's important to understand that you're probably not going to get everything on your wish list. So, in order to figure out where compromise is most likely to occur, we suggest creating a two-column 'Need vs. Want' list.
Column 1 is for your "must-haves" — things like lot location or number of bedrooms.
Column 2 is for everything else, or the "nice-to-haves". This could be details such as countertops, square footage, or foundation type.
Mistake #7

– Setting Unrealistic Timelines

It doesn't happen all the time, but some first-time homebuyers visit our office ready to sign a contract with full expectations that construction will start within a week – or less. Obviously, that's not going to happen.

If you want to build a new home, understand it usually takes 4-to-6 months to plan and build one.

If your time requirements are more immediate, but you still want a new home, we suggest talking to your homebuilder to see if they have any move-in ready, new construction homes available for purchase.
Mistake #8

– Not Considering Future Resale Value

It's important not to overestimate your future appraisal value.

Be sure to ask yourself, 'when the time comes to put your new home back on the market, will it be easy to sell?'

A little-known fact a lot of new homebuyers don't know is that exterior features don't necessarily add to your overall appraisal value.

For example, that stone upgrade might look amazing, but even though it cost you 20% more than brick, it will appraise the exact same as brick. That 20% difference is now a sunk cost. This general rule applies to stamped concrete, larger porches, and decks. All of which will improve your quality of life, and are sound investments if you're planning your forever home.
Many First-Time Homebuyers Makes Mistakes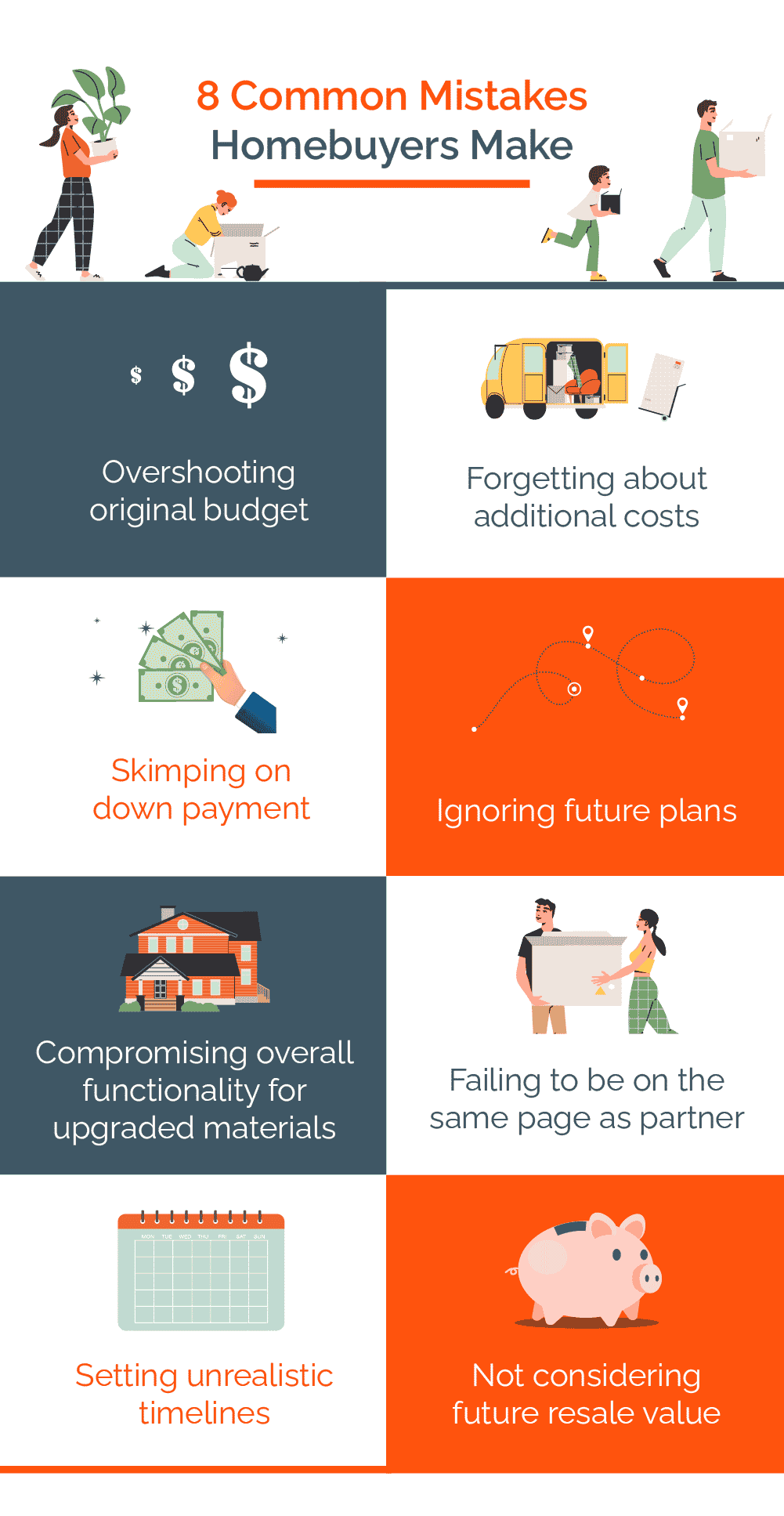 The easiest way to avoid them is educating yourself.
To recap:
Set your budget before shopping around, and don't deviate … no matter how big your eyes get.
Don't forget to factor in all the costs associated with buying a home. It's a lot more than just the down payment.
Speaking of which, don't skimp on your down payment. You'll pay for it later.
Based on where you see yourself in 2-5 years, make forward-thinking decisions about your home design and its location.
Remember, the overall function of a room is more important than spending money on high-end materials.
Stay on the same page as your partner about your new home and what it will look like by communicating constantly.
It takes 4 to 6 months to build a new home, so plan accordingly.
Do not overestimate the resale value of your new home. Remember, exterior finishes won't raise your appraisal value.
When you're a first-time homebuyer, always remember that there's a lot of money on the line … YOUR money.
Stay smart!