Designing your new home means designing for comfort that will accommodate your family for years to come.
At Reinbrecht Homes, our associates guide you every step of the way with expert advice and personalized suggestions for your forever home. There are a few things to consider when designing your home with your future needs in mind.
Age-in-Place Designs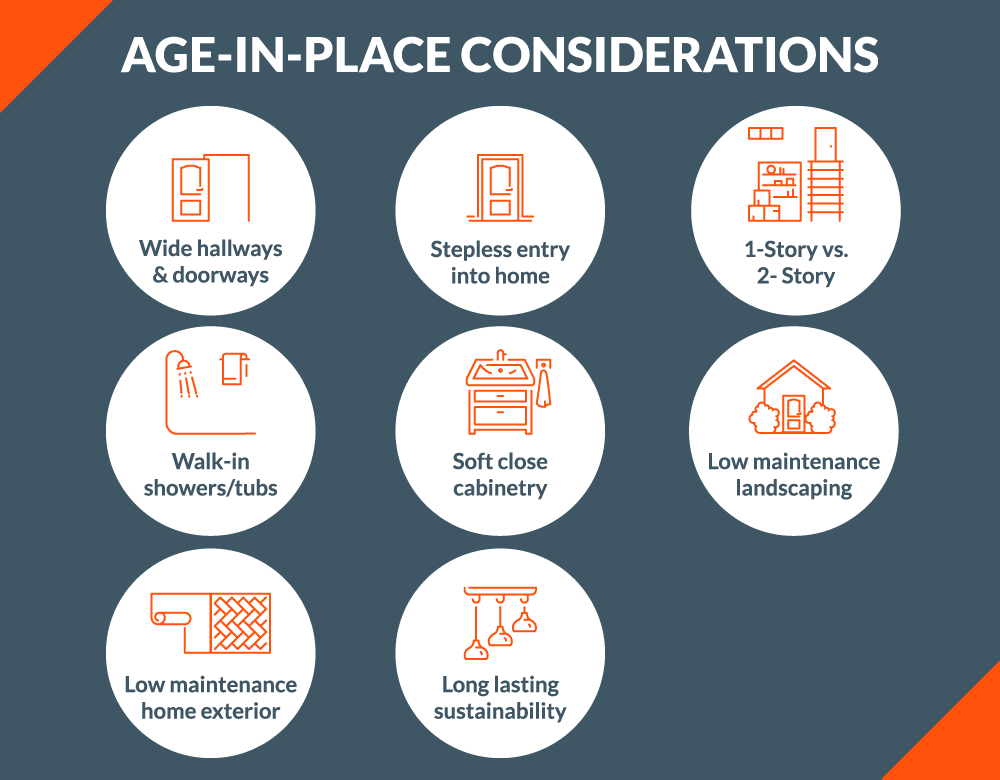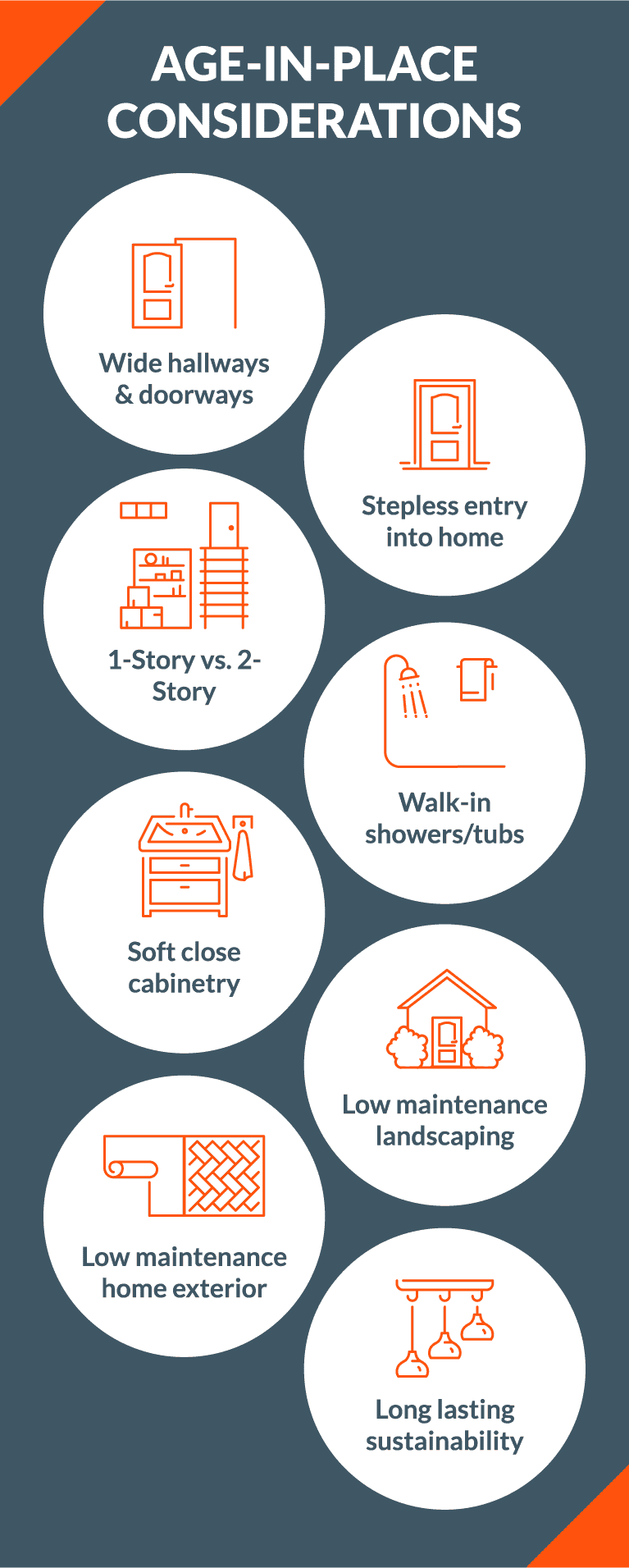 Age-in-place designs are typically universal, flexible, and easily accessible. The idea of "age-in-place designs" comes from needing a home that will accommodate your lifestyle in every stage of life.
They often include features that minimize the risk of falls.
For example:
Having at least one no-step entryway to the home.
Wide hallways
Wide doorways
When choosing a floorplan, think about how a basement or second-story is going to work for you long-term. You also want to make sure that all of the things you need are easily accessible to you.
For example, you might be okay with placing your laundry room in your basement right now, but it might not be ideal for you in years to come. It would also be a good idea to have an exterior door close to your driveway or sidewalk to minimize walking distance.
With Reinbrecht, all of our floorplans can be modified to create the ideal home for you. Browse our floor plans.
Interior and Exterior Customizations
You might want to choose some trendy design options, but think about how you'll like them in the future (or how much work it will require if you ever choose to update them).
For example, sliding doors and pocket doors are trendy, but they could turn into a lot of work if you ever need to exchange them for regular doors.
Remember to consider customizations that require low physical effort like soft-close cabinetry and walk-in showers/tubs. Implementing these options now will save you time and money in the future if you want to update the features of your home.
Exterior customizations are also important to consider.
For your forever home, you'll want to choose exterior finishes that are low maintenance. For example, a brick exterior might have a longer lifespan and show less weathering than vinyl siding.
You'll also want to choose a lot that won't require excessive landscaping maintenance because it might be difficult to maintain as your lifestyle changes.
New Home Sustainability
A long-lasting, energy-efficient home starts with the build. Of course, there are interior additions (like the types of light bulbs you use) that can increase the energy efficiency of your home.
Reinbrecht's standard building materials are above the industry standard. To us, energy efficiency isn't an upgrade- it's a standard. We insulate every home with spray-in fiberglass insulation that fills all the gaps (instead of the industry average roll-in insulation that allows cold air in). Learn more about our energy-efficient materials and processes.
The structure and finishes of homes need to be resilient to the types of weather conditions in your area. Having insulated exterior finishes, windows, and doors will conserve energy and keep your indoor environment healthy.
Design Ideas From Your Contractor
It can be easy to get lost in the variety of design options for your new home. Before you get a final estimate, you'll be making decisions about shelving, cabinetry, lighting, flooring, and other finishes to complete your home. Most contractors customize new homes for people in all stages of life, so consider their suggestions to help you make selections for your home.
Your contractor may have ideas about design aspects that can meet a specific need now and a different need later on.
For example, you might request a space that can function as a playroom when your home is built. Your builder may have ideas about the location or size of the room so that it can serve a different function (like an office or extra bedroom) later in life.
From the floorplan to the exterior finishes, there are a lot of steps to creating a forever home. With Reinbrecht, your dream home can become a reality.
If you're interested in learning more about building a new-construction home with Reinbrecht Homes, download our semi-custom standards guide.