When it comes to paint, choosing the right finish is a major decision. You'll need to choose between gloss, semi-gloss, satin, eggshell and flat paint.‌ If you're baffled by all these choices, this blog post will help. We'll walk you through the various paint types, glosses, and sheens so you can make the right choice for your project.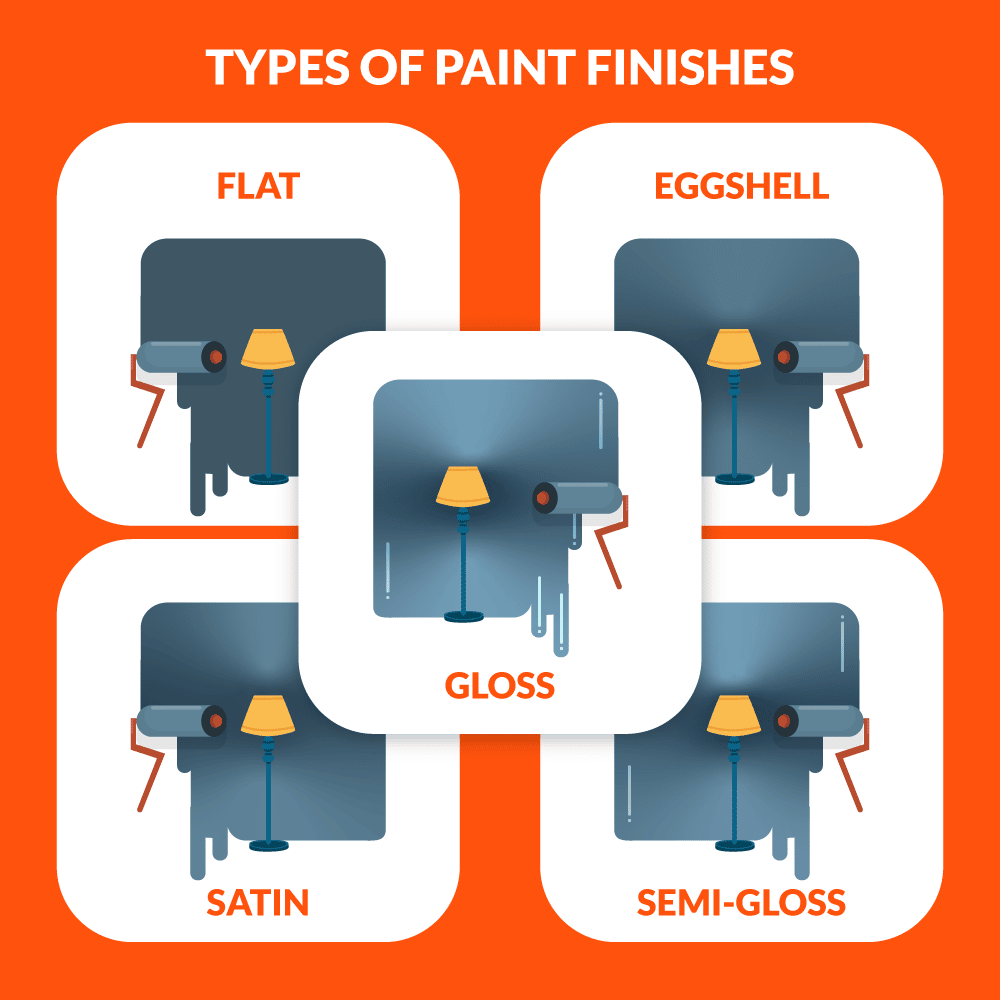 Whether you're choosing paint for a new home or touching up walls that have lost their luster, there are lots of finishes to choose from.
Interior paints come in different levels of sheen: gloss, semi-gloss, satin, eggshell, and flat. When choosing the right paint, you'll need to decide on the look you want and how durable you want the finish to be.
When you're choosing a paint finish, you should consider:
The size of the room
How much traffic the room will receive
How much light comes into the room
The condition of the walls
Whether you'll need to scrub any surfaces
How often you're willing to touch up your paint
The look you want to achieve
Other finishes you're using in the room, such as trim
Here is a brief rundown on each finish to help you make the perfect paint choices for your home.
Gloss
Gloss paint is a shiny finish that creates a luxurious look. It's great for areas where you want to show off the natural beauty of wood, metal, or stone. Gloss will reflect light, making areas appear brighter and more spacious than they would if they were painted with matte paint. 
Gloss is easier to wipe or scrub clean than low-gloss paints, which is why higher-gloss paints are often used in kitchens, bathrooms, and dining rooms. It's nice to be able to scrub your cabinets, door frames, and other surfaces that get touched a lot without worrying about damaging the paint — especially if you have children or pets. However, gloss makes fingerprints easier to see on surfaces, so keep this in mind when deciding whether gloss is the best choice.
Semi-Gloss
Semi-gloss finish is a clean-looking paint that works well for hallways and bedrooms.  It's the perfect balance between glossy and matte finishes because it hides fingerprints better, but still reflects enough light to make rooms look brighter. It works well for small rooms where you want to make the space feel bigger.
You might also choose a semi-gloss for your woodwork to get the harder finish of glossy paint without as much shine as a full gloss. Note that the more coats of semi-gloss paint you apply, the higher the sheen will be.
Satin
Satin paint has a velvety finish. It's perfect for rooms that get a lot of use — like living spaces or family rooms. This type of paint isn't as scrubbable as a glossy finish, but it hides fingerprints well.
Satin paint gives an elegant look to any room. It's not shiny, but it still reflects a bit of light so your room won't feel overly dark when you're sitting on the couch with all the lights off.
‌Eggshell
Eggshell is between satin and flat on the sheen (and durability) scale. It's essentially a flat (no-shine) finish with little luster, much like that of an egg.
Eggshell is a great option for anyone who wants to hide fingerprints, smudges, and minor stains without sacrificing light in their rooms. It's also a good choice if you want to minimize reflections on walls and ceilings while still creating a light and airy feel.
‌Flat
Flat paint gives a less reflective, more matte look to your walls and ceilings. It's perfect for rooms where you want a softer or muted feel. It also hides dirt better than gloss. Flat paint is often used in  all rooms throughout a home.
 Pairing flat wall paint with a gloss finish will really make the trim and mouldings pop.
‌A Little More About Sheen
If you've chosen deep, rich colors, you may want to choose a less shiny finish. Darker and more saturated paint colors have more pigment, which enhances the sheen.
A lower-sheen finish is a great choice for walls that have imperfections or receive a lot of direct sun. Flatter paint will absorb some light and hide flaws, while glossier paints highlight every imperfection when light hits the wall.
Keep in mind that sheen increases the cost of paints slightly. Flat paint is usually less expensive, and the price will increase by a couple of dollars per gallon every time you move one shade closer to a gloss finish.
Less durable flat paints will need to be touched up more often, but you can do just that, touch up the area that needs it. A huge negative to paints that have a sheen is the inability to touch them up. If you have a small hole on a wall that you have to patch and then repaint, you will have to repaint the entire wall and possibly the entire room. This is just a drawback of paint with a sheen, as all touch ups will stand out greatly on the wall requiring the repainting of a large area. This is true for brand new construction and homes have been painted years ago with a sheen finish.
A Few More Paint Facts‌
The type of paint you choose could impact your labor and materials costs beyond the cost of the paint itself.  Glossy paints require whole walls to be repainted during touchups, thus requiring more labor which will cost more to complete the job.
Glossier paints require a smooth surface, so there's more prep work and sanding when painting with gloss.
Matte paints, on the other hand, offer more coverage with fewer coats, which will save you money on labor and materials.
Matte paints and oil-based paints are easier to touch up.
OIl-based paints give off more fumes during the painting process, and are more toxic. Be sure to open a window and ventilate your space while painting.
Latex paints have a longer shelf life than oil-based paints, so you can save your leftovers in the basement for future touch-ups,
All formulas of paint will look darker or more intense on your wall than they do on a paint chip.
Lighter paint colors will reveal more imperfections, but can also make rooms feel larger, brighter, and more airy.
Darker colors, especially in matte finishes, can help make a large space feel more cozy and intimate.
While white ceilings are the norm, adding color to the ceiling is a sure way to add a touch of flair to any room.
Putting It All Together
When choosing paints for your home, there's more to consider than just color. Paint finishes and formulas will impact the look, feel, and durability of your paint job. Choosing the right amount of sheen for your project is key to achieving the right look and feel.
If you work with an expert builder like Reinbrecht Homes, you'll be expertly guided through the different paint type and finish options. With more than 20 years of experience and over 500 homes built, Reinbrecht has the experience to guide you through paint selections and all the other decisions that come with building a home.