There's a lot of misinformation out there about buying and/or building a home. Some of it's passed around by word of mouth or broadcasted to us on our favorite shows and websites.
We understand that homebuying is complicated enough, so the least we can do is put a few persistent myths to bed — starting with the ones that pertain to the early stages of the home buying process.
Myth:

Step 1 of homebuying is looking for a house.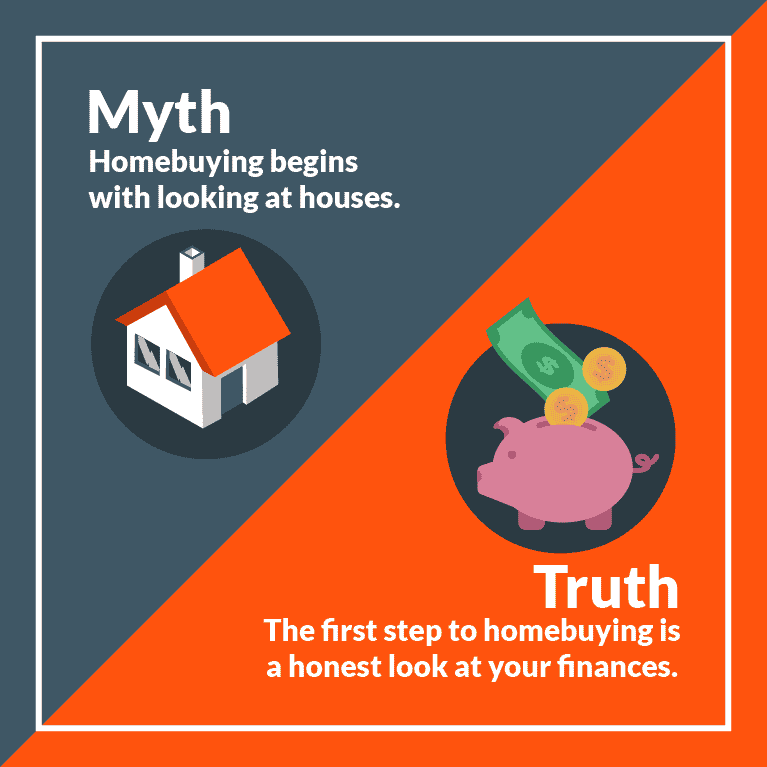 Nope. We've been writing about this a lot lately.
Before browsing the internet for a new home, the first step you should take is a hard look at your finances to determine how much home you can actually afford. One of the best things you can do – especially if you're a first-time homebuyer – is to get pre-approved for a home loan. You'll spend less time daydreaming and more time constructively house-hunting within your budget.
Myth:

You should choose your homebuilder based on the lowest bid.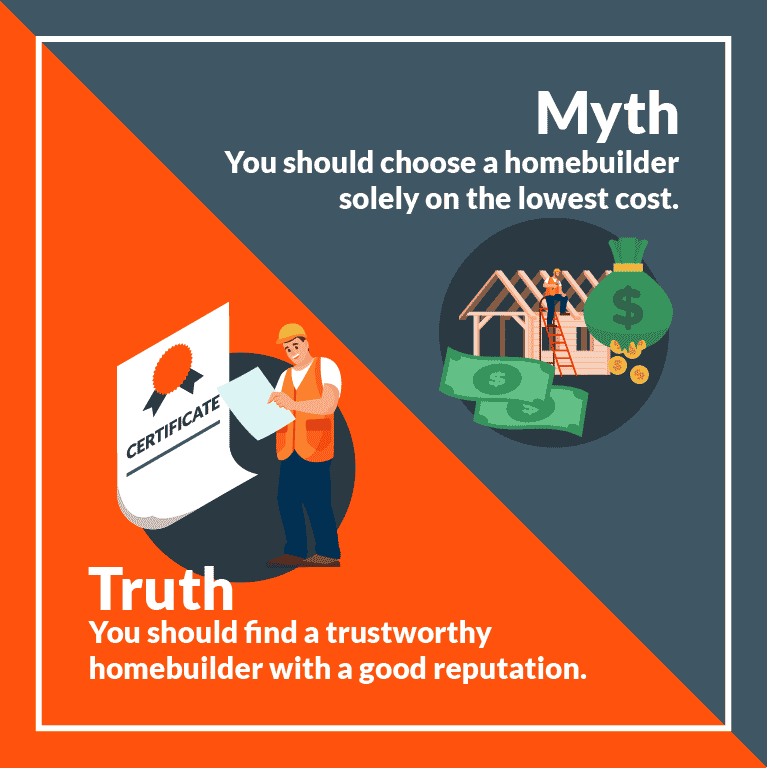 Basing your final choice between two-or-more homebuilders solely on their final bids assumes everything else across the board is the same, including their individual project management styles, workmanship, and overall fit.
Choosing the right home builder is more complicated than just comparing costs.
Considering this is potentially the biggest purchase you'll ever make, you want to partner with a company you trust with a reputation that'll allow you to sleep at night. Old measuring sticks like 'cost per square foot' are not accurate representations of the value you're getting from a homebuilder.
Myth:

Custom homes are always expensive and loaded with hidden costs.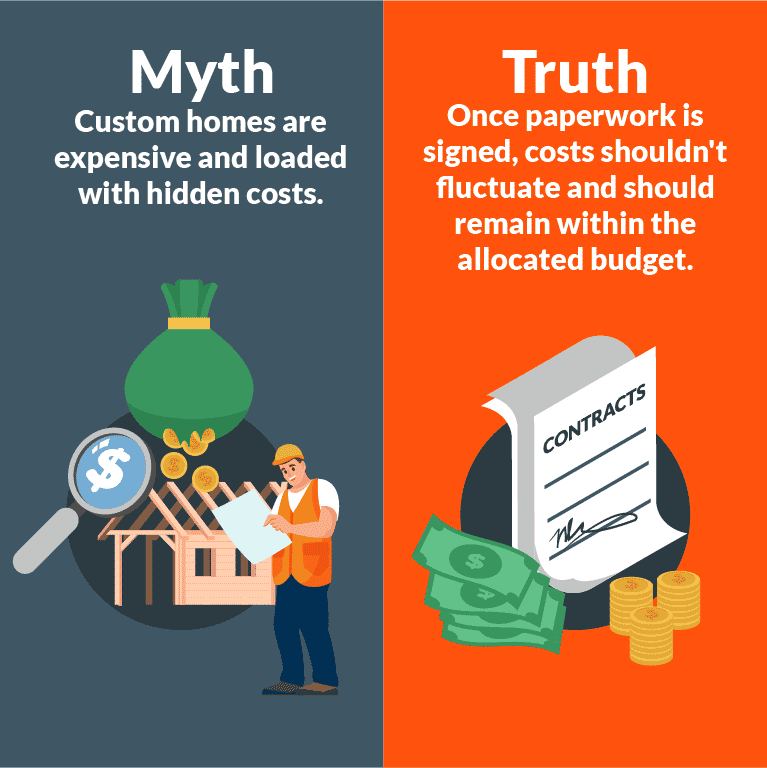 Without a doubt, this one comes directly from people who were recently dissatisfied with their own custom home buying experience.
When the paperwork is signed, the cost to build a home shouldn't fluctuate. Plain and simple.
A good homebuilder will do their due diligence and discuss any potential hangups in the estimate before construction begins. Your budget is your budget.
One reason the price of a custom home could potentially fluctuate woud be a constant stream of change orders or general indecisiveness on the part of the buyer. This is why we focus so much on the home selection process when working with our own customers. It's important to nail down your allowances before building ever begins.
Myth:

Smaller homebuilders are less busy and will give your build more attention.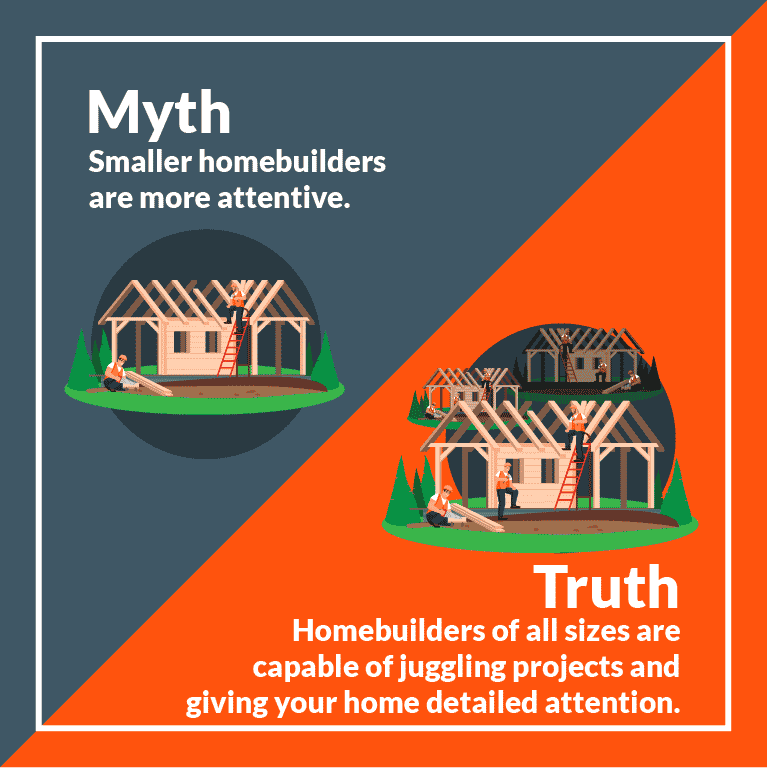 When considering larger homebuilders, their number of active projects shouldn't affect your finished product or the amount of personal attention you receive while it's being built. Successful homebuilders are capable of juggling as many projects as they're comfortable with — it all boils down to experience and project management.
A lot of smaller homebuilders keep their project volume low because the owner is busy running the clerical side of his or her business, not building homes.
If you're concerned with communication and adhering to a strict timeline, you should ask for and follow up with your chosen homebuilder's customer references. Ask them about their overall experience, the homebuilder's communication style, and ability to stay on schedule.
Myth:

Building a home in winter is a bad idea.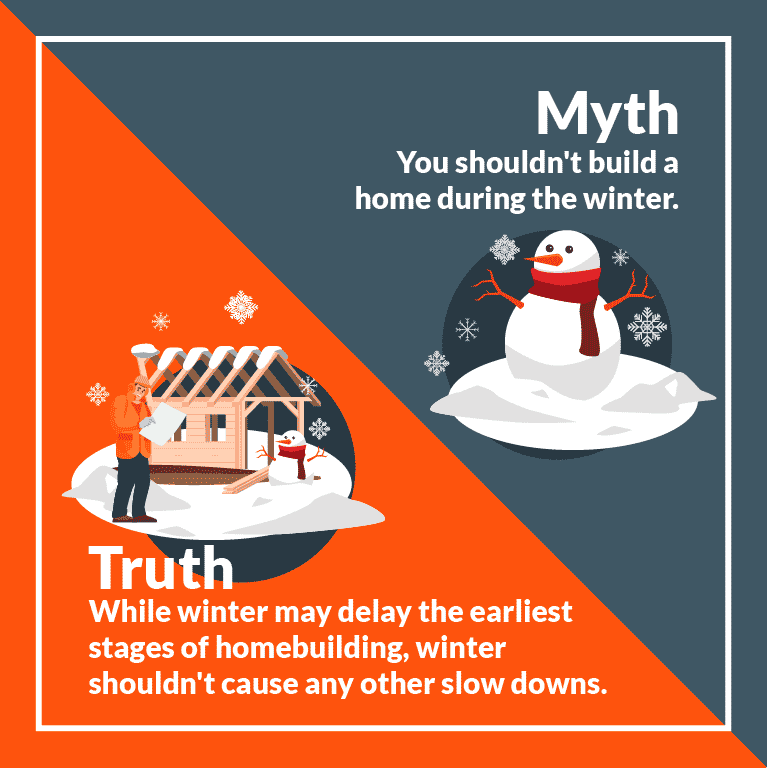 There are lots of little myths about winter builds. For instance, some people think the addition of calcium chloride to concrete mix (which accelerates the curing process in cold weather) affects the concrete's strength. That's a myth. Once it's cured, all concrete must pass the same stringent building code requirements.
Similarly, you might have heard cold weather affects the materials used in framing, but the lumber industry kiln dries their products to the exact same specifications year-round. And a well-managed site won't allow snow to melt and affect the frame.
To be fair, there are winter conditions that may delay the early stages of home construction, specifically if the ground freezes. But, once the foundation is in the ground, there shouldn't be any slow-downs due to winter weather.
Homebuilding is a year-round business. There's no need to be concerned with starting or finishing your project in colder months.
Myth:

You should always hire a realtor when buying a new construction home.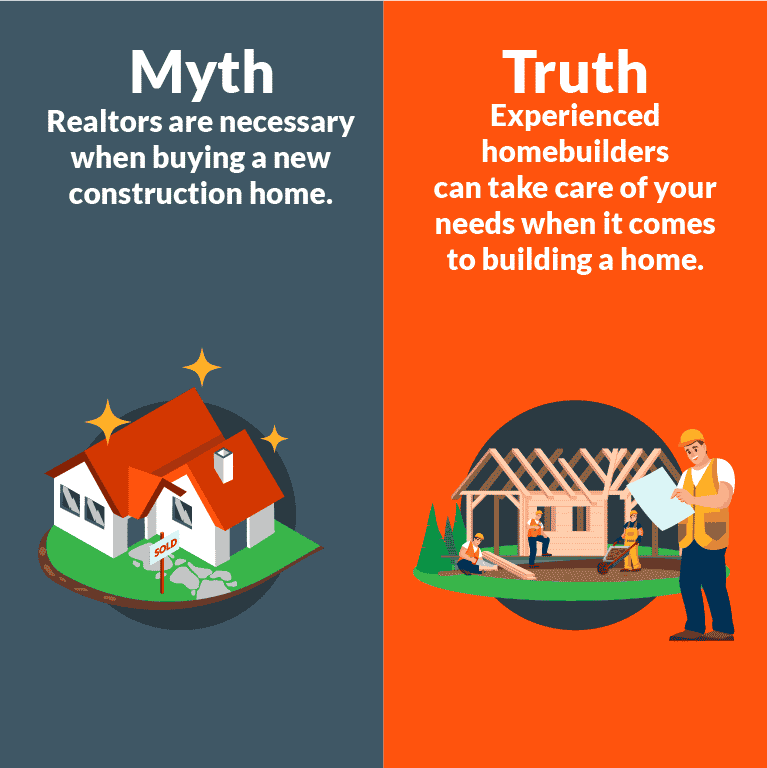 When homebuilders have resources freed up, they usually build homes to sell later. We call these 'spec homes', and they're a great way to get a new home at a good price. Spec homes are brand new homes, designed by the homebuilder to fit the average family's needs.
If you're considering buying a spec home, there's nothing wrong with hiring a realtor, but it's far from necessary. Experienced (well-staffed) homebuilders can do a lot of the things people rely on realtors for, including helping with all the necessary paperwork.
Good information is one of your greatest assets when building or buying a home. If you have questions, concerns, or are curious about something you've heard regarding the homebuilding process, feel free to reach out! We're more than happy to answer any of your questions.