Choosing between a ranch style and a two-story home design can be a daunting task, especially when you're not quite sure what each entails.
As a potential homebuyer, it's crucial that you understand the key aspects of each design, including the layout, functionality, potential for basements, and even cost implications.
In this blog post, we aim to demystify these designs, compare their cost implications, and address common questions.
Layout and Design: Comparing Space Utilization
A ranch home–also known as a ranch-style or rancher home–is a single-story house design characterized by a long, low profile. On the other hand, a two-story home design features two levels of living space stacked one on top of the other.
Ranch Style Home
Ranch homes, also known as one-story homes, are renowned for their wide, open-concept layouts. These homes typically feature all their main rooms—living room, kitchen, bedrooms, and bathrooms—on one floor, which allows for a seamless flow from one space to another.
This home design is typically laid out in a 'U' or 'L' shape, with all the rooms on one level. The ranch home design originated in the United States in the 1930's and 1940's, inspired by the practical needs of a rural lifestyle.
Some key features that might come with a rancher home style include an attached garage, a low-pitched roof, and open living spaces.
This indoor/outdoor connection and natural light flowing through the expansive windows are some of its defining characteristics. The ranch home also offers efficient use of available space, with all main rooms just steps away from each other.
Two-story Home
Two-story homes, on the other hand, distribute space across two levels. This design is common in urban and suburban areas, where land is often at a premium.
The separation of living and sleeping areas is another defining feature, with bedrooms typically located on the second floor, away from the social areas of the house.
The ground floor usually houses the communal areas such as the living room, kitchen, and dining room, while the upper floor is reserved for bedrooms and bathrooms. This separation can offer more privacy, as the sleeping quarters are distinct from the social areas of the house.
When comparing the two, ranch homes tend to cover a larger plot of land due to their horizontal expansion. In contrast, two-story homes have a smaller footprint and are more suitable for narrow or small plots. Ultimately, the choice between a ranch and a two-story home will largely depend on your personal preference and the land you have available.
Ranch Homes vs. Two-Story Homes: Comparing the Costs
Building and maintaining a home, regardless of its design, come with certain financial implications that potential homeowners must consider.
When it comes to ranch-style homes, the construction costs can be higher due to the larger footprint and the need for more materials to cover the same square footage as a two-story house. Additionally, they often necessitate a larger plot of land, which can increase the overall cost. On the upside, the maintenance and repair costs for ranch designs tend to be lower, given the ease of access to the roof and exterior walls.
In contrast, two-story houses generally have a smaller footprint and require less land, which can make them more cost-effective to build. In most cases, when you factor in the foundation costs, a two-story is going to cost less than building a one-story house.
They also offer more flexibility in design, allowing for separate living and sleeping areas which can increase the home's value. However, their maintenance costs can be higher due to the challenges posed by height. These include more difficult access to the roof for repairs and the potential need for specialized equipment or professionals.
One-Story vs. Two-Story Home Functionality and Lifestyle Suitability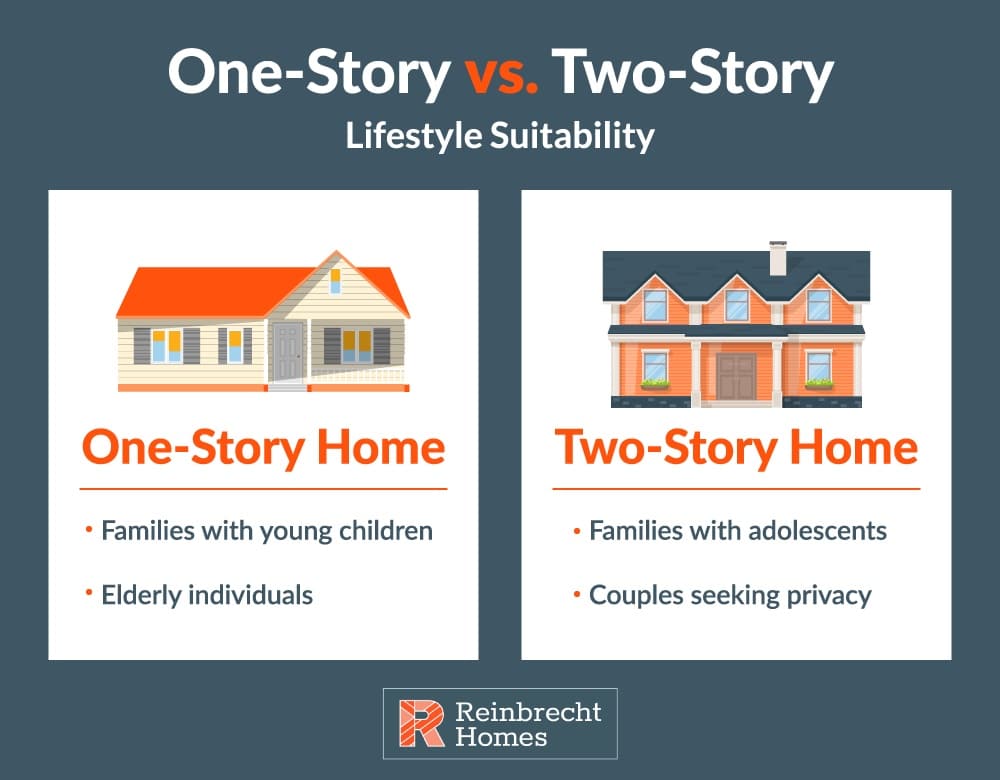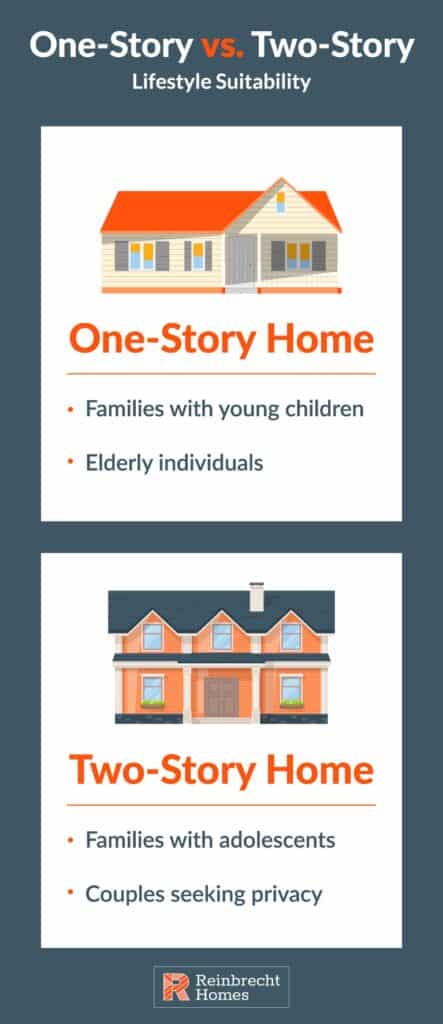 A ranch style home is characterized by its one-level design, making it a suitable choice for a variety of lifestyles who prefer ease of accessibility.
The single-story layout is particularly beneficial for families with young children, as it eliminates the dangers associated with stairs. Additionally, older individuals or those with mobility concerns often prefer rancher homes due to the ease of access to all rooms without the need to navigate stairs.
On the other hand, a two-story home can offer a different set of benefits that align with other lifestyles.
For families with adolescents or couples seeking more privacy, the separation of living and sleeping areas across two floors can provide desired distance. Furthermore, two-story homes can offer more outdoor space, as the building footprint can be reduced compared to a ranch home of similar square footage.
Potential for Basements in Ranch Style and Two-Story Homes
Basements are often a key consideration when choosing a home design, offering valuable extra space for a variety of uses.
In a ranch-style home, the potential for a basement is often high. Given the one-story layout, a basement effectively doubles the available floor space without increasing the home's footprint. This additional space can be utilized for multiple purposes such as a game room, home theater, workout area, or even a guest suite.
On the other hand, two-story homes can also incorporate basements. However, the need or desire for a basement might be less compared to a ranch home since two-story homes naturally provide more living space. Nonetheless, a basement in a two-story home can increase the available space substantially, offering additional room for storage, entertainment or living spaces.
Ultimately the decision to build up, down or out depends on your specific situation. If you want to save on costs your best option is to build up. However if you live in an area that is subject to inclement weather, building a basement is the most ideal option. If you have children or have mobility issues, building out is your best bet for avoiding the need for stairs.
Reinbrecht Homes: Your Trusted Partner in Homebuilding
Reinbrecht Homes brings a wealth of experience and expertise in crafting both rancher and two-story homes.
Our team prides itself on our attention to detail, commitment to quality, and the personalized touch we bring to every project.
We understand that choosing a home design is not just about aesthetics or current trends. It's about your lifestyle, your family's needs, and your long-term plans. That's why we are dedicated to guiding you through the process, providing all the necessary information and answering all your questions.
Our mission is to provide you with a home that's built for life. We carefully consider factors such as energy efficiency, maintenance requirements, and potential for future modifications in our designs.
Whether you're leaning towards a sprawling rancher or a cozy two-story home, you can trust Reinbrecht Homes to deliver a home that's not only beautiful, but also functional, efficient, and built to last.
When it comes to selling a home, we understand the market dynamics and buyer preferences. We go beyond the technical aspects and strive to understand your story. We believe every home design has its unique appeal and potential buyers. Our job is to highlight those features and make your home stand out.
Ready for a Seamless Homebuilding Journey?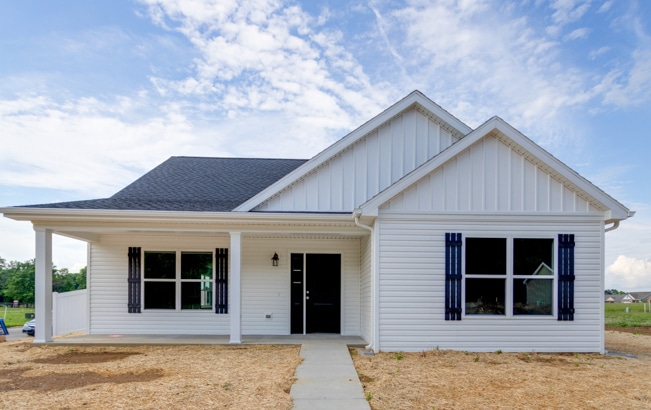 Choosing between a ranch style and a two-story home design is a significant decision that shapes your day-to-day living experience. Considerations such as layout, functionality, and costs all factor into this choice. But, remember, there's no right or wrong answer—only what best suits your lifestyle and needs.
At Reinbrecht Homes, we provide the guidance you need to make an informed decision that satisfies your current needs and long-term plans. We offer a variety of optimized floor plans for one-story and two-story homes, as well as two-story homes with the master bedroom on the first floor for future practicality. We also offer custom home design if you want to build your dream home to your own specifications. 
We bring our expertise in building both ranch (or what we call one-story homes) and two-story homes to the table, ready to turn your dream into a reality.
So why wait? Let's start your homebuilding journey today. Get in touch with us at Reinbrecht Homes, your trusted partner in crafting semi-custom and custom homes in Southern Indiana and Eastern Illinois.