Are you in the process of building a new home and wondering whether to choose light or dark flooring? Making the right choice can really set the mood in your space, so you must think carefully about this decision. You want to choose something that is stylish, timeless, and complements all of the other design choices you're making throughout your new house.
Choosing the right kind of flooring can be overwhelming, especially when considering the pros and cons of dark versus light colors.
This quick guide will help you make an informed decision by reviewing the cost, resale value, and aesthetics of these very different options. Also learn about the maintenance and respective durability factors when it comes to things like dirt, scratches, and UV rays.
Having a better understanding of these options will help you make an informed decision in this important (and fun) stage of the home-building process.
3 Main Types of Wood Flooring
There are three main wood flooring options to consider before deciding between dark and light colors; hardwood, laminate, and luxury vinyl plank (LVP).
Popular species for dark hardwood flooring can range from walnut to ebony. On the lighter end of the spectrum "blonde" woods like white oak and ash are trendy options.
Laminate flooring and luxury vinyl plank flooring were manufactured to mimic the look of hardwood but provide the benefits of a softer cushion underfoot, reduced maintenance, scratch resistance and water resistance. Both types are available in many shades of dark tones, including grays and charcoals, as well as lighter shades like beige and off-white.
Regardless of the color, all three types of flooring can come in a range of styles, textures and finishes. Educate yourself on the pros and cons of different types of flooring to get a better understanding of what works best for your needs.
Is There A Cost Difference Between Dark vs Light Wood Flooring?
Generally speaking, dark flooring tends to be more expensive than light flooring.
If you're looking at hardwood floors, for example, dark hardwood floors tend to cost more because darker woods are often more exotic and therefore more expensive.
Installation costs may vary depending on the type of flooring you choose as well. Darker hardwoods may require additional steps such as staining or sealing to protect them from wear and tear over time. On the other hand, if you're looking at luxury vinyl plank (LVP) or laminate flooring options—those don't require the additional staining and sealing procedures which is a huge benefit for reducing maintenance costs down the road.
Overall, when it comes to choosing between dark vs light flooring, it's important to consider not just the initial cost but also any additional installation and ongoing maintenance that might be associated with the type of flooring you choose.
When it comes to dark vs light flooring, one of the biggest considerations is cost. One way to save on costs is to select a homebuilder who has the flooring costs built in, regardless of the color. A seasoned homebuilder will have developed relationships with distributors and created installation efficiencies, which saves the homebuyer money.
Which Color Has the Best Resale Value?
Recent trends show that dark flooring is currently more popular than light flooring, however this can vary depending on the style of the home. While there isn't an exact answer to which color will increase the resale value of your home, trends are a consideration that many buyers take into account when purchasing a home. The problem is—trends are ever changing.
Ultimately, you will want to select the flooring that compliments your personal style, family needs, and the theme of your home. If you are concerned with resale value because you intend to sell your home in the future, focus more on selecting a flooring type that is built to last. Choose colors that complement the style and atmosphere you are trying to achieve in each room while you'll be living in it.
If you are going for a more traditional or classic style, dark flooring may be the better choice to complement the decor. Some people even prefer dark floors because they tend to make a room look richer and more sophisticated, which can also be appealing to home buyers when it comes time to sell.
On the other hand, if you are building a contemporary or modern home, light flooring may be a better option to create a sleek and stylish look. Light floors are also known to make a room appear larger and brighter, so they are great for making smaller living areas and rooms look more spacious—which can be helpful when it comes time to sell.
Which Shows Dirt Easier—Dark Flooring or Light Wood Flooring?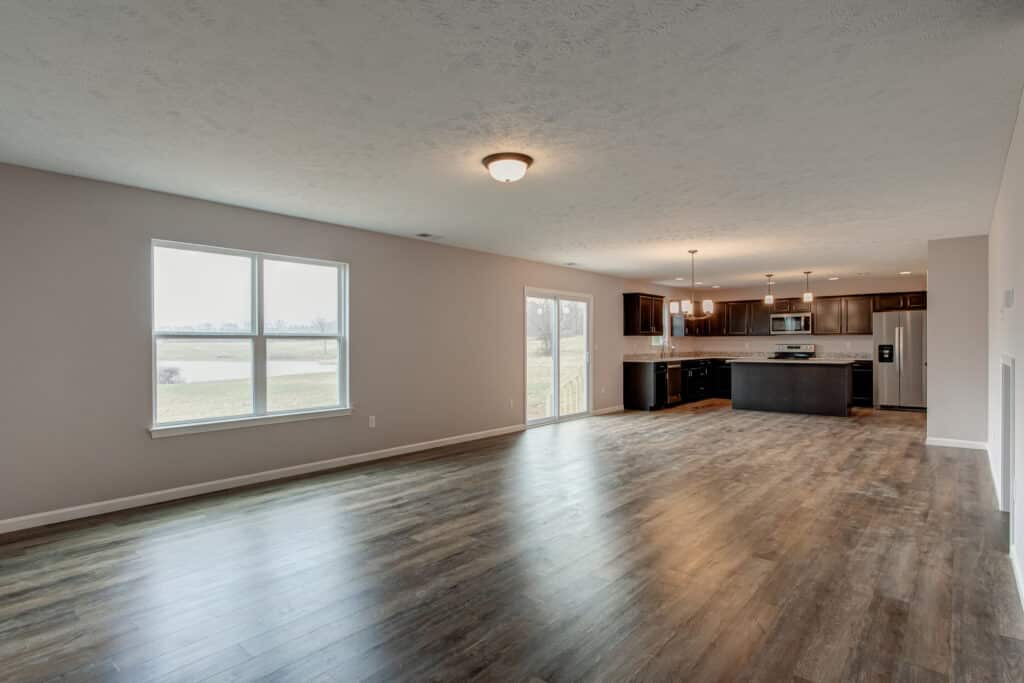 Dark colors show dirt, dust, scratches and dog hair more easily than lighter colors, so they may require a more frequent cleaning effort.
If you have kids and pets—you may want to consider lighter flooring colors for high-traffic rooms like the living room and the kitchen.
Also consider the TYPE of flooring and what additional maintenance is required.
For example—hardwood floors (regardless of color), require periodic sealing and staining to protect the wood and keep the color looking its best. This can be done on an as-needed basis or as part of a regular maintenance routine. If you opt for laminate flooring or luxury vinyl plank flooring, dark and light varieties should be regularly vacuumed and mopped.
Rooms that have a lot of natural sunlight peeking in will show dust, dirt and debris much easier than rooms without natural light. So keep that in mind when deciding on flooring colors for different areas of your home.
At the end of the day, if one of your main goals is to camouflage the dust and dirt, crumbs and dog hair that easily build up on floors—light flooring will do a better job than dark flooring.
Which Is More Aesthetically Pleasing?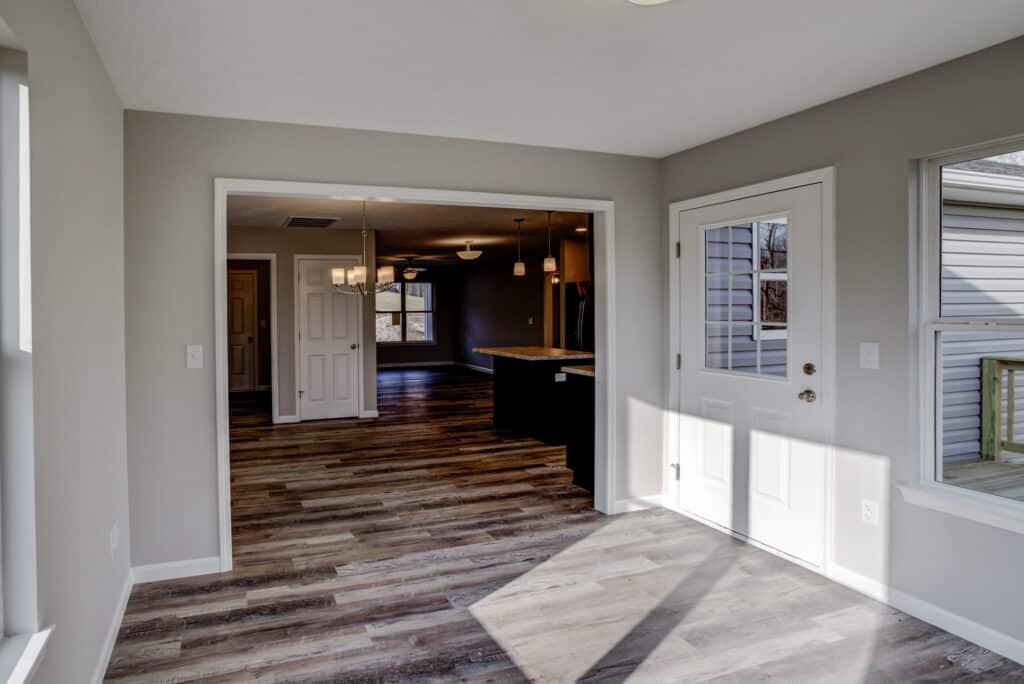 The answer here is that overall aesthetics are based on several factors, including your personal style, decor choices and room size. 
Dark flooring can come in a range of colors from deep browns to blacks. It can create an inviting atmosphere that's perfect for any style home. Darker colors can also be used to add depth and contrast to a room.
Dark flooring typically shows more texture and creates a sense of formality in a room, which adds character, elegance and sophistication to any space. However, one drawback to consider with dark flooring is that it can absorb light, making a room appear darker and smaller than it actually is. This can be especially noticeable in rooms with limited natural lighting.
Light flooring tends to be more popular in modern homes and can come in a range of colors from light browns to whites. Light flooring can have a range of textures, from distressed to smooth, but the richness of the wood grains typically don't show up as well as they do in darker-colored planks.
One of the biggest advantages of light flooring is that it can brighten up a room, making it appear larger and more inviting. Light colors reflect more natural light, creating an open and airy atmosphere. This is especially beneficial in smaller rooms where you want to maximize the amount of natural light entering the space.
Light flooring also allows the furniture and accessories to stand out more, making your decor the focal point.
Ultimately, the decision between dark and light flooring from an aesthetics perspective is a matter of personal preference.
Are There Any Durability Considerations to Be Aware of?
Generally, darker tones tend to maintain their color better over long periods of time. Of course, this is also widely dependent on the type of flooring you choose. 
Dark floors absorb sunlight making them less prone to fading compared to lighter tones. Light floors also may require more frequent cleaning due to their susceptibility to stains.
Overall, dark flooring can be a great choice for homeowners who want to add depth and contrast to a room and don't mind more frequent maintenance to sweep and mop dirt and dander that collects and shows easily. 
Light flooring is perfect for brightening a room, but understand that it is more prone to fading. Not to mention, a spill of wine on a light floor is more likely to stain than if it were spilled on its darker counterpart.
Which is Right for Me? Dark or Light Flooring?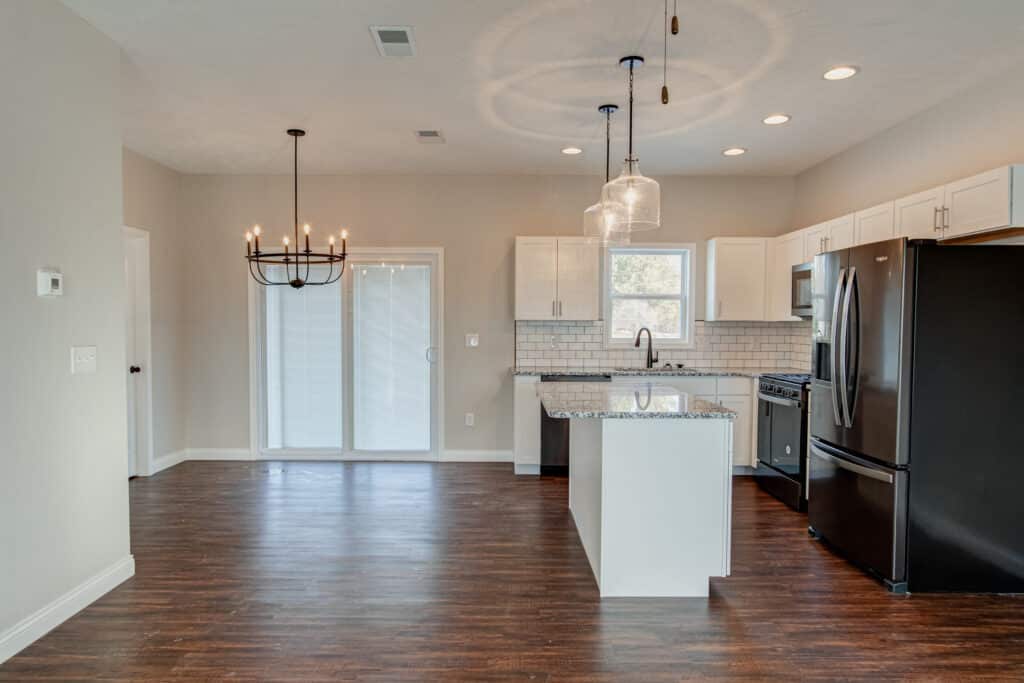 Ultimately, choosing between dark and light flooring for your home comes down to your individual needs and preferences for your space. It is highly recommended that you obtain samples of the different types of flooring and consider the lighting that will be in the home during different parts of the day.
Take time to research the available options, including their costs and functionality. Consider cleaning and maintenance factors such as traffic, pets, and sunlight exposure. Additionally, consider the overall look of the rooms you're planning to decorate and what furniture and rugs will be added to set the tone of the room.
At Reinbrecht Homes luxury vinyl flooring comes standard in all wet rooms and the main flooring living areas in our semi-custom built homes. We offer 6 wood looks and 2 tile looks to choose from at no extra cost to you. To learn more about our standard features, download our semi-custom standards guide.
Our team of experienced professionals can help you select the perfect type of flooring for your new home build.
Contact us today or stop by our showroom to discuss the flooring options we offer in our quality homes.