Your floors are the largest surfaces in your home and are the foundation for the entire look of each space, but the challenge is balancing your style with your needs. And there are many variables to consider, including your budget per square foot, whether you'll install it yourself, and the amount of regularly required maintenance you're comfortable with.
The good news is, home flooring technology has come a long way, and now we can do more than ever before with lookalike flooring and low-maintenance options, from budget-friendly to high-end.
Here are some of today's most popular home flooring options, plus some pros, cons, and care tips for each.
3 Most Popular Types of Home Flooring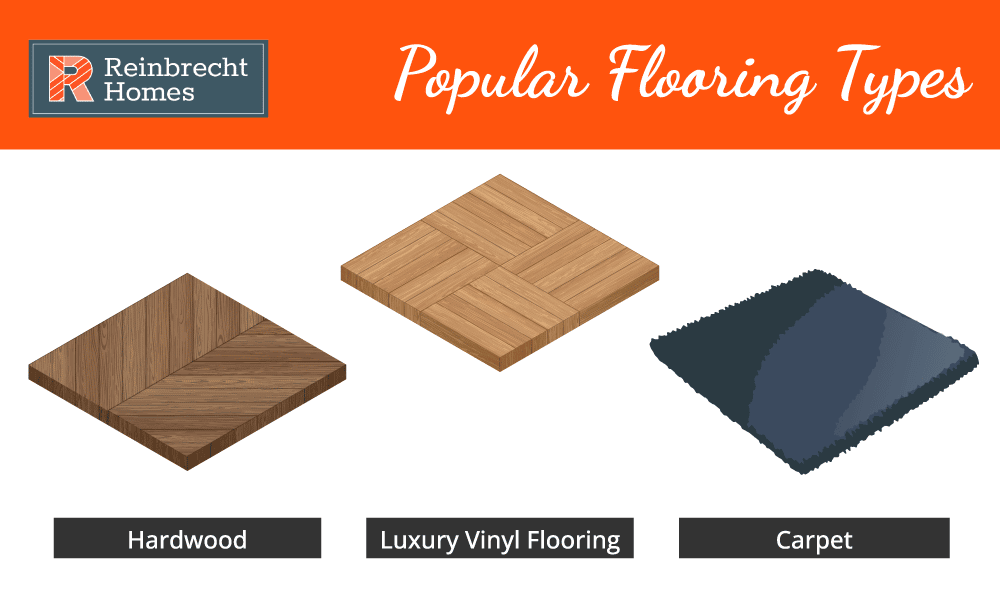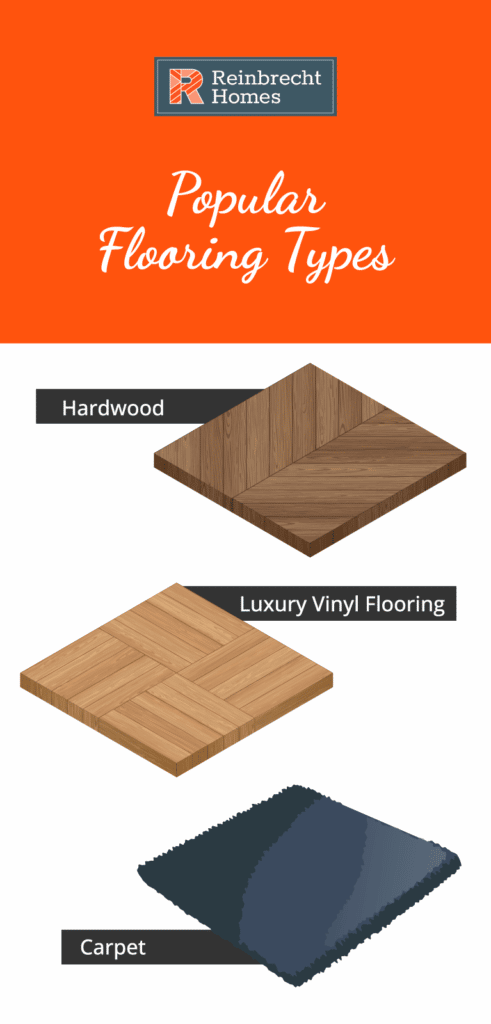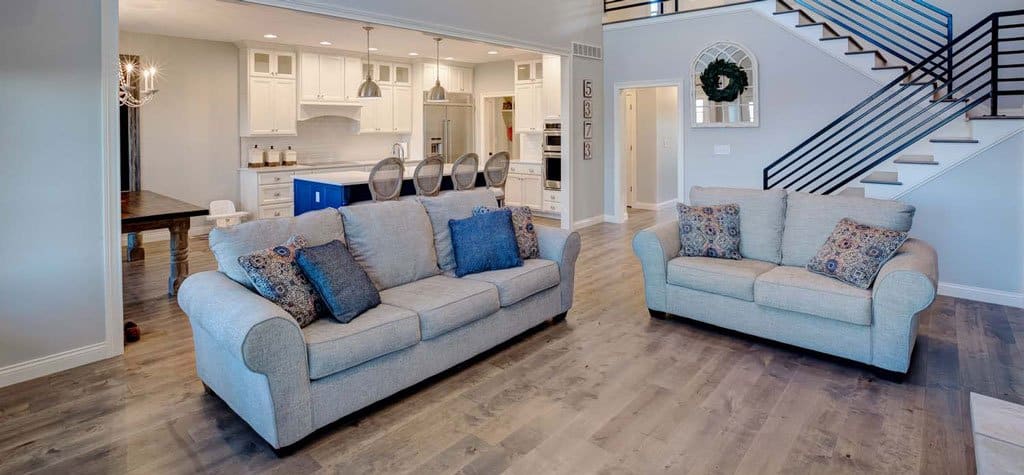 Luxury vinyl flooring comes in two primary types: Luxury Vinyl Tile and Luxury Vinyl Plank. The main difference between the two is the appearance; one looks like plank and one looks like tile.
Luxury vinyl is a newer option that has become increasingly popular in recent years. It's made to mimic the look of natural materials like wood or stone, but is more durable and easier to maintain. Luxury vinyl is also waterproof, and scratch resistant making it a good choice for kitchens, bathrooms and high traffic areas.
Pros
Luxury vinyl has become our most popular choice for home flooring, and for many good reasons.As mentioned previously its waterproof, low maintenance, resilient, and is one of the most budget-friendly options, too!
Plus, for the DIYers who prefer to do their own installations, there are click-together options that make installation quick and easy.
We also offer groutable LVT for a more natural tile look, we offer DuraCeramic, a stronger, engineered type of tile made with limestone and vinyl. Many people love that it's drop-resistant and naturally warmer to the touch than ceramic.
Ceramic Tip:
DuraCeramic is not designed for extremely wet areas, such as showers, in which ceramic tile works perfectly. Often, ceramic tile and DuraCeramic are used together — for example, some may choose DuraCeramic for the bathroom floor and ceramic tile for the shower.
Cons
Although most LVT products do look as authentic as the hardwood, stone, or ceramic they mimic, some people still prefer the look and feel of the real thing.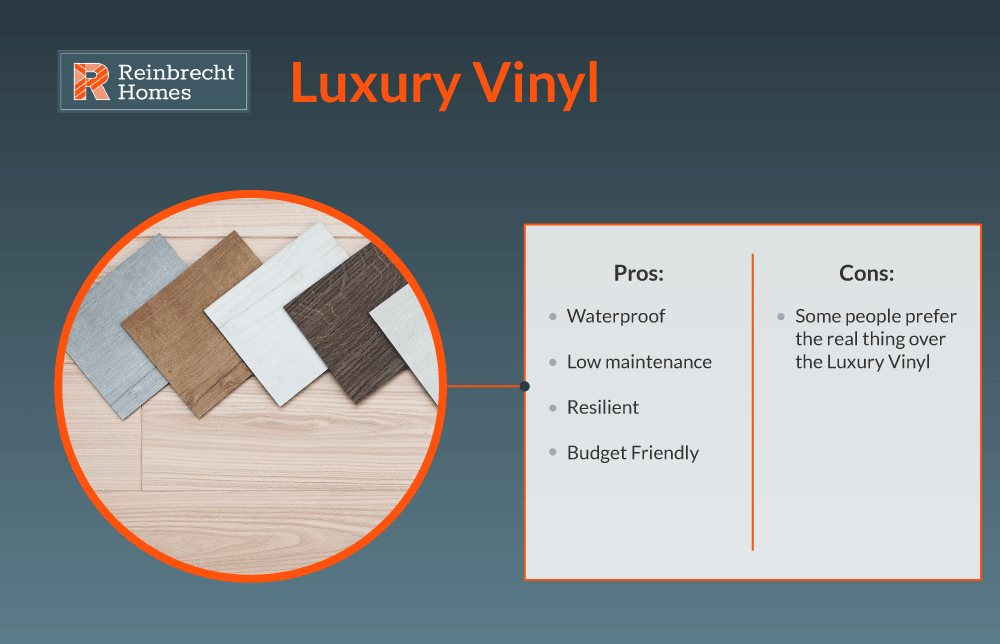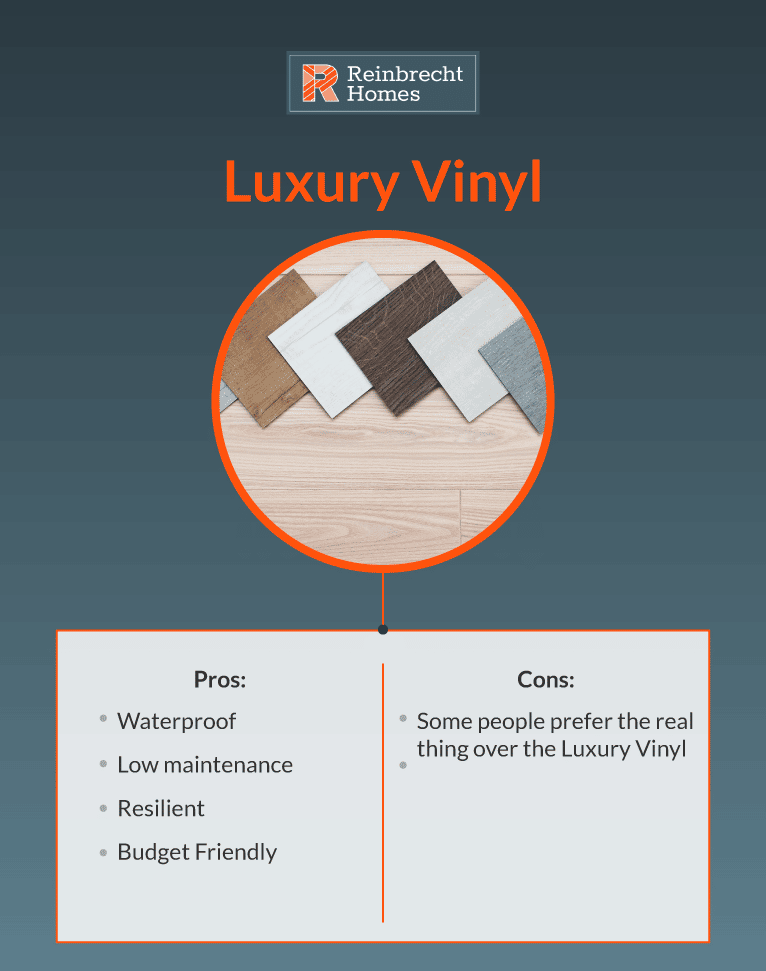 Care
You can simply dry vacuum or mop luxury vinyl flooring regularly to remove dust and other debris. If your floor is a glue down product, it's crucial to clean up any liquid or spills quickly to prevent slippage and damage to the adhesive — most manufacturers warn against using soap-based detergents, caustic cleaners, or abrasive cleaners.
Furthermore, you should never use a steam cleaner on a vinyl product as this could damage the planks or cause the adhesive holding it down to release.
Most cleaning products specifically made for floors will not harm luxury vinyl, but if you're ever unsure you can test a small area first or dilute the cleaner with water.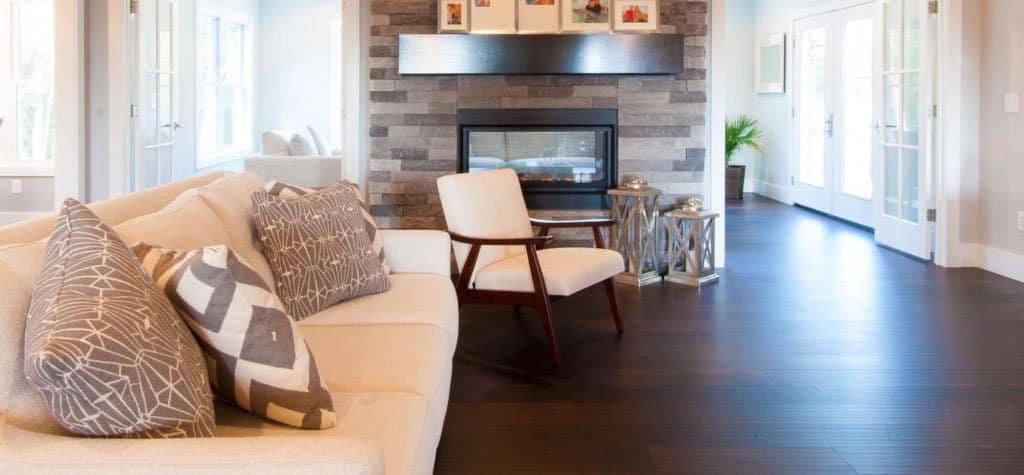 Pros
Another popular home flooring option, modern hardwood flooring is now available in both solid and engineered woods.
Engineered hardwood is made up of layers — the top and bottom layer is real hardwood that sandwiches a middle, composite layer like plywood. The engineered version is typically less expensive than solid and tends to be more scratch-resistant, which is great if you have kids or pets.
You can even give engineered hardwood more texture by having it hand-scraped, a process that involved using tools to put natural-looking dents and marks in the wood.
If you're interested in solid wood, one of the main benefits is you can refinish it at any time to update your home's look. This is great for anyone who likes to regularly-change up the look of their home.
Cons
One of the disadvantages of solid hardwood is that humidity causes it to expand and contract, creating gaps between your boards. This is especially a concern for those living in an area like southern Indiana, where high humidity is common. Engineered hardwood, however, has the flexibility to withstand these fluctuations.
Another con of hardwood, solid or engineered, is that darker colors are more prone to show dirt and scrapes. If you're dead set on hardwood, we usually recommend lighter shades for this reason.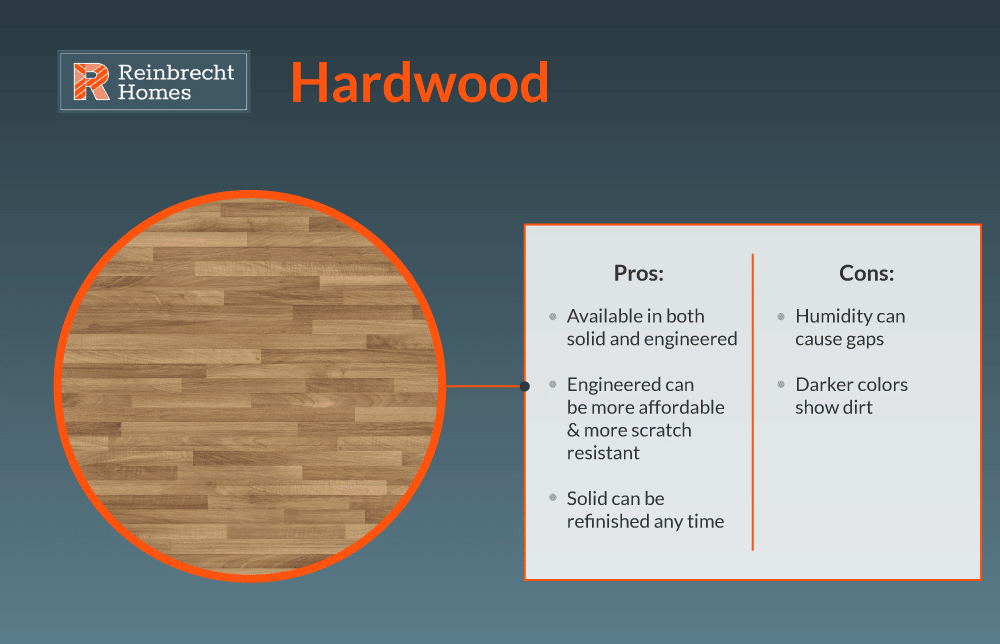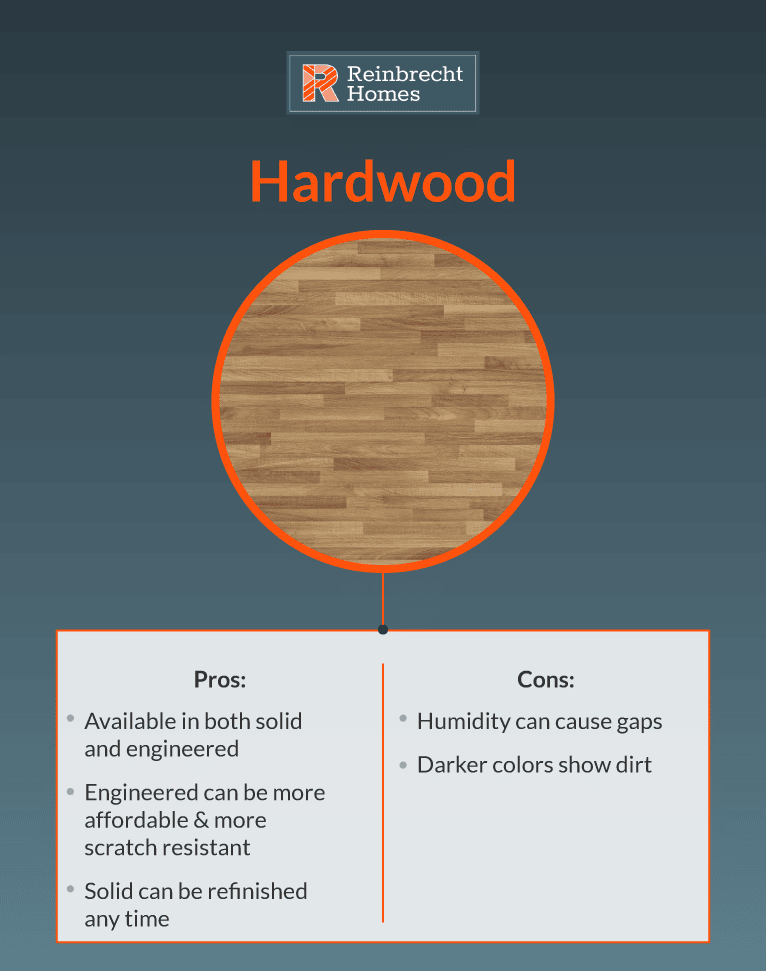 Care
As with LVT, you need to clean up spills right away if possible — don't let water sit on the hardwood for an extended amount of time! You can use a damp cloth to clean up spills or use a cleaning formula specifically made for hardwood. Here's a list of cleaning agents to avoid, plus information on some great hardwood cleaner.
You can vacuum using a handheld or canister style with a soft brush attachment to prevent scratches. If you have pets, keep their nails trimmed and this will also help prevent scratches.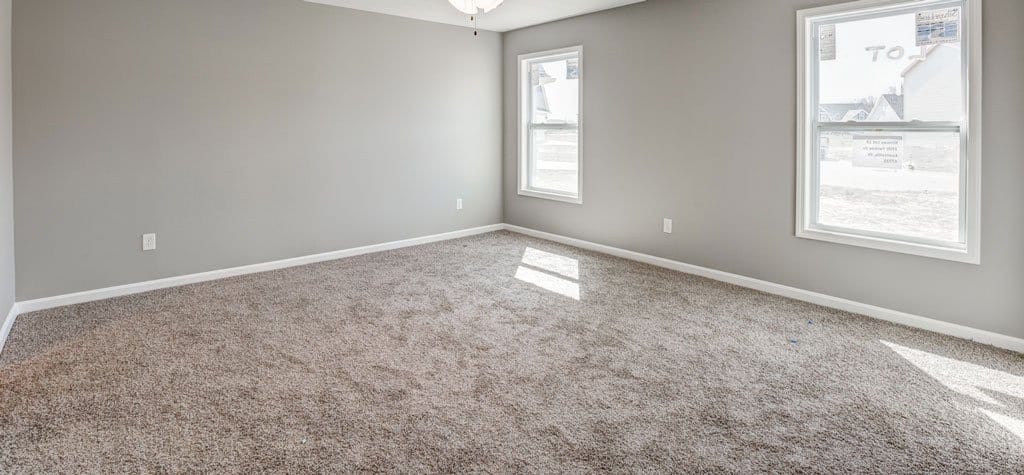 Pros
Carpet is a classic choice and has been used in homes for decades. It is comfortable and typically easy to install.
One of the biggest advantages of carpet is there are more colors and textures than any other type of home flooring. It is commonly still used in bedrooms, on the second level of a home, and to cover stairs. Compared to hard surfaces, carpet is also soft on the feet and more pleasant to walk on.
Amongst our clientele, Dreamweaver carpeting is a top pick — mainly because this brand has a lifetime-stain resistant warranty! Most carpets are piece-dyed, meaning the dye only sits on the top layer. So, when you spill something, it stains the bottom, undyed layer. But, Dreamweaver is dyed all the way through the fiber and the stains don't have anywhere to stick, making it great if you have kids or pets.
Cons
Carpet is generally a hard home flooring to clean. If you don't choose a stain-resistant product like Dreamweaver, you'll have to worry about stains — and carpet cleaning can be a hassle. People with allergies can also find carpet to be an issue because the fibers can hold allergens.
Carpet is not as durable as other types of home flooring so it may need to be replaced more frequently.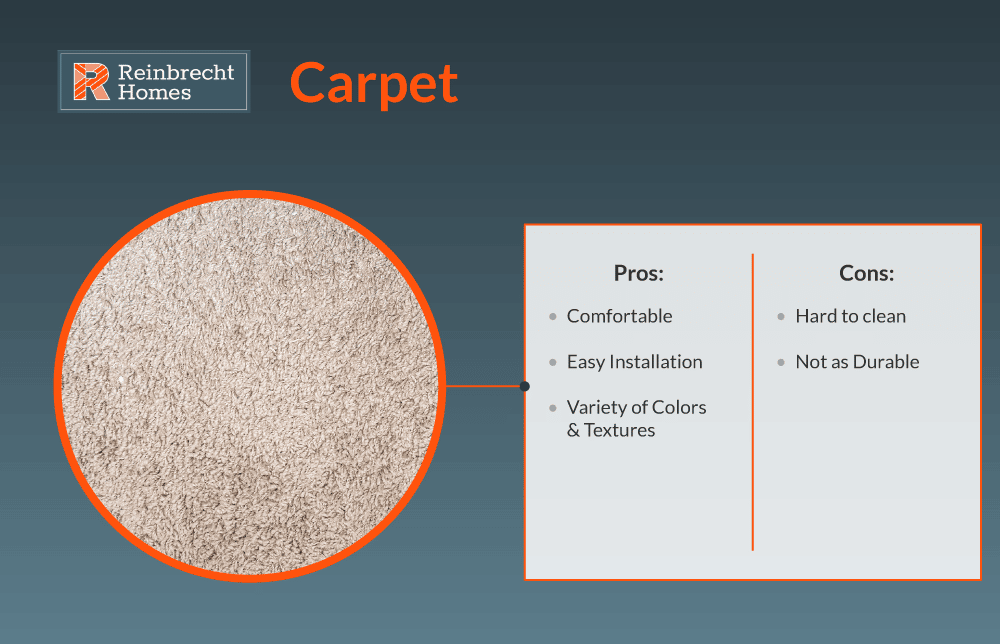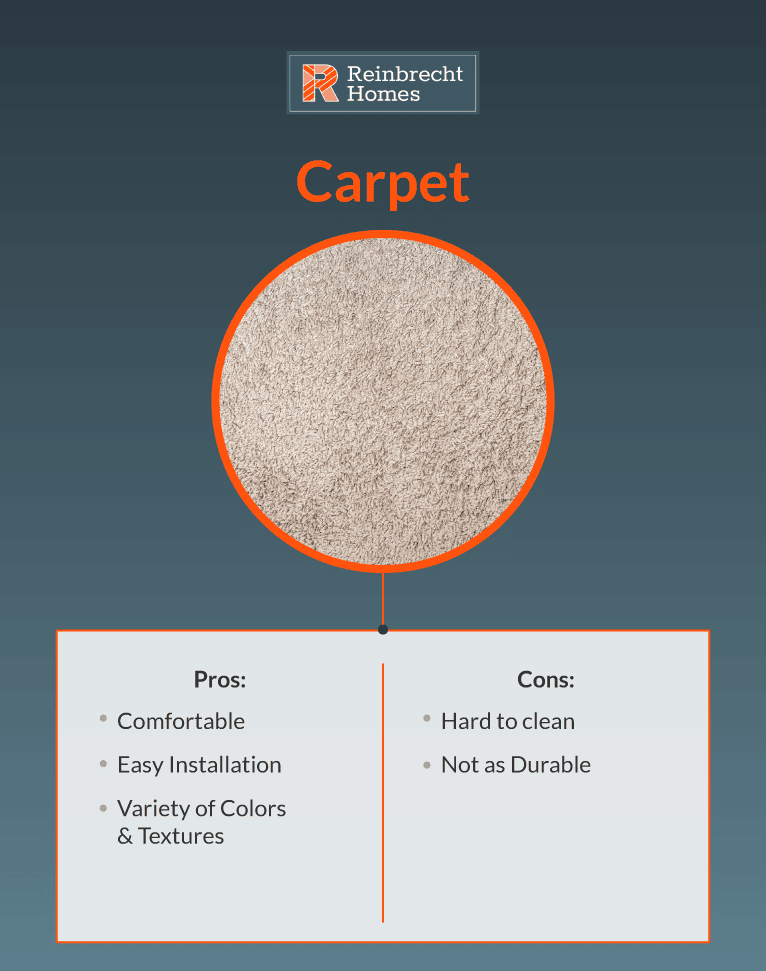 Care
You can keep the carpet clean by vacuuming regularly and making sure to blot up any spills as soon as possible with a damp and very absorbent towel. The longer the spill sits, the more difficult it is to clean and it could soak through to your pad and subfloor.
Check out this website for a list of vacuum cleaners with the Carpet and Rug Institute Seal of Approval, plus more great cleaning tips.
Choosing The Right Flooring
With so many different options, styles, and colors it can be really daunting to choose home flooring for your new home. We encourage clients to take samples home with them to make it a little easier to decide — what the floor sample looks like in our store may be very different than what it looks like in your home paired with your lighting and paint colors.
Just keep in mind — your floors don't have to be the same in every room. Our experts on staff can help you create the perfect mix of home flooring for you and your house.