Whether you're considering adding an in-law suite to your home to accommodate extended family, increase your property value, or simply create an extra living area, this blog is here to help. 
We'll guide you through different floor plans, key considerations, and practical tips, making the complex task of home customization and extensions more understandable. 
Let's begin this exciting journey learning how an in-law suite can transform your house into a versatile and welcoming home.
Understanding the In-law Suite Concept
An in-law suite, often referred to as a secondary suite or accessory dwelling unit, is a private living space within a house. Typically, it includes at least one bedroom, a bathroom, a kitchen, and a living area. It's designed to provide comfort and privacy to its inhabitants while allowing them to stay close to their loved ones.
There are different types of in-law suites based on their location and design. Some are built as an extension to the main house, while others are separate structures located in the backyard. They can also be a converted basement, attic, or garage. The design and layout of an in-law suite depend largely on the needs and preferences of the homeowners and the occupants.
Reasons to Add an In-law Suite to Your House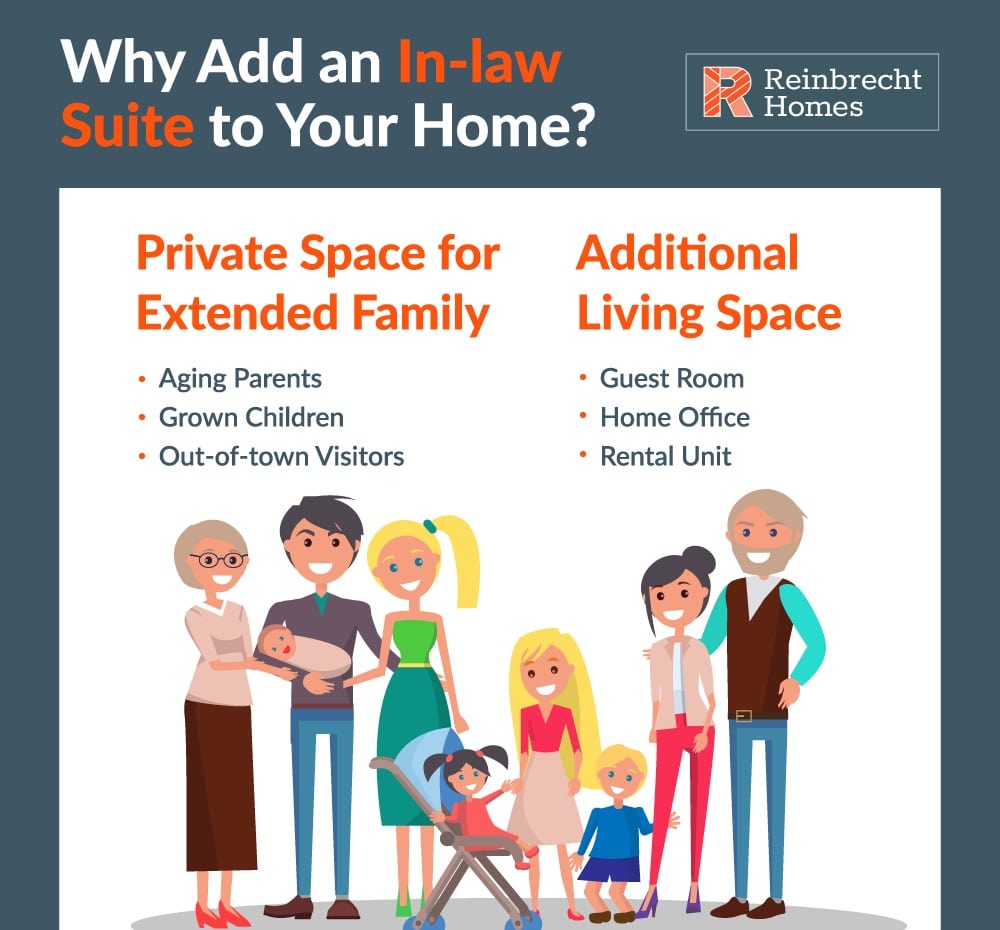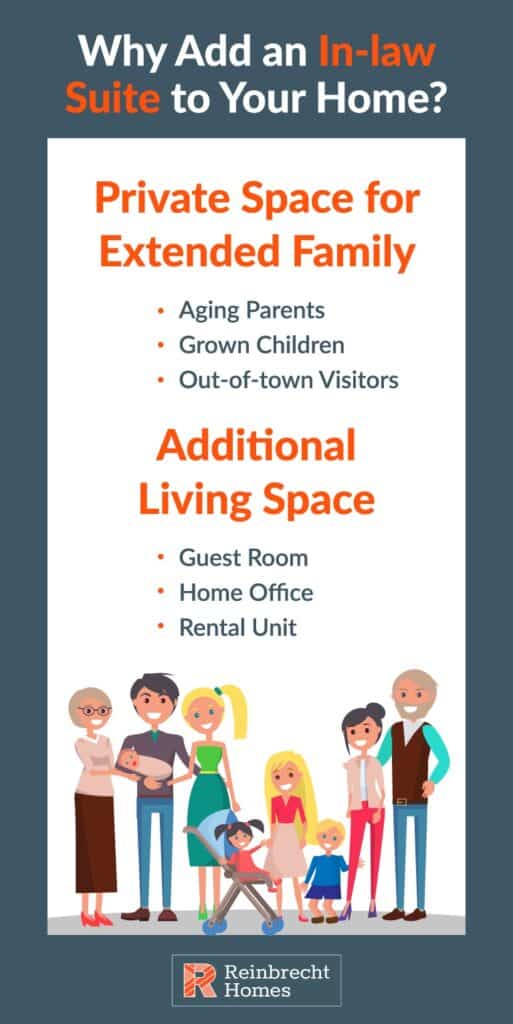 An in-law suite proves to be a versatile addition to your home for several reasons. 
Primarily, it provides a private and comfortable space for extended family members. Whether it's for aging parents who require care, grown children saving for their own homes, or relatives visiting from out-of-town, an in-law suite offers a beneficial solution to accommodate family members under the same roof, while maintaining privacy and independence.
Beyond family accommodation, an in-law suite can serve as additional living space. It can function as a guest room, a home office, or even a rental unit. The suite's versatility can adapt to your changing needs over time, making it a valuable addition.
Planning a House with In-law Suite
When planning a house with an in-law suite, there are several key considerations to bear in mind. Here are just some of the most  important factors to consider:
The space available – An in-law suite typically includes a bedroom, bathroom, living area, and a small kitchen. Therefore, you should ensure that you have sufficient space to include all these areas without compromising the suite's functionality and comfort.
The suite's location in your home – The in-law suite should provide privacy for both the occupants of the main house and the in-law suite. For instance, you might want to place the suite on a different floor or at the far end of your home.
Accessibility – If your in-laws are elderly or have mobility issues, ensure the suite is easily accessible with minimal stairs and, if necessary, install safety features like grab bars in the bathroom.
Local regulations and building codes – Check with your local authorities to ensure your planned addition is legal and meets all safety standards. This step is crucial in avoiding legal issues and ensuring the safety of all occupants.
Exploring In-law Suite Floor Plans
Start by understanding the floor plan options you have for an in-law suite. There are numerous designs to choose from, but two popular ones are the 1-bedroom mother-in-law suite floor plan and the 24×24 mother-in-law suite floor plan.
The 1-bedroom mother-in-law suite floor plan is an ideal choice for those looking to create a compact yet comfortable living space. This plan typically includes a bedroom, a bathroom, and a small kitchen or kitchenette. It's designed to offer privacy while providing all necessary amenities for an individual or a couple.
On the other hand, the 24×24 mother-in-law suite floor plan is a more expansive option. This larger suite provides ample room for a living area, a full kitchen, a spacious bedroom, and a well-appointed bathroom. It's perfect for those who want to offer their in-laws or guests a more luxurious and spacious living arrangement.
If you are unsure what type of floor plan would work for your home, seek out a reputable home builder who can guide you throughout the process. In some cases, a home builder may be able to customize a home to incorporate an in-law suite that is the size necessary to meet your preferences.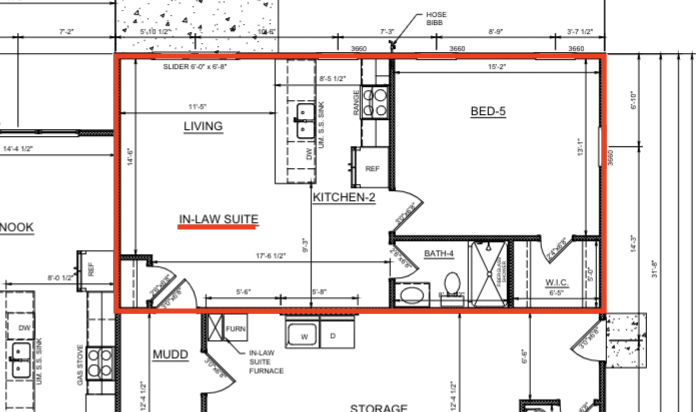 For example, the image above shows a closeup of a custom sized in-law suite that has been added to a Reinbrecht Homes floor plan. This came at the request of a customer who wanted to add the suite to the existing "Olive" floor plan to provide an extra living space within the home. The team at Reinbrecht worked together with the customer to determine a layout and size that would work best for the customer's needs and for the overall construction plan. The end result was a 36×18 in-law suite complete with a bedroom, small kitchen area, living space and a full size bathroom.
Integrating In-law Suite to Add A Bedroom to the Home
One of the key benefits of adding an in-law suite to a house is the value it can add to your property. A well-finished in-law suite adds an extra functional room to the house, providing more space for living. 
In today's market, an in-law suite is seen as a highly desirable feature, which can help your property stand out and command a higher selling price.
When it comes to integrating the suite, it's important to consider the design and layout. The in-law suite should be easily accessible and ideally located on the ground floor to cater to older family members. It should also provide privacy, yet easy access to the main house. One popular layout option is to position the suite on one side of the house, separate from the other bedrooms.
While planning, consider how the suite will connect to the main house. Options might include a shared entrance or private external door, or even a hallway or breezeway connection. Your choice will largely depend on the level of privacy you want to maintain and the layout of your existing home (if you're renovating).
Remember, the goal is to create a space that is not only functional but also comfortable and inviting. 
Consider including amenities like a small kitchenette, a private bathroom, and ample storage space. Make sure the suite is well-lit and ventilated. Use high-quality materials and finishes to make the space feel like a natural extension of your home rather than an afterthought.
Steps to Add an In-law Suite to an Existing House
The first step when adding an in-law suite to an existing house is to evaluate the current structure of your home. This involves assessing the space available, considering the layout, and determining whether the existing structure can support the additional construction. You may need to consult with a structural engineer or an experienced homebuilder for this process.
Once you have a clear understanding of what your house can accommodate, you can then proceed to the design phase. This involves creating a floor plan for the in-law suite. This includes selecting features like the size and layout of bedrooms, bathrooms, kitchens or kitchenettes, as well as any other amenities you wish to include. Make sure your design is practical for its intended purpose. It should also be in line with the overall style and design of the house to ensure a seamless blend.
The next phase is the construction process. This begins with obtaining the necessary permits and complying with building regulations. The construction process involves various stages, including laying the foundation, erecting the walls, installing the roofing, and finishing the interiors. This process requires the expertise of various professionals, including carpenters, plumbers, electricians, and painters.
Remember to regularly inspect the progress of the construction to ensure that the work is being carried out according to the plan. Also, it's important to maintain open communication with your contractor to address any issues that may arise during the construction process.
After the construction is complete, the final step is to furnish and decorate the suite to make it comfortable and welcoming for its new occupant. This includes installing necessary appliances, choosing comfortable furniture, and adding personal touches to make the space feel like home.
Adding an in-law suite to an existing house is a major project that requires careful planning and execution. Professional help is recommended in ensuring a successful outcome. Consider seeking the assistance of an experienced homebuilder for guidance on where to start, what permits you need, and how best to integrate the suite with your existing structure.
Practical Tips on How to Make the In-law Suite Welcoming
To create a truly welcoming in-law suite, the importance of careful furnishing and decorating cannot be overstated. Choose furniture that is both comfortable and functional to promote a homely atmosphere. Consider the preferences and needs of the person who will be living there. 
For example, a reclining chair might be a better choice for an elderly parent, while a desk could be indispensable for a working adult.
When it comes to decorating, opt for warm, inviting colors and personal touches to make the space feel like home. A well-placed piece of art, family photos, or favorite books can contribute to creating a personalized space. Remember, the goal is to create an area that feels like an integral part of the home, not an afterthought.
Accessibility and comfort are equally critical in designing an in-law suite. Make sure the suite is easy to navigate, especially if it's intended for older family members. This might involve installing handrails in the bathroom, ensuring that doorways are wide enough for a wheelchair, and avoiding unnecessary clutter. 
For comfort, consider the temperature settings and how natural light enters the suite. A well-heated room with plenty of natural light can make a significant difference in creating a welcoming environment.
In essence, making an in-law suite welcoming involves a thoughtful blend of practicality, comfort, and personalization. By focusing on these elements, you can create a space that truly feels like a "home within a home".
Highlighting Reinbrecht Homes Expertise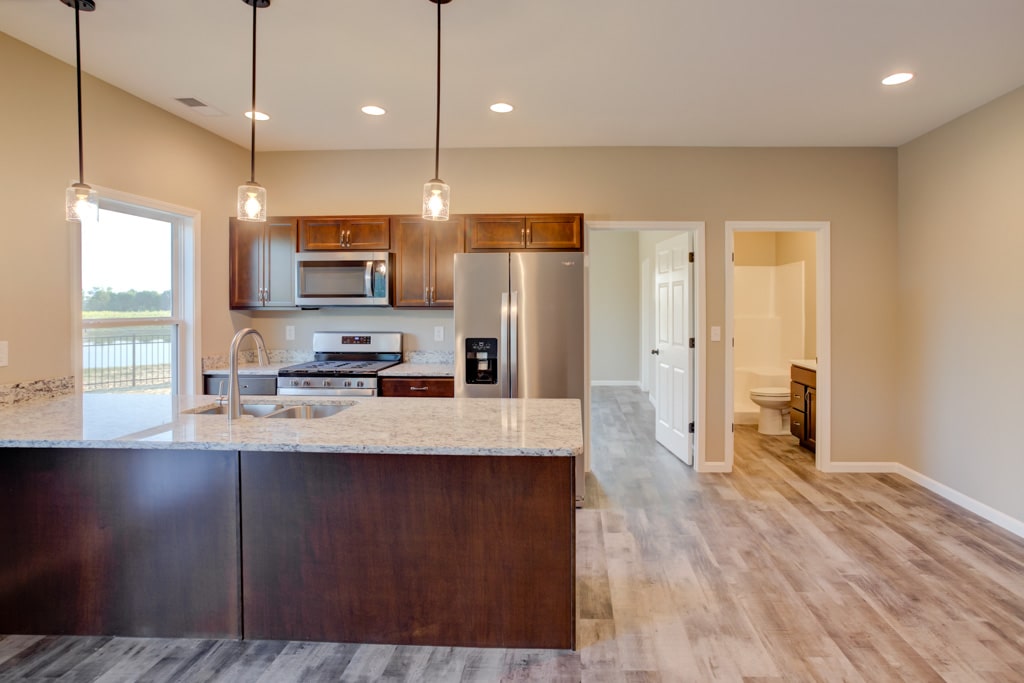 Reinbrecht Homes is not just a homebuilder. It's an experienced partner in creating homes that meet the unique needs and preferences of clients. They are dedicated to helping clients realize their dream home, with a focus on delivering quality craftsmanship, superior service, and excellent value for money.
Their expertise extends to the customization of adding  in-law suites to their existing floor plans. Whether clients prefer a cozy 1-bedroom suite or a more spacious 24×24 layout, Reinbrecht Homes can turn these preferences into reality while maintaining harmony with the home design. All the while, they ensure compliance with housing regulations and building codes, demonstrating their commitment to quality and safety.
But Reinbrecht Homes' value proposition goes beyond the technical aspects of homebuilding. They understand that an in-law suite is more than just an additional room—it's a space where families come together, where loved ones are cared for, and where meaningful memories are made. Therefore, they put a great deal of thought into designing in-law suites that are not only functional and compliant, but also comfortable, welcoming, and conducive for family interactions.
Add Value and Function to Your Home with an In-Law Suite Today
Drawing the curtains on our comprehensive guide to creating a perfect in-law suite. We hope this post has provided you with valuable insights into adding an in-law suite to a new home floor plan or to an existing home.
From planning the perfect floor plan to ensuring a seamless integration into your existing home structure, every step matters.
Reinbrecht Homes, with our extensive experience and dedication to client satisfaction, is ideally positioned to help you transform your home. Our team is equipped to guide you through the entire process.
So why wait? Let's start planning your new home build with an in-law suite today. Reach out to us for expert advice and let us help you in creating a warm, welcoming space for your extended family. Remember, your dream home is just a conversation away with Reinbrecht Homes.