Building a new home can bring a lot of stresses that buying from the pre-existing market won't. Willingness to be flexible will help the entire home building process be as stress-free as possible.
Flexibility gives your contractor room to shift deadlines around as the project progresses. It also helps all phases of the project go smoothly for the homeowner.
Here are instances where flexibility is a valuable aspect of the home building process:
Unpredictable Factors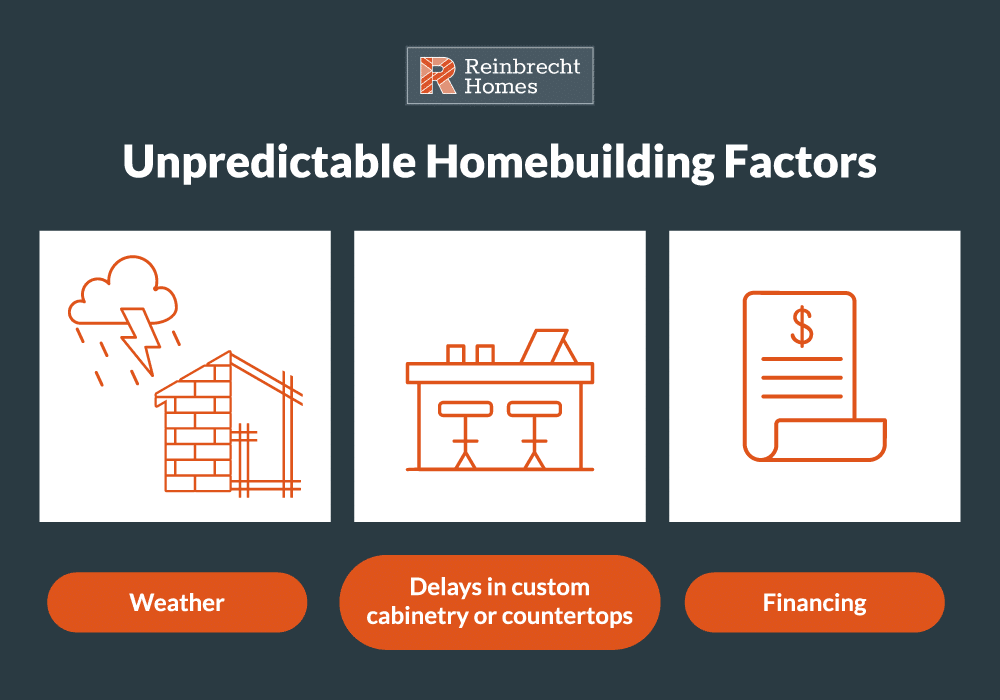 If you need to move in by a specific date, discuss it with your builder to make sure they can reach that goal. Otherwise, your contractor will use your ideal timeline as a general guideline for the build.
Though most contractors will try as hard as they can to fit your ideal schedule, it's important to remain flexible because of unpredictable factors that might affect the build. Some examples are:
Weather impacting excavation and other site work at the beginning of the process.
Delays in custom cabinetry or countertop production.
Weather impacting the installation of exterior finishes (like siding and roofing).
Securing financing (because financing must be finalized before building can begin).
Remember: there is no such thing as a firm date in homebuilding.
Design Aspects
There might be stressful moments when comparing wants and needs for the customization of your new home. Keeping your ideas open & flexible will help to eliminate some of that stress.
You may have a folder full of ideas for cabinetry, appliances, and flooring- but remember to consider any suggestions from your contractor. They will help you choose floor plans that align with your design ideas and must-haves. They can also help you narrow down design selections that are within your budget.
With Reinbrecht, one of the first thing we'll ask is if you have already picked a floor plan. If you have, we can sit down and discuss customizations. If you haven't, we'll sit down and go through our catalog of floor plans and go through the basics (how many bedrooms & bathrooms you want, how much square footage you'd like, etc.)
Moving In
As the build gets closer to being finished, you might get anxious to move in. Finishing touches are crucial to the sanctity of the build, so remain patient while your builder completes the punch list items for your home.
Sometimes, the final projects will require extra time. Be willing to give your contractor the extra time they might need to ensure that all aspects have been completed correctly.
Reinbrecht's team will conduct walkthroughs to double-check our work before the build is complete. Then, we'll walk through with you to ensure that everything is correct and complete.
Why Choose Reinbrecht?
Our expert associates are dedicated to helping you build your dream home. Learn more about construction details, interior features, & exterior features of a Reinbrecht home.