If you're interested in utilizing Reinbrecht's internal financing for your home construction, you should be aware of the following process.
Keep in mind, it differs depending on who owns the deed to the land.
Let's break down the process for each of the three construction financing scenarios: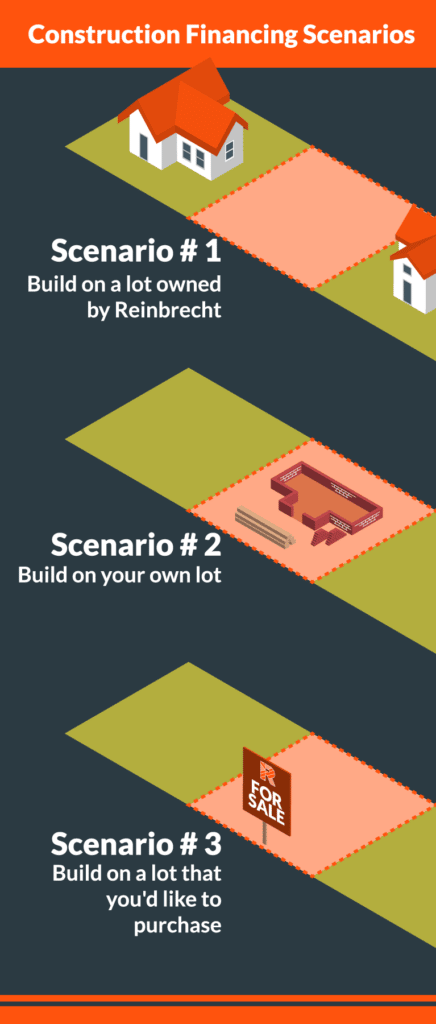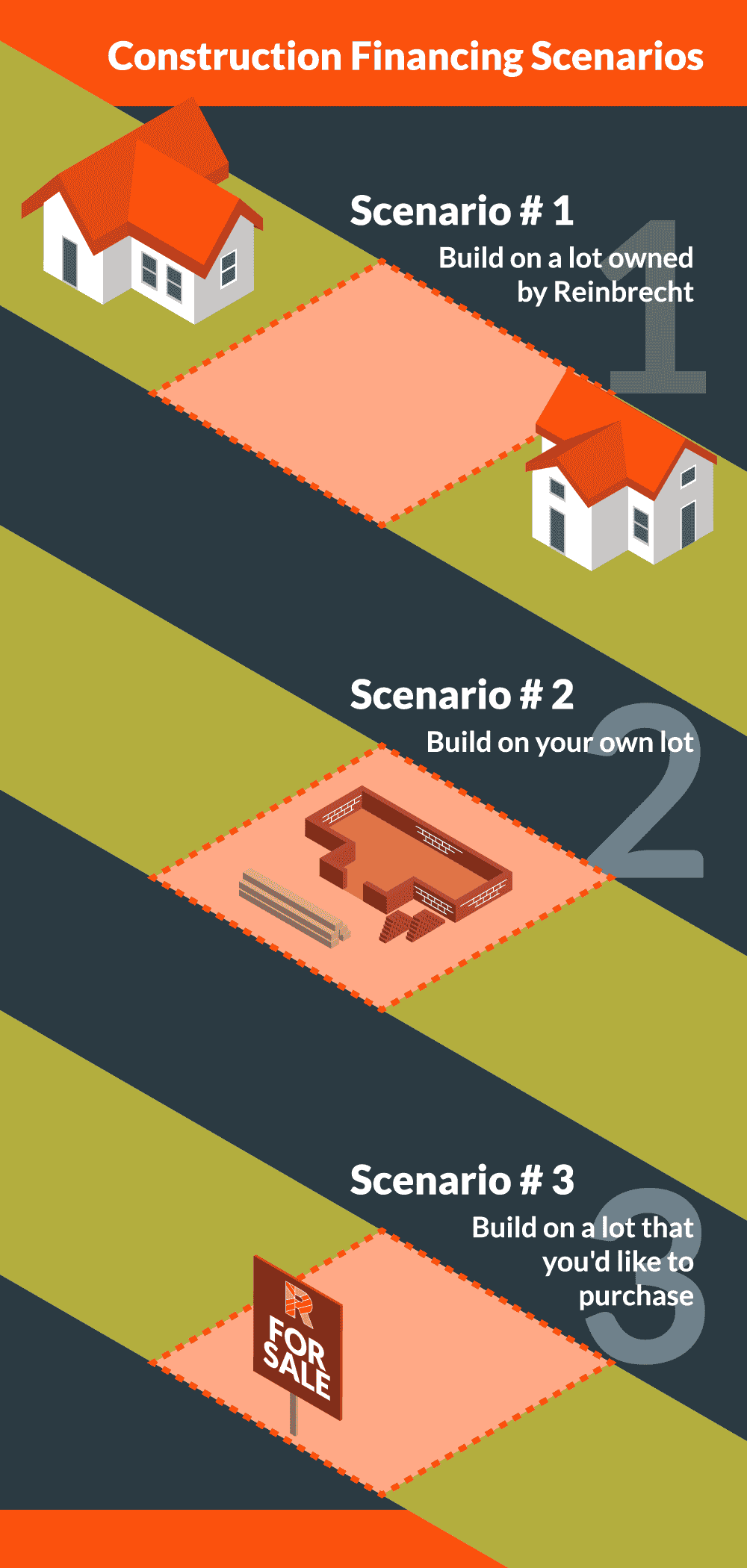 Scenario 1
:
You'd like to Build on a Lot Owned by Reinbrecht
Step 1:
Get Pre-approved
You'll need to obtain a pre-approval letter from one of the local banks we partner with. This letter will inform you exactly what kind of home you can purchase with a conventional mortgage and in what price range. If you know what you can afford before you start looking at home floor plans, you can save quite a bit of time. There is no real reason to look at $400,000 floor plans if you are going to get pre-approved for $250,000.

The pre-approval letter will be utilized after the build.
Step 2:
Choose The Home You Want
After your pre-approval letter indicates your maximum budget, you'll want to make a decision on the home you want.
This is when you will meet with a Reinbrecht Homes sales consultant. They will walk you through the process of floor plan selection, choosing upgrades and making decisions on the features you would like to include in your home.
Step 3:
Sign a Contract to Build Your Home
After you choose exactly what home and features you want, you'll sign a contract that serves as an agreement between you and Reinbrecht.
Step 4:
Our BANK PARTNER Will Ask for Supporting Financial Documents
They want to have proof of your household's annual income and any secondary compensation you may have accrued. This financial documentation will help them approve the home loan.
Basically, they want to make sure you'll be able to actually buy the home after we build it.
Step 5:
You've Been Approved! Congrats!
After you've been approved for the loan, Reinbrecht Homes will submit the house plans and specifications to the banks commercial lending department. They will then order an appraisal on the property.
We want to make sure the home is appraised for the value we've sold it for.
Step 6:
Specify the Feature Colors
While the bank finalizes the appraisal process, you'll spend time finalizing all color selections for your home.
You may have completed this already, but this is a great opportunity for a "last look."
Step 7
: Schedule the Build
After the appraisal is complete and approved, your selections are deemed "final."
Then we'll put you on the schedule for the next available construction build slot.
Scenario 2: You'd like to Build on Your Own Lot
While the first few steps remain the same for anyone building a home, there's an additional step for those who own their own land.
The client must deed their property to Reinbrecht Homes. But remember, this is only temporary. You'll get it back after the build. It is a lending requirement that whoever holds the loan (which is Reinbrecht in this scenario) must hold the deed to the property the home is being constructed on.

We'll prepare the deed for this process, but the client must sign the document in front of a notary. Reinbrecht has an in-house notary on staff, so this can take place at our office. Then, the deed must be recorded at the appropriate county recorders office. This process can be started anytime after signing the contract.
Scenario 3: You'd like to Build on a Lot You'd Like to Purchase
We'll approach this project as if we already owned the lot.
However, we won't move forward with the lot purchase until Steps 4 and 5 are complete. The appraisal is key because we want to prevent getting into jams that keep us from moving forward. We don't want to be stuck owning a lot that we can't move forward on.
Regardless of who owns the land, Reinbrecht can build on it. Just make sure you understand that the financing process may differ depending on the specifics of the land's ownership.
Read more about home financing or contact us today!