You've probably considered building a pole barn house because you've heard how affordable it can be. However, that may not be entirely true. Cheaper up front doesn't always mean more affordable in the long run.
There are some potential obstacles that might not cross your mind as you compare the price tags between a pole barn house and a standard construction home.
You can typically eliminate these concerns and still get the pole barn look you're hoping for by utilizing traditional construction methods and adding on the metal exterior.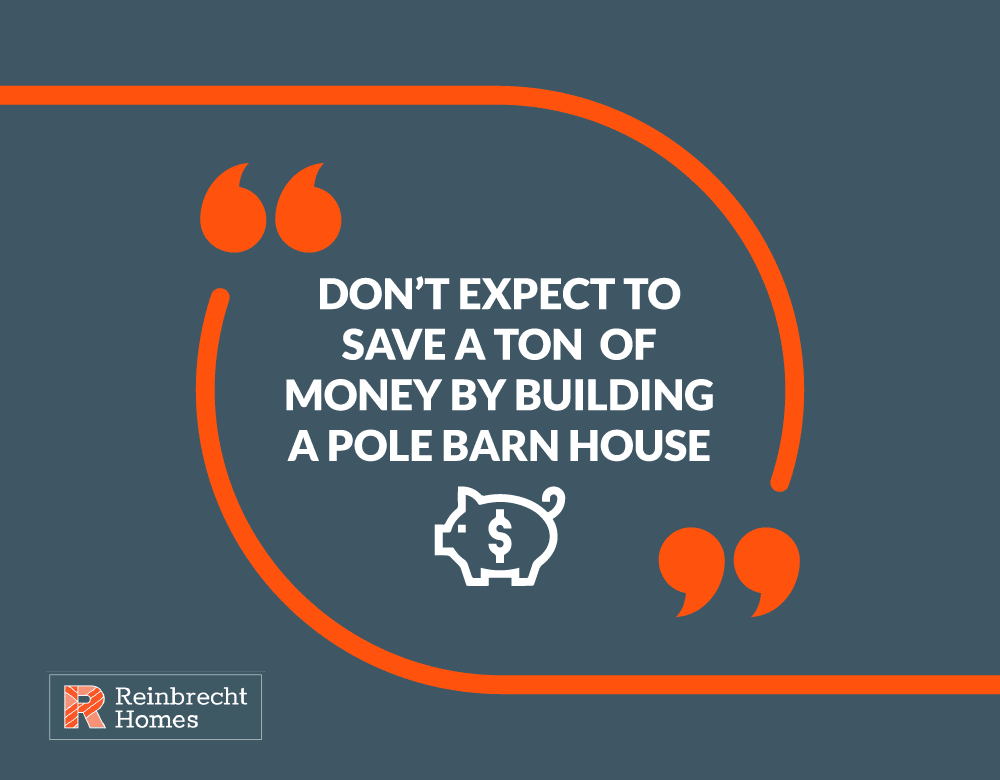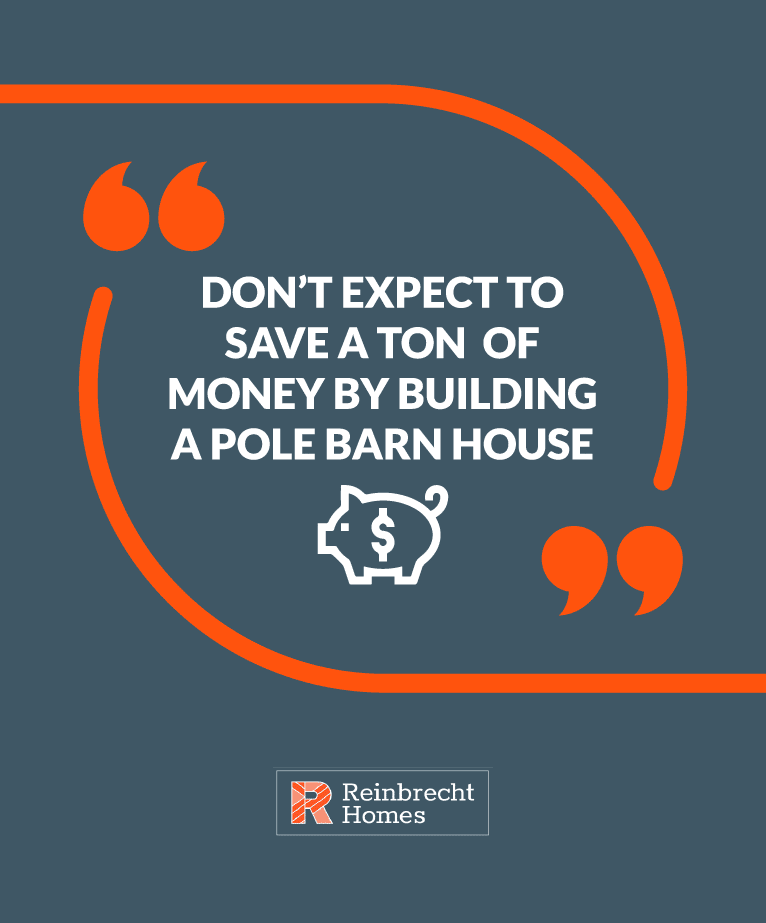 Here's why we suggest the pole barn look utilizing traditional construction:
Typically, pole barn houses are built using post frame construction as opposed to traditional construction.
WHAT IS POST FRAME CONSTRUCTION?
Post frame construction utilizes large posts that are placed several feet into the ground and extend continuously above ground.
Typically, the only foundation used with this construction method is concrete at the posts. Post frame building is typically used in agricultural buildings or storage facilities.
WHAT ARE TRADITIONAL CONSTRUCTION METHODS?
The primary method of residential home construction involves building on top of a continuous foundation that is set in the ground. A concrete footer is placed below the surface level, and the home is built on it.
6 BIG THINGS TO CONSIDER With pole barn homes: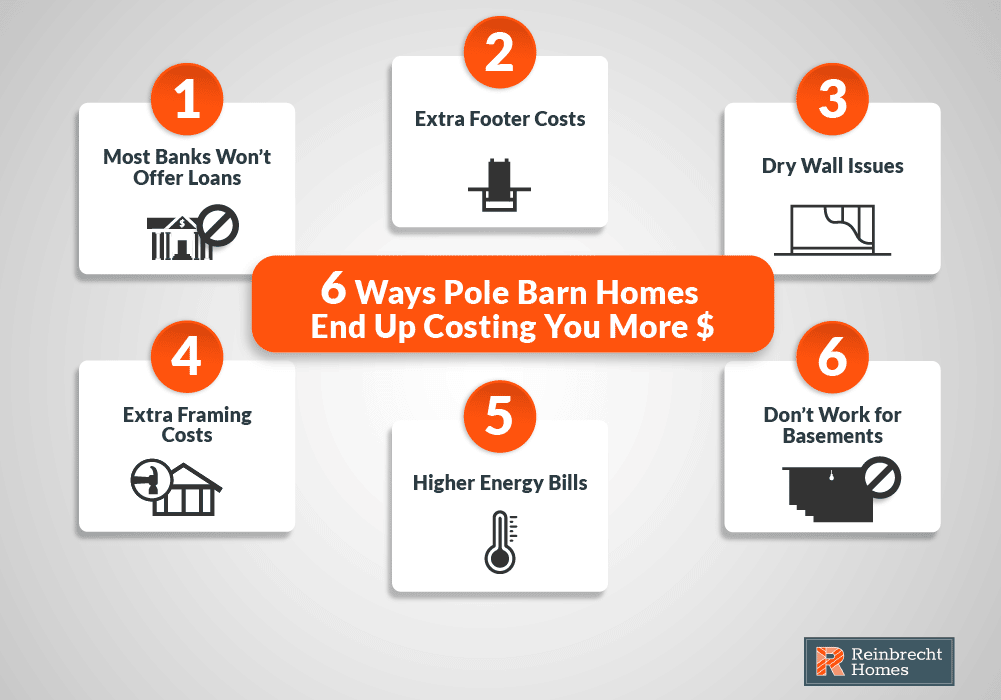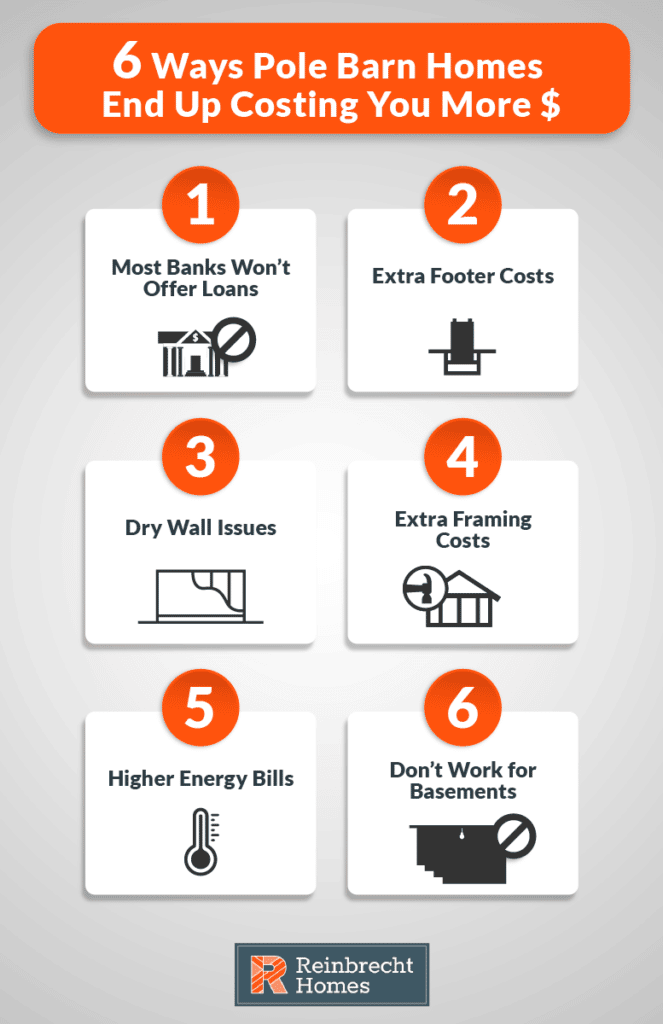 1.) MOST BANKS WON'T OFFER CONSTRUCTION LOANS ON POST FRAME POLE BARN HOUSES.
Many lenders refrain from offering traditional mortgages for pole barn homes. For example, Freddie Mac and Fannie Mae will not offer these loans at all.
The small percentage of entities that do offer mortgages for pole barn houses will typically have much higher requirements, because they'll be using internal money to finance it.
They'll likely require a 30% down payment (and oftentimes, more than this).
WHY THE EXTRA DOWN PAYMENT COST?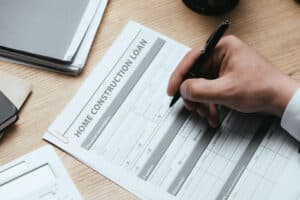 To put it simply, risk.
These structures are difficult to sell on the secondary market.
Banks and other loan lenders want to eventually make their money back (plus interest)
on their issued loans. Currently, most lenders would view a traditional construction home loan as a more reliable investment than a pole barn home.
Since traditional home-building has garnered a stable interest for over a century, they predict that enthusiasm will remain substantial throughout the entirety of the loan period. Since home loans are usually long-term investments, lenders want to be certain their potential clientele will be interested in your property when you no longer are.
This all the more reason for you to want to build a traditional construction home, as well.
Aside from the inability to easily acquire funding, there are several other reasons why you might not end up saving money by building with post frame construction.
2. THERE ARE NO FOOTERS IN POST FRAMES
Without having footers to protect the concrete slab from freezing, there is the potential that the concrete slab can move or heave around the edges in cold weather. In turn, this can shift interior walls, resulting in damage to drywall finishes and trim.
If you do go with post frame construction, you will have to add footers to stay in code compliance of the IRC. This will add that cost back into the total price of the home.
3. POST FRAMES WILL HAVE LARGER SPANS IN THE ROOF TRUSSES
This is an issue because they'll have to be filled in before you can hang the drywall.
If you hang drywall "as is," it will all sag over time, causing structural damage (and a pain in your wallet). Adding this extra framing after the fact will add to the total price tag again.
4. EXTRA FRAMING BETWEEN THE POSTS WILL BE NEEDED
As opposed to traditional wall building, you'll have to build the walls between the posts after you build on the post frames. This is an added cost to the post frame structure that has already been built.
5. INSULATION COSTS ARE HIGHER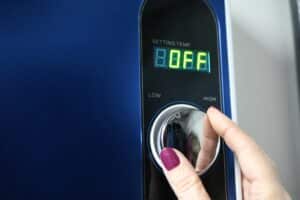 Pole barn homes can be more difficult to heat and cool than traditional homes. This is because the pole barn construction does not provide as much insulation as a traditional home. As a result, pole barn homeowners may see higher energy bills during both the winter and summer months.
To combat energy bills, your pole barn home will require more insulation on a post frame wall because the walls are thicker than the typical two-by-four construction. Therefore, the cost of insulation will be higher to fill this cavity.
6. POST FRAME CONSTRUCTION IS TYPICALLY NOT USED WITH BASEMENTS.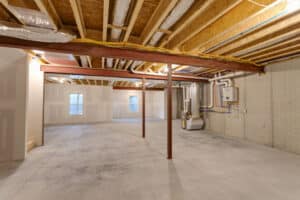 Post frame construction is not very conducive when building on a basement, as the basement walls will be made from poured concrete. Trying to adapt a post frame construction to a basement will end up with higher costs than traditional home building techniques. The bottom line: If you want a home with a basement, post frame construction is not the best choice.
WHAT'S THE VERDICT?
Consider Alternative Building Methods.
While pole barn homes might initially seem to be the best financial choice, you should consider all the potential costs associated with this type of construction. Using a standard home building method is a better way to go for securing a traditional home loan and prevent unnecessary costs.
If you're interested in getting the pole barn look without all of the extra cost, contact the professionals at Reinbrecht Homes today for more information about our traditional construction services and low interest rate home and construction loan options.
We can get you on the right path towards achieving the look you're after while avoiding the pitfalls that end up costing you in the long run.