Searching for the perfect house can be exciting. It can also be frustrating. Even if you know what style of home you're looking for, you have so many other factors to consider. Does it meet all your "must-haves," such as your minimum number of bedrooms, an attached two-car garage, or open floor plan? Is it close to a shopping center or good schools? Is the house within your budget?
With all these factors and more to consider, and only so many homes on the market, finding that perfect house can feel impossible. You might find homes that meet some of your needs and others that meet very few, which can lead you to think you might have to compromise.
What if, instead of compromising, you could have the home of your dreams? If you can't find a house that you love, you can build a new one. But before you start shopping for plots of land and going through designs, there's one thing you should understand: construction loans. We'll provide you with what you need to know about construction loans and how they work so that you can build the house you've always wanted.
What Is a Construction Loan?
In the simplest terms, a construction loan is a shorter-term, higher-interest loan that provides the money you need to build a brand-new dwelling from scratch. With a construction loan, your lender pays your contractor (not you) in installments as they complete the various phases of home-building. Once the contractor finishes the build, you have two options: Convert the construction loan into a conventional mortgage, or pay it off in full.
What Construction Loans Cover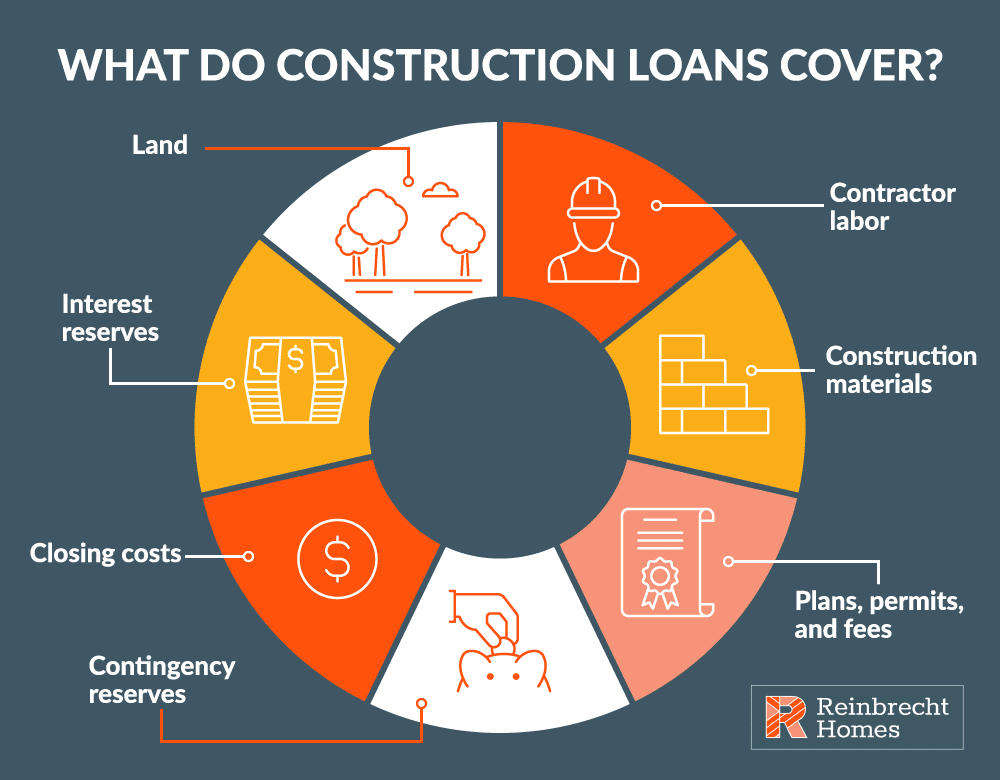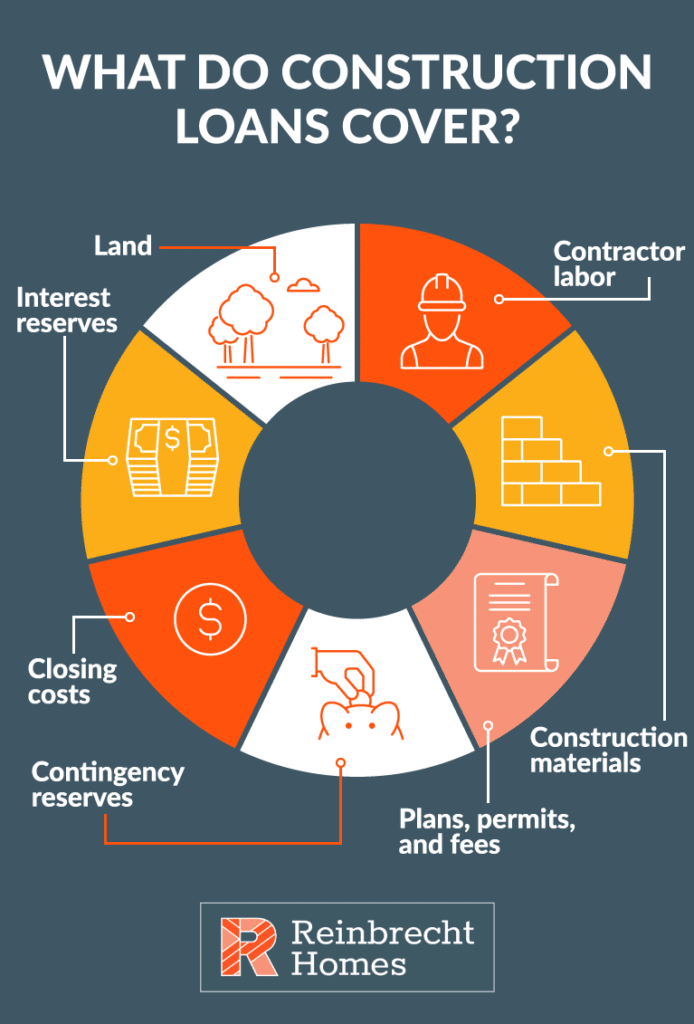 A construction loan covers the costs involved in building a new home. These may include:
Land
Contractor labor
Construction materials
Plans, permits, and fees
Contingency reserves
Closing costs
Interest reserves
Loan Rates
Construction loan rates are higher than rates for regular mortgages. In general, you might expect to pay around one percentage point higher than conventional mortgage rates. Like with other loans, factors such as your credit score and loan amount can impact what you pay in interest. The type of construction loan you choose also plays a role. The rates are variable, meaning they can fluctuate throughout the life of the loan.
Does a Construction Loan Cover the Design Phase?
If you're looking to hire an architect to design your dream home, you'll need to cover those costs yourself. Construction loans don't cover the design phase. Additionally, you'll need information such as a contract with your builder, a timetable, a realistic budget, and your designs to apply for a construction loan. So you'll want to make sure you have your design nailed down before you start the application process.
Will the Loan Cover Costs Not Associated With Home Building?
A construction loan covers only the costs associated with building your new home. Your lender pays your contractor directly. While your lender may approve you for a certain amount, your contractor receives money only for the work they do. You won't get any "leftover" funds. Fortunately, you only pay for (and pay interest on) the money your lender pays your contractor.
How Do Construction Loans Work?
In general, a construction loan will cover the cost of the land and the construction. With these types of loans, there's also more lender involvement. Before you receive a loan, a lender will want to see your plans, projected budget, and schedule. Using this information, the lender can determine your loan amount.
After approval, you don't receive the money. Instead, your lender pays your contractor in intervals. Your lender will also likely check the progress of your home's construction before releasing additional funds.
Each release of money is called a draw. These smaller disbursements help to keep the project moving along according to schedule. Most construction loans have a five- to seven-draw schedule, although some projects require more. For instance, the first draw may cover getting the necessary permits and preparing the land. The next may cover framing and subflooring. You, your lender, and the contractor will determine your specific draw schedule.
During the construction phase, most lenders require you to make interest-only payments. You don't start repaying the principal until after construction is finished. But this depends on your lender and your loan — some construction loans come with interest reserves, where your lender calculates the interest you would pay and builds it into your initial loan amount.
Once your contractor completes the project, you begin repaying your loan. At this point, repayments for a construction loan work much like a conventional mortgage. You make monthly payments based on a set amortization schedule.
Types of Construction Loans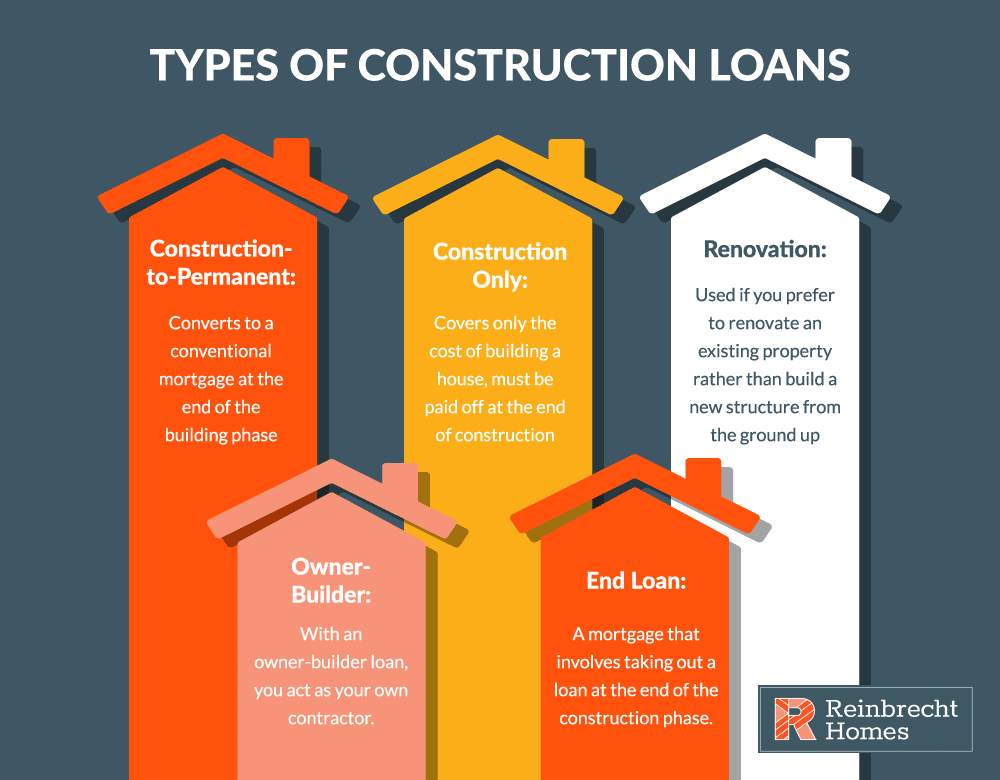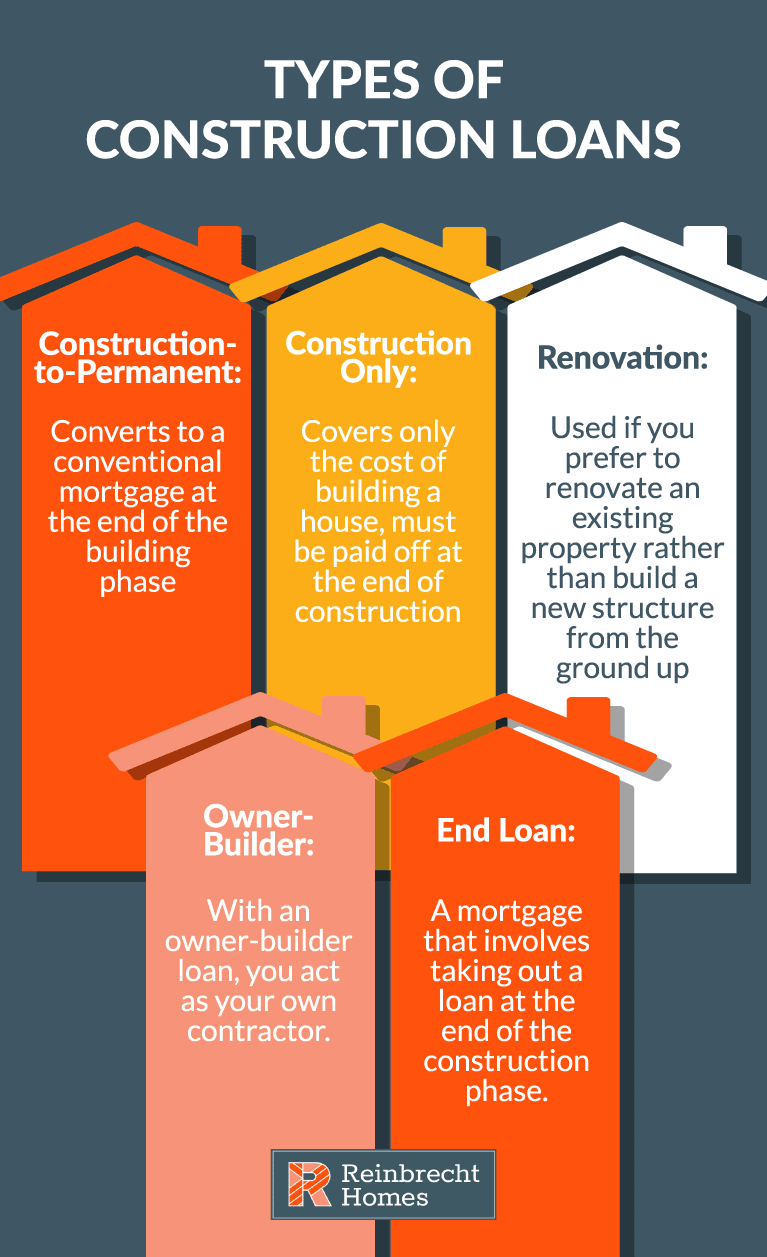 If you plan to build a brand-new house, you need a construction loan. Unfortunately, it's not as easy as finding a lender and applying for financing. There are several different types of construction loans. Understanding each type will help you to figure out which you need.
Construction-to-Permanent
A construction-to-permanent loan converts to a conventional mortgage at the end of the building phase. The benefit is that you pay only one set of closing costs. It also helps you avoid the risk of being unable to secure a mortgage if the market changes during construction.
When construction is complete, your lender inspects the home and automatically converts your loan into a permanent 15- or 30-year mortgage. You can choose a fixed or adjustable-rate mortgage.
Construction-Only
A construction-only loan covers only the cost of building a house. At the end of construction, you're responsible for paying off the loan in full, typically within a year. Or you can find a lender to obtain a permanent mortgage.
As mentioned earlier, construction loans typically have higher interest rates than conventional mortgages. If you decide to obtain a traditional mortgage after project completion, you'll also need to pay a second set of closing costs, which can make construction-only loans more expensive.
Renovation
If you'd prefer to renovate an existing property rather than build a new structure from the ground up, you can get a renovation construction loan. You could technically use another type of loan, such as a cash-out refinance or personal loan, to fund a renovation project, but a construction loan is more thorough. With this type of financing, your lender vets the contractor and is more involved in the overall process.
One such type is an FHA 203 loan. Your lender bases the amount they provide on the anticipated value of your home once you finish renovating it.
Owner-Builder
With an owner-builder loan, you act as your own contractor. Not everyone can obtain this type of loan — most lenders require applicants to show their expertise, education, and licensing to qualify. They want to ensure that you have the experience and skill necessary to build the home up to code.
End Loan
You may also come across the term "end loan" as you research construction loans. An end loan is a mortgage that involves taking out a loan at the end of the construction phase.
What Do You Need to Get a Home Construction Loan?
Once you've determined the type of construction loan you want, it's time to gather what you need. Keep in mind that many lenders require a down payment of 20% to 30%, although some may allow for less. Providing a larger down payment, even when not required, could provide you with some power when it comes to negotiating the terms.
Overall, the process for obtaining a construction loan isn't all that different from getting a traditional mortgage. In addition to the down payment, you'll need a few other things:
Good to excellent credit. Most lenders will require you to have a credit score of 680 or higher.
A good debt-to-income (DTI) ratio. Many lenders will accept DTI ratios of up to 45%, but lower is better.
Necessary documentation. As it is with a mortgage, a construction loan lender will require documents such as pay stubs, proof of identity, recent tax returns, bank statements, and more.
When applying for a construction loan, you'll also need to know the specifics of your project. Before you apply, you should consider meeting with an architect to draw up plans and negotiate a contract with a general contractor. Your lender will want to know the specifics of the project. You'll need to provide information such as the size of the house and what materials the builder will use. The more details you offer, the better.
Loan Process
In most cases, the construction for a new home begins after the closing of the loan. Again, your lender won't disburse your funds all at once. They'll release it in smaller chunks according to the construction plan. Here's a closer look at how the process works:
Builder Draws on the Loan
With a construction loan, you don't receive the money. Your builder requests it from the lender. For each request, the lender arranges an inspection. They want to ensure that the contractor completes each phase properly and meets the necessary milestones.
Before the lender disburses the next set of funds, you should ensure your builder has paid the subcontractors and suppliers. Otherwise, those subcontractors have legal recourse against you.
How Lenders Disburse Draws
Lenders typically use one of two methods when it comes to paying draws to your builder. The first (more common) method involves disbursing money each time the builder completes a substantial amount of the work for a given phase.
The other method involves disbursing funds based on a percentage of completion. This method is more common with custom homes, where certain construction phases are more expensive than others. With a percentage of completion, your builder can ensure they have the money they need to buy essential materials and pay the subcontractors for their work.
Borrower Payments During Construction Phase
Borrowers typically have to make interest-only payments during the construction phase. Lenders charge interest based on the amount they provide to the builder. You may be allowed to pay more, but you should check with your lender to ensure they won't tack on a prepayment penalty for doing so.
In some cases, lenders allow for interest reserves on a construction loan. Your lender estimates your interest payments and builds them into the total amount you borrow, thus enabling you to make no payments during the construction phase. This can help you to manage other payments while your new house is under construction, but keep in mind that you'll pay interest on your interest once you begin the repayment period of your loan.
After the builder completes your new house, your loan will convert into a conventional mortgage automatically, or you'll have to repay the construction loan and seek out a mortgage for the property.
Is a Construction Loan Right for You?
You don't always need a construction loan if you're looking for a brand-new house. You may find new homes built by one particular builder in a community or subdivision. With this option, the builder takes care of the construction costs. You generally only need to be preapproved and provide a deposit. Once the builder finishes the home, you'll then need to get a mortgage.
While such homes offer convenience, you may not want a home in a neighborhood or community. You might consider a construction loan if:
You want more design flexibility. While some builders in communities offer some options, they're often limited. With a construction loan, you have the freedom to create a home tailor-made to your needs and wants. You also aren't limited by homeowners association restrictions.
You want to add more later. Again, HOAs typically limit what you can do with your home and your land. By building on your own land, you can add more later, such as a workshop or guesthouse.
You want more land. Plots of land you buy yourself are generally larger than those in communities. A construction loan allows you to build a home where you want it, whether you want to be close to town or you'd prefer to be surrounded by nature.
How to Choose a Lender
Construction loans are more complex than conventional mortgages. Even so, the process for choosing a construction loan lender isn't all that different than choosing a mortgage lender.
One of the first things to keep in mind is to look for lenders that specialize in construction loans. Don't settle for the first one you find. Seek out several lenders and learn about their specific programs. Compare the terms, rates, and down payment requirements of the lenders you find to ensure you get the best deal possible.
Finally, no matter which lender you choose, be sure you feel comfortable with them. You'll work closely with your lender throughout the construction process. You'll want to feel at ease and feel that you can trust them.
Pros and Cons of Construction Loans
Each type of construction loan has its pros and cons. Let's take a closer look:
Construction-To-Permanent loan
With a construction-to-permanent loan, you only have to worry about paying closing costs once. Your construction loan converts automatically to a traditional mortgage after the building phase is done. You don't have to worry about getting approved for another loan later.
However, you have less flexibility if your project goes over budget. A long-term lock can also result in a higher interest rate on your mortgage.
Construction-Only
You have to apply for a second loan with a construction-only loan. As such, you end up paying two sets of closing costs, and you also run the risk of paying a higher mortgage interest rate if rates increase during construction.
If rates fall, however, you may be able to secure a lower rate for your mortgage.
Renovation
A renovation loan allows you to buy and fix up an existing home, turning it into a home you'll love. You don't have to start entirely from scratch.
The downside is that there are significantly more restrictions than with other types of loans. You'll need to provide a lot of information, including a plan and projected budget, and hire a qualified contractor.
Owner-Builder
With an owner-builder construction loan, you may have greater control over the cost of labor as well as control over the building process. You may also reduce (or avoid) the cost of hiring a contractor.
To qualify for this type of loan, however, you need to prove your expertise as a contractor. You may also need to provide a larger down payment or pay a higher interest rate.
Get a Construction Loan and See Your Dream Home Come to Life
The search for a home that you love can be a challenge. It might even feel impossible. With a construction loan, you can turn your dream home into a reality.
Reinbrecht Homes can help to make the home-building process less stressful. We offer free construction loans of up to $200,000, enabling you to turn your dream into a reality. For more information, contact us today.