What to Expect:
It's one thing to plan your home from the comfort of your computer, poring over an endless stream of Pinterest boards, blog posts, and spreadsheets. But the day inevitably comes when it's time to prepare for your first face-to-face meeting with a homebuilder.
Obviously, everyone wants to feel prepared for their first homebuilding consultation. It's natural to want to start off on the right foot.
By now you probably have a pretty good idea of who you want to work with. You've done your homework and settled on a homebuilder that checks all your boxes and has already demonstrated they're easy to work with.
It's time to take action and schedule your initial consultation. Here's what you need to know.
Goals of Your First Meeting With A Homebuilder?
Typically, what are the goals of your first in-person consultation with a homebuilder?
Well, that depends entirely on how far along you are, but the main goal should simply be to establish what you want.
Typically, there are two distinct scenarios that play out in our office, based on whether or not a customer arrives with house plans in hand.
Scenario 1: "I have my plans!"
Great, this means we can jump right into discussions of finishes, materials, and costs. In order to put together an initial estimate, we'll begin nailing down details such as …
Exterior Finishes: Do you prefer brick, stone, vinyl?
Foundation-Type: Will we be building your home on top of a basement, crawlspace, or slab?
Interior Finishes: We'll want to determine a laundry-list of interior selections including cabinet-types, floor-coverings, lighting and plumbing fixtures, window and door designs, fireplaces, and trim packages.
Homebuilding Extras: Will you be expanding on your home's footprint with the addition of decks, porches, and/or patios?
Scenario 2: "I don't have my plans."
Don't worry, most of our customers come to us with a general idea of what they want, but most look to us to help them choose and refine a design that fits their needs. If this is the case, expect your homebuilder to start asking questions — lots and lots of questions.
What size home do you need? How much livable square-footage?
How many baths, bedrooms?
Can we find an existing plan that fits your needs?
What home layouts fit your style and plans?
Within your budget, which trim-packages do you like?
Do you need purpose-specific rooms?
Will you build on a slab, basement, or crawlspace?
The list goes on.
In this scenario, there might be two or three meetings prior to building out a quote, depending on whether or not your builder has a plan that perfectly fits your needs.
How to Prepare: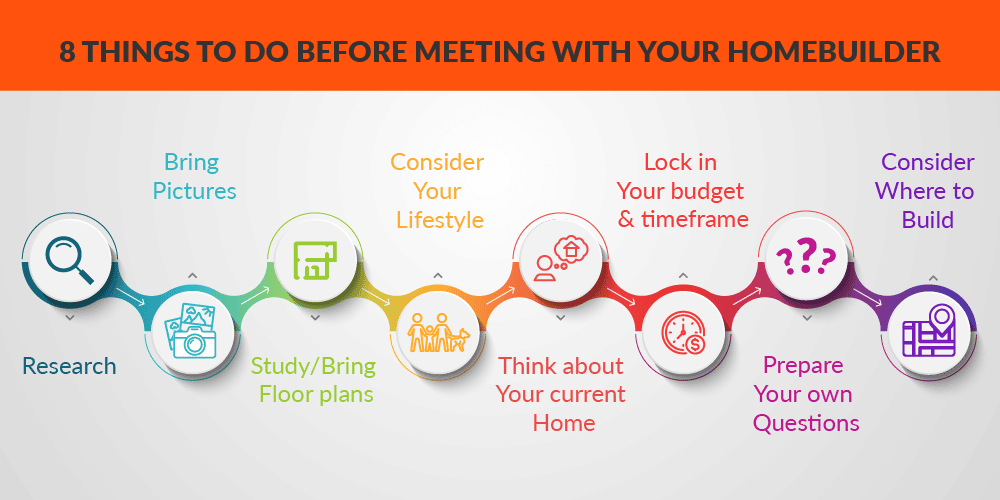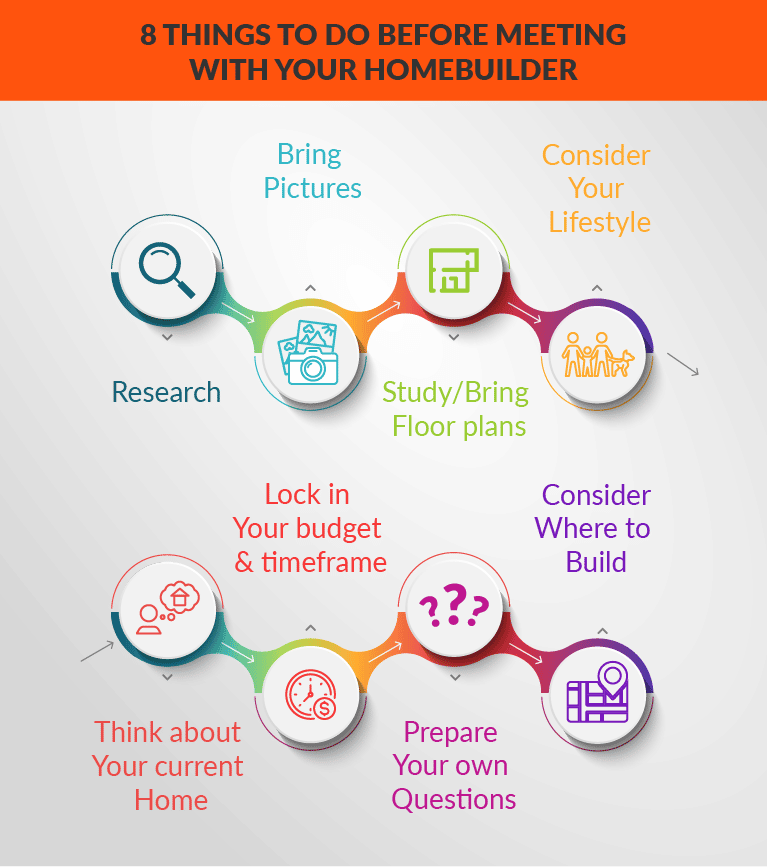 An experienced homebuilder should have no problem walking you through the question-and-answer process, gathering the necessary bits of information needed to plan and quote your build. However, it doesn't hurt to come prepared.
Here are a few tasks you can do to more effectively communicate your vision and gather information:
Do some research: More than likely, you've got this covered, but the more research you can do prior to your first meeting, the faster your builder can finalize your plans.
Bring pictures: Visual aids go a long way. Bring photos, Pinterest boards — whatever you've got — to your first meeting, and you'll be more likely to get what you're looking for (or really close to it).
Study (or bring) floorplans: If you haven't settled on a floor plan, go ahead and familiarize yourself with what's out there. Weigh the pros and cons of things like open layouts, multi-story homes, bonus rooms, etc.
Consider your lifestyle: Do you work from home? Are you an entertainer, a chef, or a homebody? Think about the life you lead and want, and identify the rooms that are most important to you and your family! Be sure to prioritize them in your plans.
Think about your home today: More specifically, identify the parts of your current and past homes that you absolutely loved — and, more importantly, hated. Note these items and make a wish list of the home features you've always wanted!
Lock in your budget & timeframe: Two of the biggest variables in any build are time and money. Knowing the budget and timeframe you're comfortable working in sets constructive parameters on all future conversations.
Prepare to ask your own questions: Don't be afraid to ask questions about everything and anything. The key to a successful homebuilding experience is regular, open and honest communication.
Consider where to build: Do you have a lot you'd like to build on? Do you need help with a property search? Or does your builder own a particular neighborhood you're interested in?
That might seem like a lot of information, but the good news is you will have a lot more than one opportunity to communicate everything you want to your home builder. But, if your home builder of choice does their job, you should leave your first meeting with all questions answered, and a clear, actionable plan for next steps. Download our standards guide to learn about all of the features that come standard with a semi-custom home.