Building a home is an exciting adventure, but it can also be incredibly stressful. You want things to go well, but complications may pop up, and sometimes you might not know anything is wrong until after you move in.
While you might not be able to prevent every issue or complication during the homebuilding process, you can minimize them by being prepared. Here, we'll go over a few essential things you'll want to consider to ensure building your new home goes as smoothly as possible.
1. What You Need In a Home
One of the first things you'll want to consider when building a home is your needs — both now and in the future. They'll have a significant impact on many of the decisions you make. Think about your current lifestyle and look ahead 5–10 years. For instance:
Do you host dinner parties or family gatherings frequently?

 You might need a larger kitchen and living room. 

Do you work from home full or part-time?

You might need a spare bedroom that's further away from the high activity areas of your new home to create a quiet, dedicated office. 

How many people will live in the home?

 Are you single or married? Do you have any children at the moment? Are you planning to get married or have children in the future? These answers will help you determine things like the number of rooms and bathrooms you'll need and the overall size of your home.
One aspect of building a home that often goes overlooked (or gets misjudged) is your storage needs. Underestimating the necessary sizes for a garage, bedroom closets, and other built-in storage spaces during the planning phase can mean challenging (and costly) additions later. While this step won't be as fun as picking out countertops, cabinetry, and other finishes, it will affect your lifestyle and home organization. If you plan to sell your home in the future, storage can also make or break a sale. 
When building a house, you want to be sure you can afford it. One of the best ways to do that is to create a budget for building, furnishing, and finishing your new home. That budget can keep you from discovering that you can't afford it halfway through the building process.
Right from the start, know where you're willing to make compromises. For example, you won't want to skimp on labor or material quality. These things might save you money upfront, but they could cost you a lot more in repairs in only a few years. You'll also want to budget other homebuilding-related costs such as permits, settlement fees, and closing costs.
Note: It's safer to over budget than be as exact as possible. Some costs may slip by, or an issue may arise during the home construction process. Overestimating your costs from the beginning can keep you from accidentally going over your budget, helping you avoid a financial headache.
Alternatively, you could create a contingency reserve. That's money you set aside for emergency use only. Rather than allocating extra funds in each area of your home building budget, it acts as a general reserve from which you can pull if something comes up.
3. How You'll Pay for Your New Home
Of course, you'll need to determine how you'll pay for your new home. If you're like most people, you'll need to obtain financing. You can get pre-approved from a bank before you start looking for a builder, or you can speak with your builder first.
With a pre-approval, a potential lender provides you with an offer (not a commitment) to loan you a set amount of money based on your credit history and financial information. Generally, pre-approvals are good for 60 to 90 days.
Note: When seeking a mortgage pre-approval, apply with at least three lenders. That allows you to compare potential rates and costs to ensure you're getting the best deal possible. While each lender will pull your credit history, you won't have to worry about multiple hits on your score. All inquiries will count as one if you apply with prospective lenders within a set time.
Building a Home With a Construction Loan
If you plan to finance your build, you'll need a construction loan. You have a couple of options to consider. You'll also want to keep in mind that not every lender offers these loans, and some aren't always user-friendly. However, the best builders will have connections with several banks and can help point you in the right direction.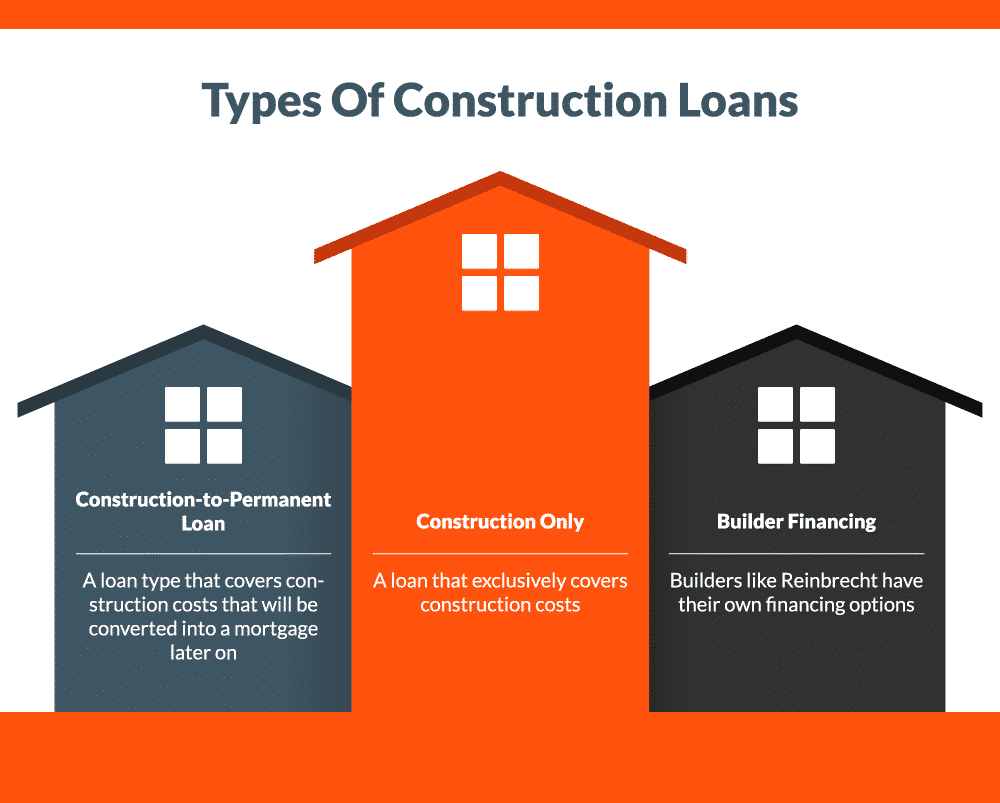 Construction-to-Permanent
A construction-to-permanent loan is the most common form of financing for building a new home. During the construction phase, your lender disburses funds to your builder in intervals, and you make interest-only payments. After your builder completes your home, the bank has it inspected and automatically converts your loan into a mortgage (conforming, VA, FHA, etc.). One of the main benefits of this type of loan is that you have only one set of closing costs. You also lock in your interest rate. If mortgage rates increase, you won't have to worry about it.
A construction-only loan covers only the cost of building your home. Like a construction-to-permanent loan, you make interest-only payments during the building phase. After your builder completes your home, you're responsible for paying back the loan or obtaining a mortgage. With this loan, you may be able to secure a lower rate if interest rates drop or you qualify for better rates later. However, you'll have to pay two sets of closing costs. 
Some builders have their own financing options. For example, Reinbrecht Homes offers free construction loans of up to $200,000, and anything over that gets financed at $20 per $1,000. Instead of up to a 20% down payment, Reinbrecht requires as little as $1,000 when you sign your contract. You also don't need to make any payments on interest during construction, and you pay nothing else until you close on your permanent mortgage after we complete your build.
4. Where You Want To Build Your Home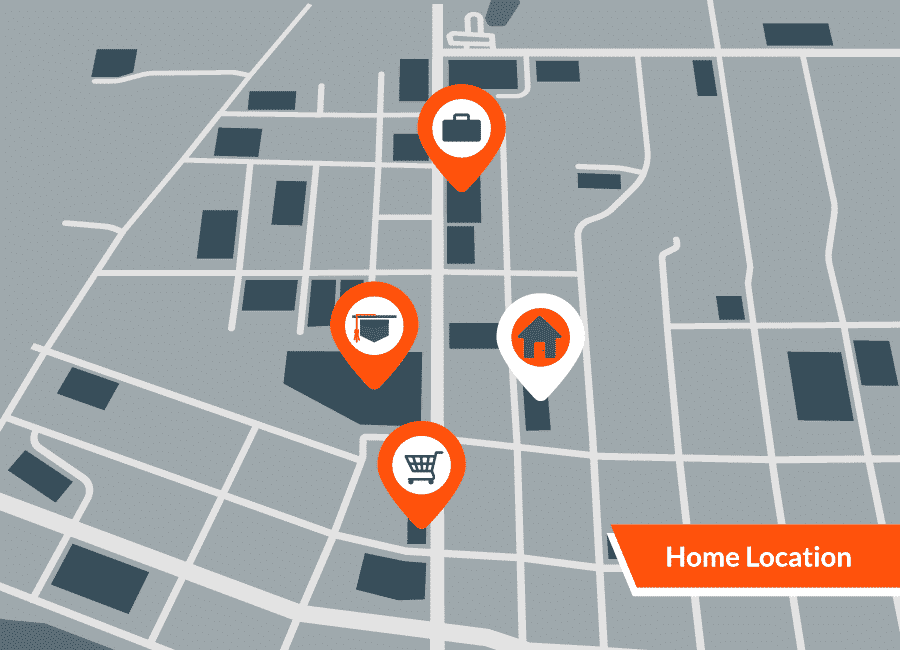 There's a reason they say, "location, location, location." The location of your home — prebuilt or new construction — is crucial. There are several factors you'll need to consider, including:
Your proximity to work, schools, and shopping. 

There's a good chance you don't want to drive hours to get to work every day. For every potential plot of land, how far would you need to travel to get to the places you need or like to go? If you have kids (or plan to), keep your

proximity to good schools

 in mind, too.

Your lifestyle. 

Keep your habits and hobbies in mind. Do you like being near nature and want space to garden? Are you an active type who likes going for long walks or bike rides? Or do you enjoy being near a lot of activity?

Safety.

 No matter where you choose to build your house, you should feel safe there. Be sure to

investigate safety data

 for prospective locations. 
Beyond these factors, you'll also need to think about such things as:
The location's value and growth potential

Local building codes and restrictions

Environmental issues
You can go to the local municipality to check for zoning plans, but you should also speak with your builder. Good home builders will be able to provide you with information such as water tables, soil types, and other factors that could affect your home over the years.
Ultimately, your location will have a more significant impact on your life than the house you build. It's where you'll spend the next several years establishing friendships with your neighbors, raising your family, and making trips to local stores. A location might seem ideal at first, but how will it affect your life in the long run? Think long-term before you make your final decision.
Builders like Reinbrecht Homes also have plots of land ready for new constructions in highly sought-after locations. Browse through our neighborhoods to see if any available land meets your specific needs.
5. Choosing the Right Homebuilder
Unless you're building the home yourself (in which case, you'll need an owner-builder construction loan), you'll need to hire a qualified, experienced builder to turn your dream into a reality. Here's the thing. Finding potential builders is easy, but not all are the same. You want to find a builder you like and who fits your needs and wants.
When looking for a homebuilder, consider the following:
Their credentials: 

Any builder you hire should be licensed and insured. Some of the best will also be members of at least one builders' association.

Their past work:

 Look through prospective builders'

online project galleries

 or tour homes they've built to get a good sense of their styles. Be sure to take note of the finishes they use, too. 

Their references: 

Online reviews can provide some insight into potential builders. In addition to testimonials on their websites, look at their Google reviews and check with your state's Department of Consumer Affairs or the

Better Business Bureau

 to see if there are any complaints against them. Also, don't hesitate to ask potential builders for references. Speaking directly with past clients can also provide beneficial insight. 

Their cost:

 Builders price their services based on their experience and skills. As mentioned earlier, you don't want to cut corners by choosing unskilled labor or low-quality materials. You want to be sure you're getting the best fit for the job while still staying within your budget. 

What they include in their costs: 

Some builders include many expenses in the cost of your new construction. For instance, Reinbrecht Homes includes the land and architectural plans in the purchase price when choosing

our floor plans

in one of our neighborhoods.

Your gut feeling:

 After narrowing down your potential options,

sit down with prospective builders

 and interview them. Find out if they can meet your timeline and if they have experience working with any specialty items you want to use for your new construction. Ask them for their honest opinion about plans and if they have any concerns about them. You want to be sure you build a connection with them and feel comfortable working with them over the next several months.
The Importance of Communication
No matter how good the builder you choose is, avoid assuming they'll know everything you want (and how you want it). Being clear about your expectations from the start will help minimize mistakes. Be specific about your needs and wants every step of the way.
Note:
Keep

 

the lines of communication open throughout the entire building process.

Don't be afraid to ask questions, request reports, and do periodic check-ins.

If you encounter any issues, discuss them with your builder right away.
Builders like Reinbrecht Homes will maintain two-way communication, and you'll be able to contact them when you want. At the same time, they'll reach out to you with progress reports, questions, and other updates. 
6. Potential Homebuilding Disruptions
Even if you have every little detail planned perfectly, countless pieces need to come together to turn your dream home into a reality. It's almost a given that something will come up during the process. Adverse weather conditions, market fluctuations, material shortages, and other problems could impact your timeline or lead to different decisions.
These (and other) issues don't have to derail building your new home. Having a good builder by your side will help you anticipate potential hiccups, guide you through them, and keep your stress to a minimum. Here's something else to keep in mind. Sometimes, the best (and favorite) details of a new home arise from unplanned events. 
Are You Ready To Start Building a Home? Let Reinbrecht Homes Help Make Your Dream Home a Reality
Sure, building a house can be stressful, but a little forward thinking can help ensure the smoothest experience possible. You might not be able to control or anticipate everything, but having an experienced builder by your side can make things a lot easier.
Are you ready to build your new home? Reinbrecht Homes is here to help. Aside from the skills and experience required to build the highest quality homes, we're also renowned for our professionalism and commitment to helping our clients carry out their plans and provide better results than expected. Contact us to get started today.