Building or repairing a home isn't something you do on a regular basis. The process can be foreign, scary, or downright confusing.
Essentially, you're relinquishing control of your home to a builder, remodeler, contractor, roofer, etc.— and that's a big deal.
And yes, there are people in this industry who will put their own priorities ahead of yours; leaving you, the customer, in an … uncomfortable situation. Those who fall into this category might use coercive sales tactics, deviate from agreed upon contracts, or they'll flat out try to scam you.
It's rare, but it happens.
Lucky for you, it isn't difficult to spot the red flags of an untrustworthy contractor or homebuilder.
You simply need to trust your instincts and know what to look for.
9 Home Professional Red Flags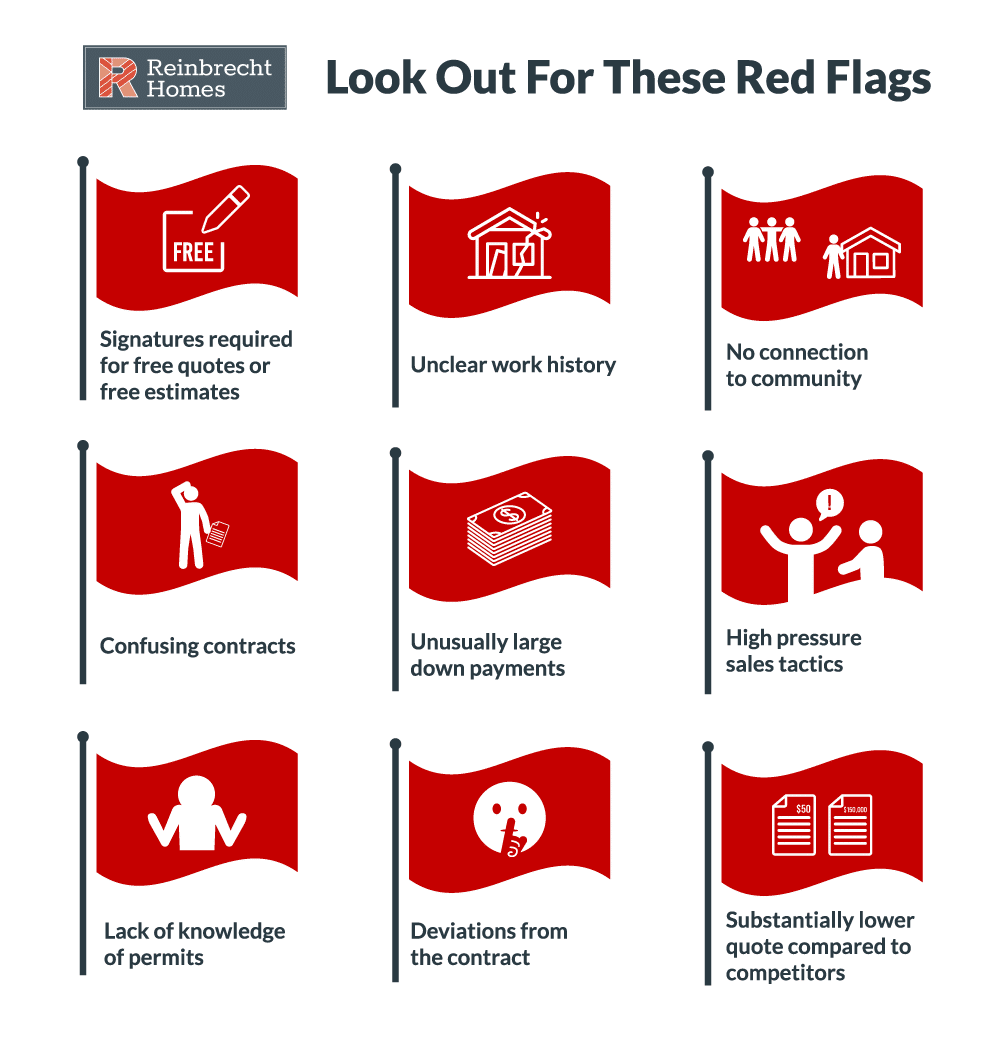 We write a lot about choosing the right home builder — mainly because it's one of the biggest decisions you'll make in your life. And regardless of who you choose to work with, there are a few things you should expect from any home professional:
Clear and consistent communication.
A list of contactable references.
A strict adherence to your budget and contract.
Even if they meet these requirements, everything can be going smoothly … until it's not. The moment you begin to feel uncomfortable, it's important to take note of the behaviors or events that made you feel that way.
Those red flags could be indicators of future, larger problems. Here are a few rules to follow and red flags to be on the lookout for:
Red Flag #1

| A signature is required to receive something "FREE" like an estimate or a quote.

Oftentimes, this is a coercive scam that involves the insurance provider that locks you into working with a particular builder or contractor.
Red Flag #2

| Their work history is unclear.

Whoever you work with should be able to clearly demonstrate their experience and a successful track record. Avoid companies that try to keep you away from their previous customers — they're probably unsatisfied, or you're simply the first.
Red Flag #3

| Lack a connection to the community you live in.

Local builders and contractors rely on their reputation and references to stay in business. If you haven't heard of a company, they're not part of your local builder's association, or a Google search doesn't turn up anything local, there's a strong chance they won't feel accountable if you're left unsatisfied.
Red Flag #4

| Confusing and/or no written contracts.

Contracts exist to protect both you and your contractor. You receive a finished product that fits your needs, style, and budget, and the contractor gets paid an agreed-upon amount. If someone wants to work on your home, but is reluctant to produce or sign a clearly written contract, move on.
Red Flag #5

| Unusually large initial down payments.

A contractor or builder should have enough credit to pay most upfront costs. So, for example, if someone's asking for 30% down payment prior to work on your new home, keep looking. On the other hand, certain home remodeling situations might require higher initial down payments to order material.
Red Flag #6

| High-pressure sales tactics.

We all know what a hard sales pitch feels like, and it's one of those "gut-reactions" you should trust. If you feel you're being pressured to sign or agree to something you're not entirely comfortable with, just remember: you can walk away.
Red Flag #7

| A lack of knowledge or care for the proper permits.

Experienced builders and contractors won't have a problem getting the permits you need. They should be knowledgeable about what permits are necessary and willing to explain why.
Red Flag #8

| They deviate from the contract without a change order.

Nope. That's a big violation of trust. Again, a contract between you and your builder exists for a reason. If you know materials substitutions or plans are being altered without your knowledge or consent, that's a problem.
Red Flag #9

| Your quote is substantially lower than competitors'.

Sometimes a homebuilder's quote will be significantly lower than others in your market. That alone should raise an eyebrow and you need to be careful that you are getting a COMPARABLE quote. The key is to be sure that the two quotes have the same finish materials.

Deciding which home professionals to trust and which to avoid is ultimately a matter of personal preference and individual experience. The important thing to remember is YOU are the customer, and it's YOUR home. For that reason, it's up to you to take the necessary steps to educate yourself and protect your investments.