Since you're here, you're likely thinking of building your own house. Some of these questions might be on your mind: 
‌How much does it take to build a house?
‌How much does it take to build a house from the ground up?
‌How long does it take to build a custom home?
‌Will building a semi-custom home take a shorter time?
‌Any hidden costs or permits I need to know?
‌Not to worry, we're here to answer these questions. We'll give you an idea of what it takes to build a home, what your best option is, the steps you'll need to take, and of course, the semi-custom home building timeline.
‌When you want to build a home, perhaps because you're tired of renting a house or just want a place you can call your home, the first thing to consider is how you want to build your new home.
‌Each building process has its peculiarities, but deciding on the best one depends on you. You'll need to consider your needs, financial capacity, how much time you have, and how much you want to customize the building, amongst other things. That way, you'll know whether a custom home or a semi-custom home is the best fit for you.
What Is a Semi-Custom Home?
A semi-custom home is a mix of both worlds – building a custom home and buying a ready-made home. With a semi-custom home, you get to escape the process of designing a home from scratch but still enjoy the flexibility of adding your desired features and designs to your dream home.
‌For semi-custom home options, your builder shows you plenty of pre-existing floor plans to choose from. Then, you'll work together to customize materials, finishes, and other designs. Also, there are predetermined features of doors, windows, ceilings and other major home features you can choose from.
‌This building method will save you a lot of time that would otherwise be spent customizing a home from scratch. You won't need to set up several meetings or keep visiting with an architect or designer. 
What Is the Semi-Custom Home Building Timeline?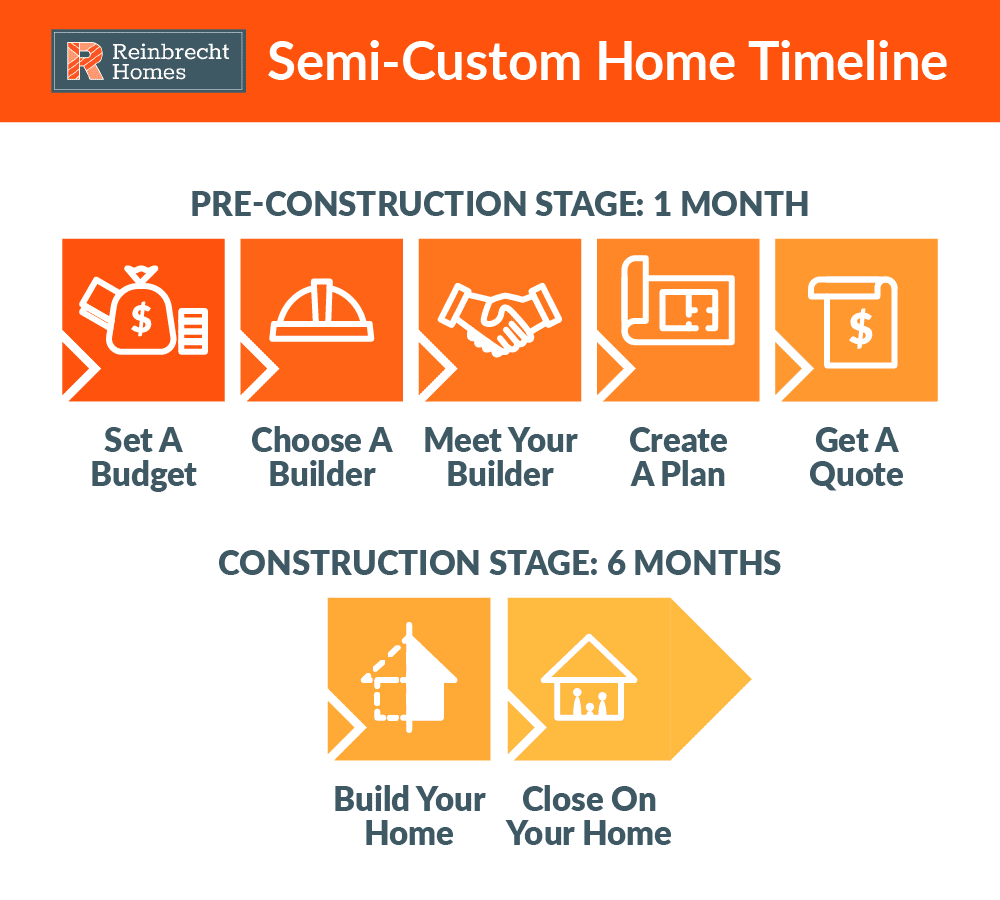 As established already, you'll save plenty of time building a semi-custom vs. a custom home. But exactly how long will it take before you can move into your dream home?
‌There are two phases to building your semi-custom home. The first phase is the pre-construction stage. This period covers finding a builder, finalizing financing plans, and anything you'll need to do before the actual construction starts. Expect this to take a month or less—however, it all depends on your scheduling and your preparations. At Reinbrecht, we've seen this done in as little as two days with discussion on price with a sales consultant taking as little as an hour when the customer already has some decisions made. The final selections typically take an hour or two.
‌It's in the second phase that your home will be built, from laying the foundation to floor plans to construction. Touch-ups and post-construction walk-throughs also happen at this point. This entire process takes roughly six months. Your house may be ready in less or more time, depending on its size.
‌Pre-Construction Stage: One Month
This phase is where you do everything necessary in preparation for the construction itself. It usually takes about a month to complete.
‌Step 1: Figure Out Your Budget
Before you start choosing floor plans and designs, here's something you need to do. Consider how much money you have in your account and how much you're willing to spend to get your dream home. If you're considering a loan, this is a good time to know the ones available and how they work.
‌Construction loans are available to help you build your home. They'll cover payment for labor, permits, construction materials, and other fees required to build your semi-custom home.
Construction Loans

Construction loans are set up in a way that the bank will pay your builder, typically monthly as work is completed on the home.  You as the homeowner will then have to pay interest on the amount borrowed throughout the length of the build.  Once the home is completed the loan is typically converted into a permanent mortgage.
Now, the process won't wrap up when you choose a lender. It may take a few weeks for your builder to complete their approval process. Your lender will need to make sure that your builder has professional standing and license and won't leave your house half-built.
Internal Financing

Reinbrecht Homes collaborates with financial institutions to help you out with this phase to make your home a reality and minimize the stress of obtaining loans. That way, you'll get the best option in time.
But that's not all; you can also benefit from the free construction financing, which offers you up to $200,000 of the total build price. With as little as $1,000 as a down payment, your semi-custom house is on its way to completion. Best of all, you do not have to make interest payments as the house is being built.
‌Step 2: Choose Your Builder
Once you decide on the type of house you want to build and the financial commitment you can make, look for a builder. For a semi-custom home, it's best to find the ideal builder to get the job done right without any delays.
‌Take these steps:
Highlight Your Necessities

What are the structures and designs you must have in your home? Do you have a move-in date yet? What kind of financial plans are you looking at? Answer these questions and look for builders that can attend to your unique needs.

Ask for Recommendations

Don't stop at the lovely designs you see on local builders' websites. Instead, ask your friends and family for recommendations. Go through customer reviews, check their warranty policies and service guarantees. Also, check to see if their locations and design styles suit you. Remember, you'll be working with existing features and designs you can only tweak.

Compare Your Options

Narrow down the top contenders, looking at factors like these:
Average building time frame
How customizable their floor plans are
The financing options they offer
‌Look for a builder that will help you with finances and provide you with an array of interior, exterior, mechanical, and construction features to fit your semi-custom home building project.
‌Step 3: Meet Your Builder
It's time to meet with your chosen builder. And your goal should be to choose the styles and customizations you'd like in your home.
‌At this meeting, you'll be choosing the floor plan you want. You'll also choose the interior finishes, exterior finishes, and any upgrades you might want. Since you're building a semi-custom home, this process is faster. You can choose from your builder's plans and feature options. You'll then let them know the design you want for any of the features in their library.
‌This process won't take more than a day, especially when you've already prepared before showing up. Here's how you can prepare for your first meeting:
Find out about construction loans

,

the processes involved, your budget, how much you can stretch it, and for how long you might be willing to pay a mortgage loan if the need for it comes up.
‌Check their website for what their construction, mechanical, interior, and exterior features entail. Look at the features that come standard with their plans so that you'll only be asking for further information and better explanations when you meet.
‌Note the most important rooms, features, and structures in your current home or a friend's home that you'll want in your new home. You can take pictures of them or write them down. It will make it easy for you to locate and explain to the builder when you eventually meet.
‌Prepare your questions on loans, customizations, safe construction, building time frame, and other topics to make your collaboration hitch-free.
‌With these preparations, you'll achieve a lot, if not all, at your first meeting. You'll have answered questions, gotten clarifications, made decisions, and started carrying out plans for financing and construction before the end of that day.
‌Step 4: Create A Plan
Once you've decided that you're doing this, it's time to select your home features and finishes. Your chosen builder will show you a catalogue of existing floor plans and designs you can tweak to your needs. 
‌Select the plan you want from their library and choose the finishes you want inside the building so the house can be uniquely yours.‌
‌Once you've chosen these features, your builder will be able to come up with adequate price estimations. And this process often won't take you more than a day. In fact, you'll likely be done within an hour with clear options provided to you.
‌Step 5: Builder's Price Quotation
Before you start building, your builder will look at the floor plan you've chosen and give you an estimate of how much it will cost you to build a semi-custom home. You'll get an almost-exact pricing here, since the builder already knows all the features and fixtures they'll be using.
‌You'll then enter an agreement on how the house is to be built, how much you're expected to pay, and how to go about making payment. 
‌You both need to agree on when the house will be ready, what's expected of both parties, what happens if one of you defaults, and every other thing that might call for communication and agreement when building a semi-custom home.
‌Construction Stage: 6 Months
This phase is where your semi-custom home becomes a reality. The builders construct your house based on your preference and customization. This phase takes six months. If your house is bigger than usual, it may extend to seven months. Still, it beats building a custom home from scratch.
‌Step 6: Build Your Home
After the pre-construction stage, where you got the money, chose the floor plans, customized the features, and signed all necessary paperwork, it's time to build your semi-custom home.
‌Thankfully, the building takes an average of six-seven months, and sometimes more, depending on the size of your house. The builders get to work, making sure that everything is according to your needs.
‌If you notice anything different, mention it to your contact person, but don't be alarmed. Hiccups are bound to happen. Thankfully, they're fixable.
‌While this phase of homebuilding requires patience, it is usually fun because you see your dream home come together from mere floor plans.
‌Step 7: Close On Your Home and Wrap Up Financing
Now that your semi-custom home is ready, it's time to wrap things up.  The date that the construction is complete is unfortunately not the day that you get to move in.  At Reinbrecht Homes you will have a final walkthrough to check everything over to ensure it meets all the specifications of the build.
Once the home is all finalized it is time to close on the home. This is handed through a title company who prepares all the necessary documents for the home purchase.   
If you chose to use a construction loan this is the stage where it will be converted into a permanent mortgage.  If you chose internal financing with a builder you will now be setting up a traditional mortgage just like buying an existing home. Once the closing documents are all signed it is now time to move into your new home!
Get Your Semi-Custom Home Going
‌Now that you know the benefits of a semi-custom home, and how long it will take to build it, get started on building your dream home. 
‌Rather than waiting up to three years for a custom home, you can get the home you want in a much shorter time frame by building a semi-custom home instead. In about six to seven months, you'll have it ready with a builder like Reinbrecht Homes, which specializes in building semi-custom homes and other types of houses. 
‌They have the most beautiful floor plans and designs and will help you with financing and obtaining necessary permits so you can move into your dream house in no time.