Toward the end of the construction process, your contractor will walk through your new home and note any final touches that still need to be completed, also known as a punch list. These things might include:
Plumbing/electrical defects (like a light switch not working)
Issues with thermostats, ductwork, or appliances.
Missing hardware on cabinetry & showers/sinks.
Punch list items are mostly final touches but they can also be corrections. If there is any damage to materials, incorrect installations, or incidental damages to existing finishes, those things are also noted.
Essentially, punch lists are made of the final to-do's for your home builder.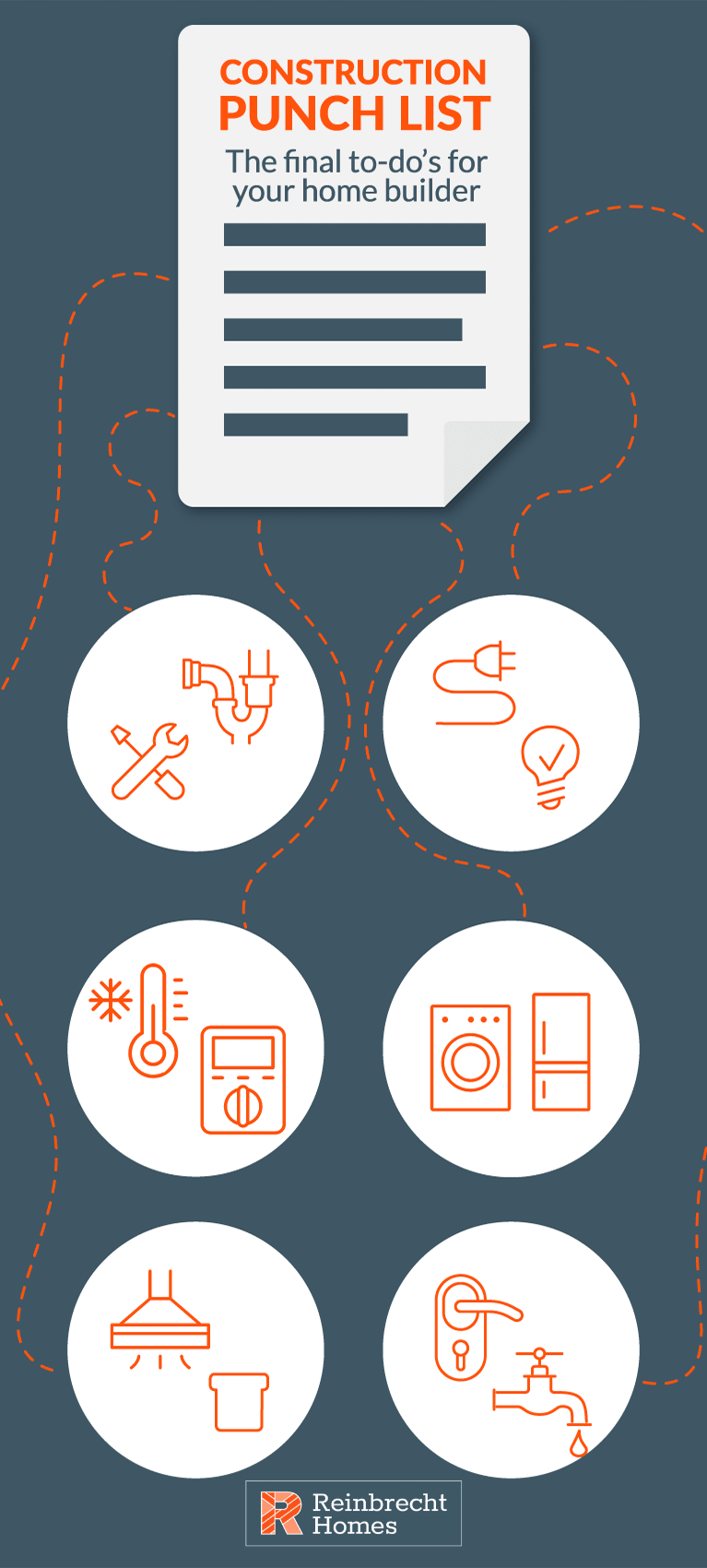 The Importance of Punch Lists
They ensure that everything gets completed, including smaller items.
When nearing the end of the build, small things can be easily overlooked. Catching incorrect installations or defects before the building team is done will allow them to correct those items and check them off the punch list simultaneously.
They ensure that all design aspects are correct.
It's important to double-check that all customizations (countertops, flooring, and paint colors) are correct before the build is complete.
Creating a Good Punch List
Itemize the list.
A builder's final checklist will likely be categorized by room or specific topic (like plumbing or electrical). Each category will have its own list of items to check. They'll go through this list with you and check items off during the walkthrough. Having an itemized list ensures that everything has been checked.
Be specific.
If your contractor finds something that needs to be corrected, they'll be specific when noting it. These items need to be understood by the project manager and the subcontractors, so "light switch not working" doesn't provide enough details. "Light switch in the basement half-bathroom isn't working" is a detailed description and will ensure the contractor that they're tending to the correct place.
Once the time has come to move into your new home, you'll be asked to do a final walkthrough and make sure that everything is correct and complete.
With Reinbrecht, the first post-construction walkthrough will be completed internally. We'll triple-check our own work before bringing you in for a formal inspection.
You'll receive nearly daily updates on the progress of your home through Buildertrend. During our walkthroughs, we'll let you know that we're taking care of any corrections that need to be made.
See all of the features that come standard with a Reinbrecht home.