If you're thinking about building a semi-custom home in the near future, you'll want to be prepared for the customization process. Here, we're outlining the entire homebuyer's journey from discovering which home builder you'd like to work with, to picking your floor plan, to the closing of your new home.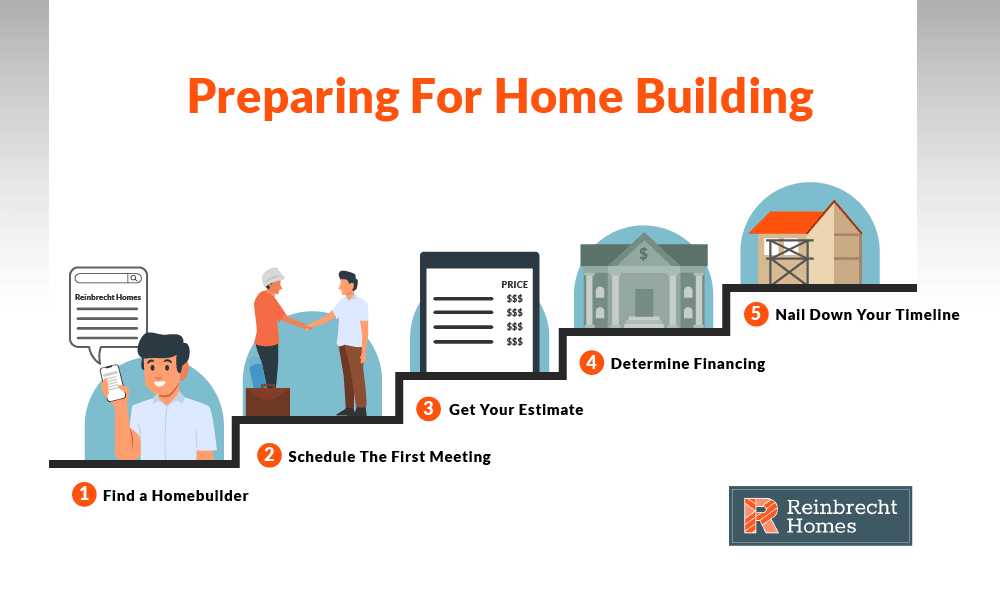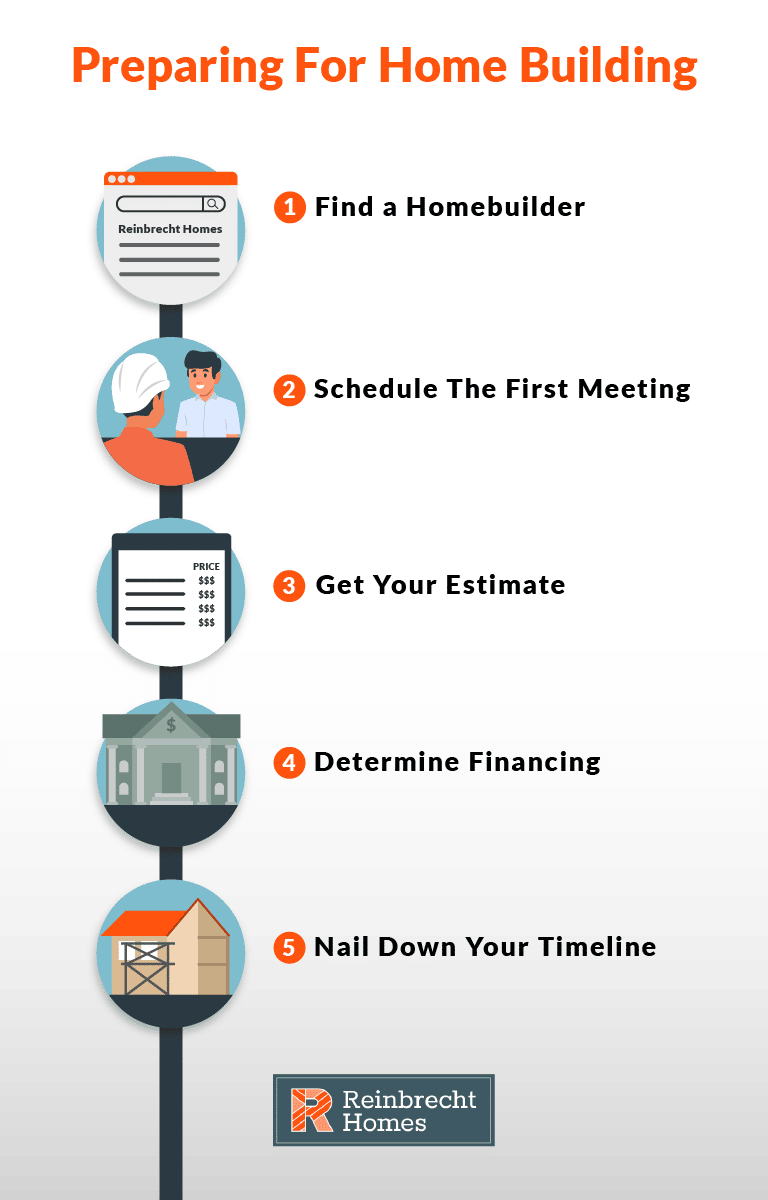 Most home builders have a library of floor plans with predetermined features, like the number and location of rooms. Once you narrow down the floor plans that meet your needs, these plans will be used as customizable templates to fit your preferences and needs. This is where the idea of a "semi-custom" home comes in: your floor plan has predetermined styles and features based on the neighborhood where it will be built, and the customization choices are yours from there.
Find a Home Builder
When searching for a home builder, there are steps you can take to help determine the ideal builder for you.
Step 1- Outline your necessities. Determining your must-haves will help you narrow down your options for floorplans that you can customize to fit your needs. Start with these questions:
Is my budget firm, or is it flexible?
Is my move-in date set-in-stone?
Do I know where I want to build?
Am I looking for a specific style or size of home?
What kinds of warranties am I looking for?
Step 2- Start looking into local builders. Ask for recommendations from friends and family. Once you've compiled a list of local builders, dig into their websites to find customer reviews, warranty policies, and service guarantees. While you're there, check out their home designs and neighborhoods with available lots. Do their design styles interest you? Are their neighborhoods in locations that interest you?
Step 3- Narrow down your contenders. Now that you have a list of builders that you're interested in, narrow down your options by these determining factors:
The locations of their neighborhoods with building availability
Their average timeframe for a build
What additional fees will be incurred, if any
If their floor plans are customizable
Financing options they offer
Once you've completed these steps and found the builder that best fits your semi-custom project, it's time to meet with them.
Schedule The First Meeting
Now that you've chosen a home builder you want to work with, it's time to meet with them. The goal of your first meeting should be to establish exactly what styles & customizations you want.
If you already know what floorplans you're interested in, you can arrive at the meeting ready to discuss these details:
Foundation Types: With Reinbrecht, you have three options for your foundation: a slab, basement, or crawlspace. This decision can weigh on your budget and speed of the build.
Interior Finishes: Floorcovering, cabinetry, countertops, lighting, plumbing fixtures, fireplaces, and trim packages are all interior finishes that will need to be specified by your preferences.
Exterior Finishes: Doors, windows, roofing, brick/vinyl/stone, and decks/porches/patios are exterior factors that you'll need selections for.
Extras & Upgrades: Are you interested in upgrades like fireplaces, smart home technology, and crown molding?
If you don't have your house plans, don't worry. Refer back to your list of home necessities to help answer your home builder's questions on your size, design, and budget needs. Your home builder will help you choose and customize a design that fits those needs from their library of available plans.
Be prepared to discuss details during the first meeting. In order to prepare an initial quote, the home builder will need to know your preferences on budget, home size, liveable square footage, and more. Find tips about preparing for your first meeting.
Get Your Estimate
It's important to understand what goes into the estimated cost so that you won't experience any unexpected costs during the build.
Interior costs, exterior costs, and upgrades are the determining factors in the estimated cost of your build. This means that every customization you choose – from the closet shelving to the roofing – will affect your estimate.
With Reinbrecht's fixed-price contracts, you won't have to fear surprise over-budget costs. The price you see on the estimate is the price you can expect to see on the contract. The only way that price will change is if design changes are made during the project.
Changes in design can be changes to choices of flooring, lighting, cabinetry, or mechanical components (like HVAC systems and plumbing). In other words: after construction has begun, any change to the design plan of the build could affect the price of the build.
Determine Financing
The financing and application process for a construction loan is different than that for a traditional mortgage. This is why defining your budget and knowing what you can get approved for is important in the planning phase of your semi-custom build.
There are two types of home construction loans:
Construction-to-permanent: With this type of loan, your lender pays your builder in installments as the phases of the build are completed. You can expect to pay a 20% down payment toward the total cost of your project using construction-to-permanent loans. Once your home is completed and you move in, the loan rolls over into what will be the borrower's mortgage. This allows you to pay closing costs once.
Construction-only: This type of loan covers the total cost of construction for your home in full upfront. When construction is finalized, the construction debt becomes your mortgage (considered a second loan, for which you pay closing costs a second time).
To get approved for construction loans, your lender will need:
A contract from your builder that includes your floorplans
Your declared budget
A 20% down payment of your final project cost
Internal Financing with Reinbrecht:
Reinbrecht Homes offers free construction financing for the first $200,000 of the build price. This means you will not have to make any interest payments during construction, which is not true to construction loans. We simply build the home and then you get a traditional home loan after it is complete. You can put down as little a $1,000 to get the build started.
You can expect the home selection process, construction loan approval, & closing to take anywhere from 30-60 days. Typically, they are complete in 45 days. To learn about which type of loan best suits you, read our home construction loan guide.
Nail Down Your Timeline
Phase one of your build is pre-construction planning. This is everything between contacting the builder and finalizing your financing. You can expect this phase to take 1-2 months.
Phase two of the build is construction. The building process begins with excavation & site work and ends with the final touch-ups. Then, Reinbrecht's professionals will do post-construction walk-throughs to ensure that all aspects have been taken care of.
Finally, the closing will take place on your new home.
The entire construction process will take 6 months or more depending on the size of the home. Explore the details of the home building timeline.
From the first meeting to the final walkthrough, Reinbrecht's associates are ready to help every step of the way. If you're interested in learning more about all features that come standard with Reinbrecht's semi-custom homes, download our standards guide.