Budget is a huge factor when you're trying to decide if you should buy an existing home or build a new home that meets all your needs. The good news is—building your dream home doesn't have to break the bank.
With careful planning and a clear understanding of your financial situation, you can choose to build without putting too much strain on your pocketbook.
In this blog post, we'll explore various ways to save money. From insights into free construction loans to utilizing energy efficiency for long-term savings ——we've got expert tips to help you learn how you can plan a budget-friendly home build today.
First—You Need A Better Understanding of Your Realistic Budget
To build the home of your dreams on a budget, it's crucial to assess your financial situation first.
Start by evaluating your income, expenses, savings, and debt to determine the amount you can comfortably allocate toward the project.
Consider factors such as your income, debts, savings targets and future goals.
Calculate a realistic budget that includes any expected costs for land purchases or renovations.
Keep in mind that it's essential to include a contingency plan in your budget, as unexpected charges and out-of-pocket costs may arise during the construction process.
By creating a well-thought-out financial plan, you can ensure that your home-building project stays on track and within your budget.
Once you have thoroughly assessed your budget, you can begin the process of designing and building your new home.
Here are 4 tips to keep in mind as you're vetting potential builders for your new home project.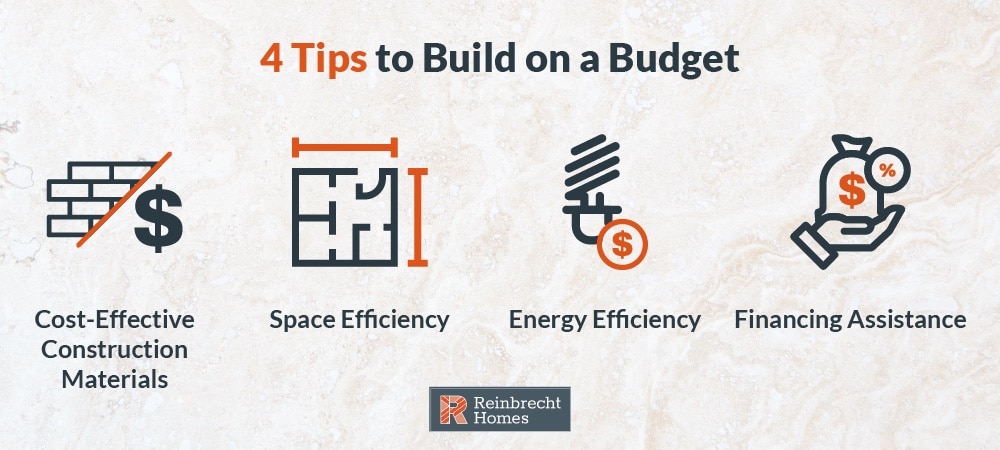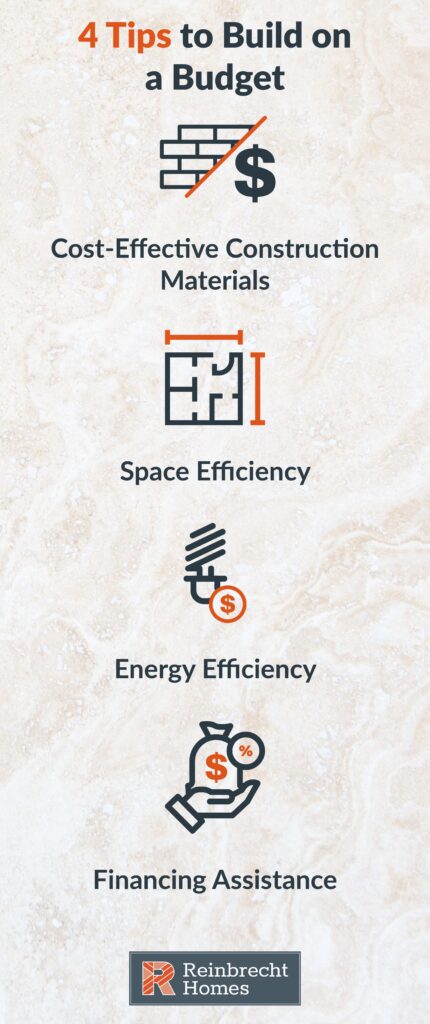 Tip #1: Inquire About Cost-Effective Construction Materials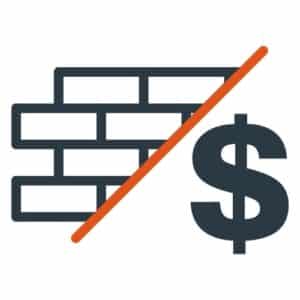 Selecting affordable materials and working with a builder who can get great rates on those materials is the key to keeping your construction project within budget.
Seek Out Affordable Building Materials
When building a home on a budget, opt for affordable and durable materials that provide the best value for your investment.
This may involve researching various home builders in your area to see who offers the best construction materials, at a lower cost, without compromising on quality.
Look for Builders Who Have Been Around Awhile
A reputable builder with years of experience will have likely tried different materials and found the highest quality offerings for the best rate. They will have likely created long-time relationships with their trusted vendors and can get the best deals on the construction materials that they buy from them in bulk.
Ask potential builders about the materials they use and inquire about why they have chosen the vendors they use. You'll likely gain some interesting insights into the company's standards for quality and how they have learned over the years what works best and what doesn't.
Tip #2: Utilize Space Efficiently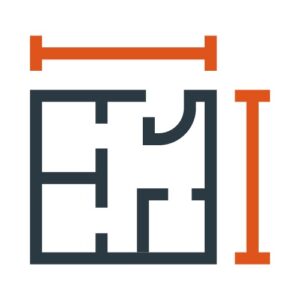 Efficiently utilizing space is key to keeping construction costs low. Design solutions such as an open floor plan, multi-purpose rooms, and smart storage can help you maximize your available space while also reducing the overall cost of the build.
Consider an Open floor Plan
Maximizing square footage through an open floor plan is a cost-effective way to make your home feel more spacious.
This design approach combines multiple rooms, such as the living room, dining area, and kitchen, into one continuous space.
Open floor plans create an airy and spacious environment while also reducing construction costs due to fewer walls or partitions.
Create Multi-purpose Rooms
Designing flexible spaces that can adapt to changing needs is another strategy for utilizing space efficiently.
Consider incorporating multi-purpose rooms, such as a home office that can double as a guest bedroom, or a playroom that can later transform into a study area.
These adaptable spaces can help you accommodate evolving requirements of your household without the need for costly renovations in the future.
Incorporate Smart Storage Solutions
Incorporating smart storage solutions is essential for maintaining a clutter-free and organized home.
Built-in shelves, cabinets, and under-stair storage can help you make the most of your available space, while also adding a custom touch to your home.
Additionally, utilizing vertical space with wall-mounted shelves or storage systems can provide extra room for belongings without consuming valuable floor space.
Ultimately, efficiently utilizing space in your home can lead to lower construction costs and increased functionality.
By carefully assessing your home's requirements and exploring various design solutions, you can create a functional living area without spending a fortune.
Tip #3: Get Long-Term Savings with Energy Efficiency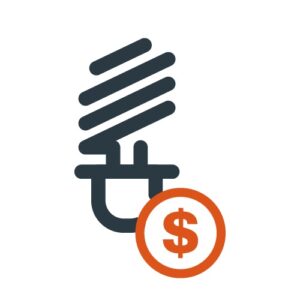 Use Energy Efficient Products and Appliances
Choosing Energy Star-certified products, such as heating and cooling systems, lighting, and appliances, ensures that you are selecting high-quality, energy-saving items.
Insulation and sealing play a crucial role in maintaining a comfortable temperature within your home while also reducing energy costs.
By properly insulating walls, ceilings, and floors, and sealing any gaps, the builder can minimize heat transfer and maintain a consistent indoor temperature. This reduces the need for constant heating and cooling, leading to lower utility expenses.
Consider Renewable Energy Sources
Incorporating renewable energy sources, such as solar panels or wind turbines, can also contribute to reduced energy costs over time. By generating your electricity, you can lower your reliance on grid power, which can lead to significant savings on your energy bills.
Furthermore, many regions offer incentives and tax credits for installing renewable energy systems, further increasing the financial benefits of these eco-friendly solutions.
Tip #4: Research Financing Assistance and Options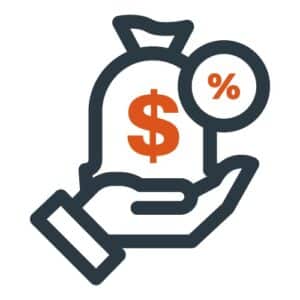 Understanding different types of home loans is crucial for prospective homebuyers looking to build on a budget.
Researching loan options and shopping around for the best mortgage rates can help you save money and secure terms.
There are various loan options available, including construction loans, mortgage loans, conforming loans, and single loan closing construction programs.
Additionally, exploring government-backed loan programs, such as FHA, USDA, and VA loans, can offer more favorable terms and lower down payment requirements for eligible borrowers. These programs are designed to assist first-time homebuyers, low-income families, and military veterans in achieving their homeownership goals.
Find A Builder Who Makes the Financing Easy
Some lenders may offer free construction loans to qualified applicants. These loans typically cover the cost of the land and construction costs, with repayment due once the home is completed and sold.
While free construction loans may seem too good to be true, they can be a viable option for those looking to build a custom home and save money at the same time.
It's essential to evaluate your financial situation and eligibility before selecting the most suitable loan for your circumstances.
Shop Around for The Best Mortgage Rate
Shopping around for the best mortgage rates can significantly impact the overall cost of your home build.
Different lenders offer varying interest rates and terms. By comparing offers from multiple lenders, you can potentially secure a lower interest rate, saving you thousands of dollars over the life of your loan.
Consider working with a mortgage broker who can help you navigate the lending landscape and find the best option for your budget.
Not sure how much house you can afford? Use this handy mortgage calculator to get a general idea of your budget before contacting any builders or mortgage brokers.
Work with Reinbrecht Homes for Zero Out-of-Pocket Costs and Zero Interest Only Payments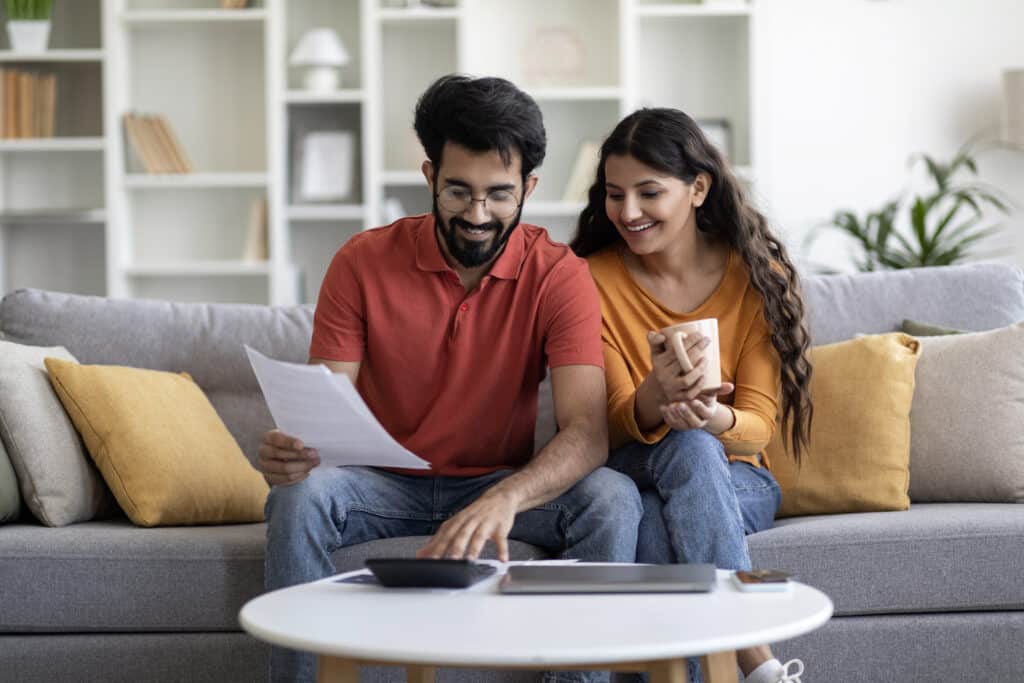 Partnering with Reinbrecht Homes is a smart decision when building a budget-friendly custom or semi-custom home.
Their team of professionals is dedicated to providing customizable options to fit your financial needs, ensuring you achieve your dream home without breaking the bank.
Offering a wide range of floor plans and design options, Reinbrecht Homes takes into consideration your unique preferences and requirements while respecting your budget constraints.
Our new construction homes are built to be 35% more energy efficient than the industry standard—creating extensive long-term savings for our customers.
Reinbrecht Homes also offers free construction loans up to $25,000 with as low as a $1,000 down payment to get started. With these financing options, you can keep your money in the bank instead of throwing it away on interest costs while your home is being built.
The helpful staff at Reinbrecht Homes can help you navigate the complex world of mortgages and home loans, ensuring you secure the best possible rates and terms for your situation.
Still On the Fence About Building New vs. Buying Existing?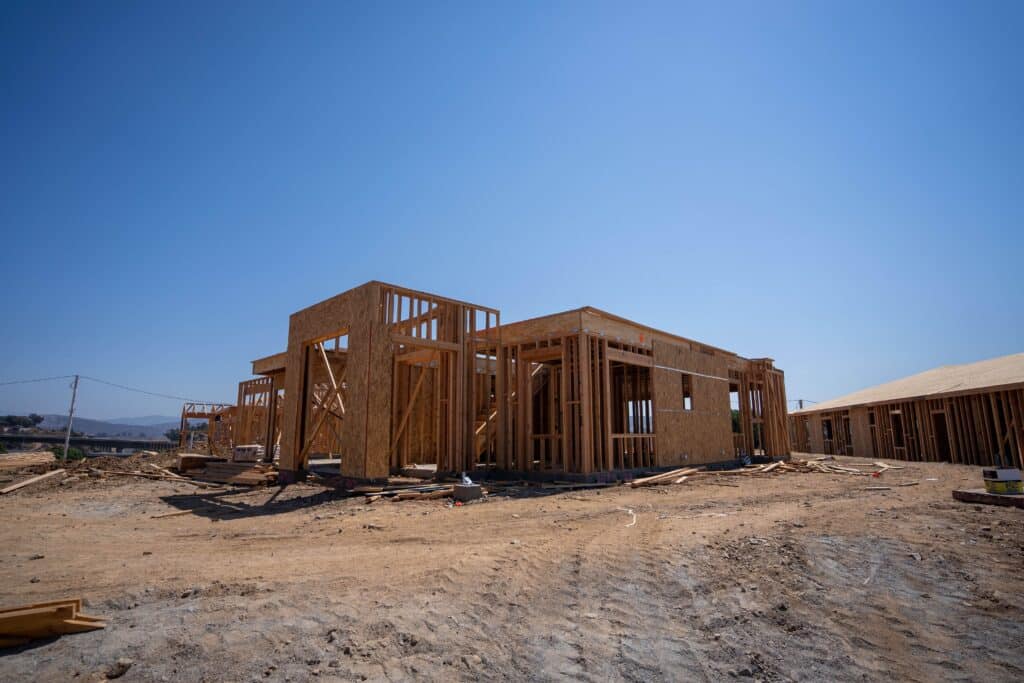 Building your dream home on a budget is an achievable goal when you follow the right steps and work with a trusted partner.
Reinbrecht Homes is here to help make your home-building journey more affordable and manageable through our customizable options and financing assistance.
As a leading home builder in Southern Indiana with over 25 years of experience, we're committed to providing expert guidance and support every step of the way.
Our team is ready to assist in helping you build a budget-friendly custom or semi-custom home that fits your lifestyle and financial constraints.
If you're not sure that building a new home is the best option for you, download our Home Purchasing Guide today to create a 7-year cost analysis. This handy guide helps you gain insights into things like major appliance replacement costs, long-term savings from energy efficiency, landscaping and maintenance costs, and so much more!