Building a custom or semi-custom home is a substantial investment. If you're like many people, you might not have the cash on hand to pay the entire cost upfront. Instead, you'll need to apply for a loan to fund your purchase. 
There are a few loan options when it comes to financing your new home. In addition to conventional mortgage loans, you can also consider construction loans. Here, you'll learn how to finance building a house and find out more about these two types of loans. 
A mortgage loan is what most people think of when they think of financing a house. It's a type of loan that covers the cost of a home that already exists. 
Here are the most common types of mortgage loans:
30-year fixed-rate mortgage loan: With this option, you have a fixed interest rate and pay the same amount for 30 years.
15-year fixed-rate mortgage loan: Similar to the 30-year loan, but you pay it off in 15 years. 
Variable-rate mortgage loan: With this type of mortgage, your interest rate and monthly payment may change periodically throughout your loan term.
A construction loan covers the cost of constructing a new home. It typically has a variable interest rate, which means your payments could fluctuate depending on prime interest rates. 
You have a few options when it comes to a construction loan:
Construction-only loans: These cover the cost of the building only. You then have to pay off the loan at maturity or obtain a mortgage for longer-term financing. The downside to this loan is that you'll have to pay closing costs twice.
Construction-to-permanent loans: These allow you to convert the construction of your home into a conventional mortgage, which can be beneficial for those who might not be able to cover building costs. You can lock in your rates at the time of closing, and you only need to pay closing costs once.
MORTGAGE LOANS VS. CONSTRUCTION LOANS: 5 DIFFERENCES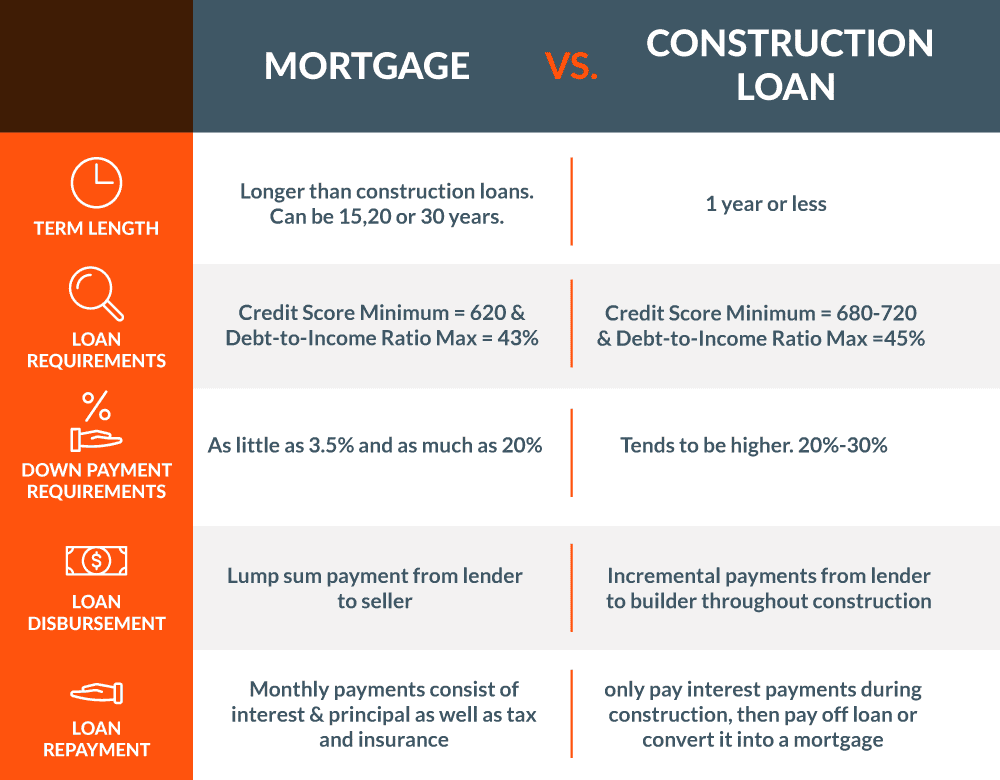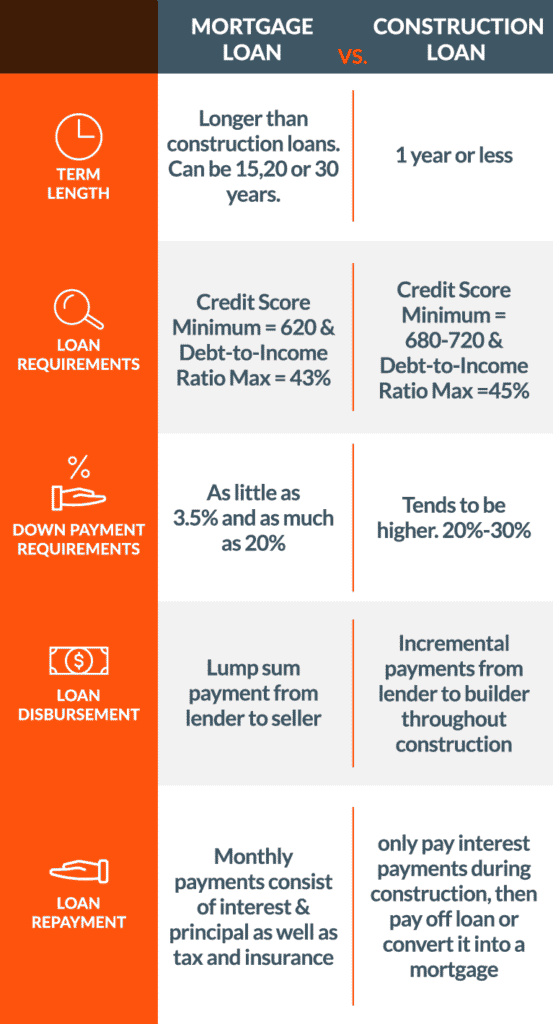 While mortgages and construction loans help you finance the cost of a house, they do have a few distinct differences.
1. TERM LENGTH
Construction loans have much shorter terms than conventional mortgages. A 30-year loan may be the most common, but homebuyers have the option of selecting shorter terms depending on their bank, such as 20 or 15 years. 
A construction loan has a term of one year or less. The rates tend to be much higher, too. The house acts as collateral for a mortgage, and the lender can seize the property if you default on your payments. With a construction loan, there is no home to secure the funds. As such, the loan is a bit riskier.
In many cases, you'll need to provide your lender with a timeline and detailed plans. You'll also need to submit a realistic budget for your home construction project. 
2. LOAN REQUIREMENTS 
Lenders for both construction loans and mortgage loans have requirements that you need to meet. While both tend to be strict, construction loans typically have higher qualifying standards. 
Common qualifications for a mortgage include:
A minimum credit score of 620
A debt-to-income ratio of no more than 43%
A down payment, in most cases
Documentation including employment verification, proof of income, and tax returns
To qualify for a construction loan, you need to meet requirements such as:
A credit score of at least 680, although some require a minimum score of 720
A debt-to-income ratio no higher than 45%
A sizeable down payment, which we'll get to in a moment
A builder lined up
Proof of income
A detailed construction plan and budget
3. DOWN PAYMENT REQUIREMENTS
The down payment requirement for a mortgage varies based on the type of loan chosen. You'll often hear that you're required to put 20% down, but that's not always the case anymore. While putting 20% down can help a homebuyer avoid private mortgage insurance, many buyers are putting as little as 3.5% to 5% down. With a VA home loan, you may not even need to put any money down. 
Like mortgage loans, the requirements for a down payment for construction loans vary. Those requirements do tend to be higher, though. Many lenders ask for at least 20% down, but you may also see others requiring 30% or more. 
4. LOAN DISBURSEMENT
When you take out a mortgage, your lender makes a lump sum payment to the seller of the house. With a construction loan, your lender disburses the money in increments as your builder completes different phases of your new home. These "draws" typically occur after an inspector or appraiser checks on your builder's progress. Upon approval, the money goes to the builder, and the next stage of the process begins. 
5. LOAN REPAYMENT
When you repay your mortgage, each monthly payment consists of principal and interest, as well as property taxes and homeowner's insurance. Depending on where you live, you may also have a homeowner's association fee rolled into your payments. As you repay your loan, you build equity, too. That's the portion of your home that you actually own, which you can then use if you need to take out a home equity loan or line of credit.
With a construction loan, you only need to make interest payments during the building process. Once the term ends, you'll then have to repay the total amount or convert it into a mortgage. Remember that making interest-only payments means you aren't building equity — even though you're making payments on your home. Essentially, you're throwing that money away. 
Looking To Build Your Dream Home?
Understanding the differences between a mortgage loan and a construction loan makes it easier to choose the best solution for you. If you're building a home, a construction loan makes the most sense. While the term is shorter, you can choose to convert it into a mortgage if you can't pay the entire loan after your builder completes the project. That way, you can comfortably afford the home of your dream home. 
The downside to construction loans is that they often have higher initial fees and require interest-only payments during building. With Reinbrecht Homes, however, our in-house financing requires as little as $1,000 down — and you don't need to make interest payments during the construction process. These two factors make it easier for you to afford the house of your dreams. Need home financing? Reinbrecht Homes partners with several local banks to facilitate the best homebuilding and financing experience possible.
Are you ready to get started? Visit Reinbrecht Homes today!