When you're ready to buy a new home, your first instinct is likely to look at local real estate listings online to see which homes in your area are for sale. The cost to build a home may seem too expensive and overwhelming. But in many cases, building a home from the ground up is comparable in price to buying one. 
‌‌Building your own home gives you something truly made for you — because you influence the design and build process from start to finish. You don't have to settle for a certain floor plan or building materials, hoping to fall in love with them later. You can create a home that meets your needs and makes you excited to turn the key every day.
HOW MUCH DOES BUILDING A HOUSE COST?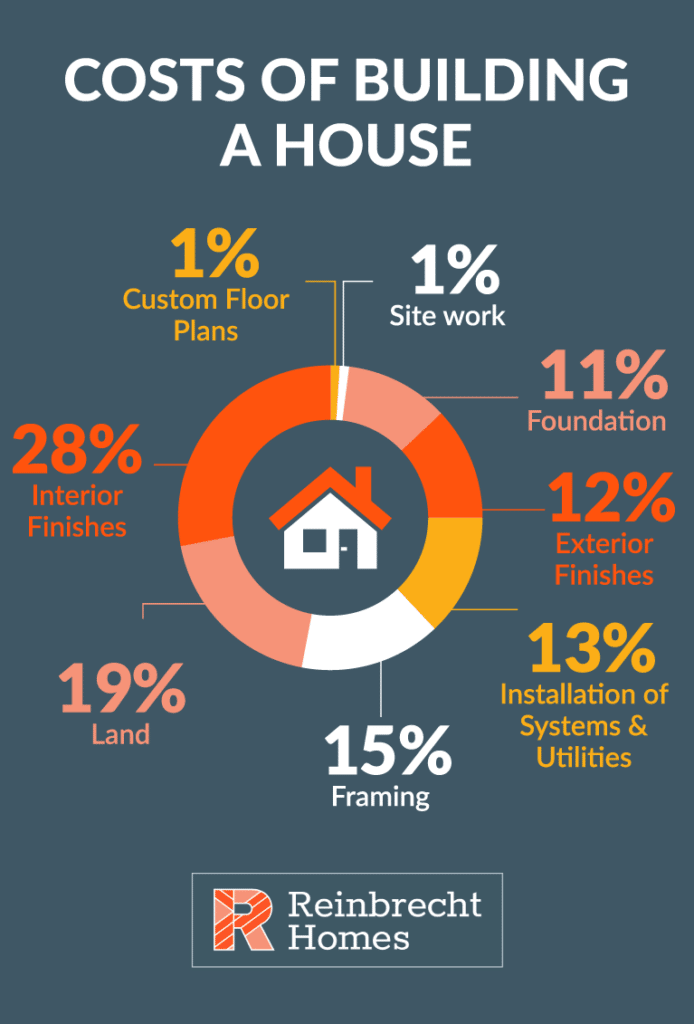 Opting for a custom build or a semi-custom build doesn't have to break your budget. So, on average, how much is it to build a house? According to the National Association of Home Builders, the average construction cost to build a single-family home in 2021 was about $393,300, or $150 per square foot.   
The total cost will fluctuate based on many factors, including the location and the size of your home. In the United States, it is typically more expensive to build in the Northeast than the Midwest or Western regions.  
Below are the steps associated with a custom or semi-custom build, along with average costs and considerations for each step. Note that these are just average costs and depending on the factors, these can fluctuate greatly. The goal is to give you a general idea to start with.
PURCHASING LAND
‌Before you can turn your dream home into a reality, you need a plot of land. There are different options for purchasing land: 
You could buy an existing or planned plot in a new residential development. In this case, you'll likely be working with a builder who has a variety of pre-designed layouts you can choose from. 
You could buy an old house and tear it down, building a new home on the land. Look for a house that is already in poor condition. It will likely be extremely undervalued in the area and might even be condemned. In this instance, you may need to pay additional fees to reconfigure plumbing and other utilities. Ask your realtor about costs and legal considerations associated with tearing down and removing the existing house.  
You could buy an existing plot of land that is zoned for housing. From here, you can  construct your entire home from the ground up. If the plot has no existing infrastructure for plumbing and utilities, you will end up spending much of your site work budget preparing the site for these features. 
Start the process by looking through local listings of real estate agents or a website that includes vacant lots in its listings. Find real estate professionals in the area who specialize in vacant lots because they will be more equipped to answer your questions about the site. 
You can also meet with a professional builder before starting the process. They can give you advice on what to look for in your plots. Whether you choose to consult with a builder or a real estate agent, draft some questions about the land and what makes it suitable for building your house.
Some of your desired features might not be compatible with different land areas. For example, if you want a finished basement, you need to know if the area has wet soil. 
On average, the land will likely cost between $3,000 to $150,000, mostly depending on the size and location of your lot. Location plays a big role, as land costs will vary greatly depending on where your want to build. For example, a lot that is .25 acres in Newburgh, Indiana can run as high as $70,000, but the same size lot in Princeton, Indiana can be around $35,000 and that same size land might be around $2,000 in Santa Claus, Indiana.  
CREATING A FLOOR PLAN
‌Once you've acquired your land, the next step is to prepare to build the house. This stage involves an architect who will draw up floor plans. While it is tempting to design every part yourself, floor plans should be done by professionals, particularly if your home will be large and complicated.
An architect can design the floor plan and create drawings with precise measurements that will be used to create everything from the foundation to the exterior. Miscalculating these measurements can lead to structural issues and costs associated with rebuilding parts of your house. With a semi-custom build you start by choosing from a variety of floor plan options that fit your needs. Your home builder can help you narrow down the selections.
For simple designs, you can save money by working with a draftsperson rather than an architect. In either instance, choose someone with the experience necessary to understand your vision and create the proper plans, or to help you select the proper floor plan for a semi-custom home.
Having a professional create your floor plan is also an important part of the permitting process. These plans will be submitted to the municipality, so they can approve the building or recommend modifications. You'll also need plans to set up utility connections.‌
‌Be as detailed as possible in the planning process. When making the floor plan or in detailing what is needed in your floor plan for a semi-custom home, include considerations for everything that will take up space in your home. Computer-aided drafting programs make it easier to modify designs when you change your mind about a space in your house.
‌If you are looking through your floor plan and decide that you want a standing shower and a bathtub in your master bath, changing the floor plan is easier than changing the design once the house has been framed. 
When figuring out the cost to build your home, you'll also need to consider the cost of creating a floor plan. This will depend on how simple or complex your house will be, and the type of building permits and other preliminary inspections you may need. 
On average, the cost of a floor plan ranges from $2,000 to $8,000 if you're having a custom floor plan created. Note: Reinbrecht Homes offers floor plans for a semi-custom build at no cost for you to use. If you want to get the best idea of how much a semi-custom home will cost – look at the cost of the floor plan as a starting point.
‌STARTING ON-SITE WORK
This is when your dream home starts to take form. Site work is the process of preparing your land for the build. Once you've started creating your floor plan, or you've selected a pre-existing floor plan, and determined how to configure the plumbing and other utilities, site work can begin. 
If you have a basic plot of land, it needs to be cleared of plants and trees, and you'll need to dig out the soil to lay your foundation. Land with difficult topography might need to be leveled to create a sturdy foundation.  
Buying a plot of land in an existing development that is already prepped for new construction is the most affordable option for site work. Fully demolishing an existing home and building a new house on the lot is the most expensive. 
Costs associated with this task include those for excavation, disposal, and preparation of the land for utilities like water and electric lines that will connect to your house. Excavation can often increase home building costs because you'll need expert operators and heavy equipment to clear and level the land. For example, if your lot is filled with large rocks, the cost to build your home will likely shoot up.
On average, site work costs about $1,500 to $5,000 depending on the location. For example, a town lot with utilities may only have around $3,000 – $4,000 in site cost, where as, a plot in a county area could cost $75,000 just to get the electricity ran to the home. This is the same when it comes to water, sewer, or septic. The demolition and disposal costs for an existing home average about $18,000 in a city, but it might be cheaper in a rural area.   
BUILDING A FOUNDATION
The foundation is the most important part of your home build and will make up a significant portion of the construction budget. After excavation, your chosen builder will lay the foundation of your home with lumber and concrete. 
A sturdy foundation will allow your house to:
Be insulated
Have a supported frame
Keep moisture out
Sit level on the ground
There are a variety of foundations you can use, with the most common being:
Basements
Slab-on-grade foundations
A home with a basement will typically cost more since you'll need to cover more square feet. In some instances, it's not desirable to build a basement. In an earthquake-prone area, a basement isn't safe. In areas with extremely damp soil or high water tables, basements aren't feasible because you can't dig deep enough to safely house the basement. 
The size and cost of your foundation depend on other factors, including the final floor plan and square footage. For example, a 2,500-square-foot ranch-style home will have a larger foundation than a 2,500-square-foot two-story house.‌ 
If you're building on a new piece of land or an existing lot in a new development, you will have to pay for the construction of the whole foundation. Factors that contribute to the price of your foundation include:
Foundation style
Soil quality
Type of concrete being used
If you're building in an area with poor soil quality or steep grading, you will need a deeper foundation and will pay more for excavation. Also, you may need to install retaining walls to prevent surrounding soil from collapsing and falling onto the foundation. This installation depends on the kind of soil on your lot. 
When building on an existing site with a demolished home, check the condition of the existing foundation. If there are no cracks or other structural or safety issues, you could frame your new house on the existing foundation. Doing so will limit your floor plan, but if you choose to build a new foundation, you'll have to pay to remove the old one. 
On average, a foundation costs between $5,200 to $80,000. The least expensive foundation is a monolithic concrete slab, while the most expensive will include a basement, which requires extra excavation and more material and reinforcement with rebar. Still, that extra cost will give you more livable space when your home is complete. 
‌SETTING UP FRAMING
‌Framing is the process by which your blueprints come to life and when your house begins to take shape.  Once you have laid your foundation, it's time to build the skeletal structure of the house, which is done with wood — although some builders have used metal — as well as drywall and other materials. 
Since setting up framing often requires wood, bear in mind that lumber prices have risen drastically since April 2020. If this trend continues, you'll likely face an increase in your overall home building cost. And don't forget trusses — the triangular structures supporting the roof — which will also increase the cost to build your home. 
From the smallest house to the largest, framing requires an abundance of sturdy materials to create a structurally sound home. Although the majority of your budget will be dedicated to finishes, framing is the most expensive part of the build itself. 
For this step, use a professional construction crew that's very keen on details. Every measurement in the framing process is critical since you will be laying down beams and other components that are responsible for keeping your home standing. You could hire a smaller crew to keep your costs down, but the framing will likely take longer with fewer people. 
On average, framing costs about $30,000 to $90,000.
INSTALLING MAJOR SYSTEMS AND UTILITIES
‌When building your custom home, you may be tempted to spend all of your money on the interior. Be sure to set aside a substantial part of your budget for major systems and utilities like electricity, plumbing, and HVAC — these may end up costing as much as exterior finishes. Keep in mind that this home building cost does not include the sinks, toilets, or lights that will be hooked into electrical or plumbing systems. 
Building on a new plot of land with no existing infrastructure means that you have to install new: 
Sewer or septic system
Electrical systems
Gas lines
If you've chosen to build on a lot with a demolished house, you'll likely have to modify some of these components or replace them entirely if they are old and no longer up to code. 
Major systems and utilities are some of the most important elements of your build. Your plumbing and electrical systems need to be connected to the municipal system, and there are likely municipal restrictions and requirements in place for these. 
There are parts of your build that you may be tempted to DIY to stretch your budget, but all of your major systems are best completed by professional contractors. Ask questions about these systems at your consultation with a professional builder to see what types of permits you will need and what to look for when hiring a contractor. 
On average, major systems design and installation cost about $30,000 to $75,000. 
ADDING ‌INTERIOR FINISHES
‌The interior is another aspect of home construction that can significantly add to your home building cost. Your interior finishes are the parts of your home that will impact you every day and help you form memories. They include everything from flooring to the type of faucets and countertops in your kitchen and bathrooms. Your taste will determine how much you spend, whether you prefer cheaper material like wood or plastic or pricier options like stainless steel or granite.
Choosing the interior finishes is also the most fun part of a custom or semi-custom build because you can personalize everything. You can create a breathtaking final design that stands front and center every time you entertain. You've probably spent a lot of time thinking about your interior finishes and have a good idea of where you want to spend most of your money. 
Spend more on high traffic areas and appliances that will get a lot of use. Budget for durable flooring, countertops, cabinetry, sinks, and other finishes. Paying more upfront for high-quality, long-lasting materials saves you money down the road. If you opt for cheaper materials, you'll probably have to replace them more often.‌
Use your interior finishes to save money. Buy a shower head and plumbing components that are made to withstand your city's hard water. Opt for a low-flow toilet or Energy Star-certified appliances that will save you money on utility costs as long as you live in the house. 
For people who have a knack for construction, interior finishes are a good place for DIY projects. Work with your architect and interior designer to see where you can do custom builds like shelving, storage, or a DIY concrete countertop. However, any project that involves plumbing, electrical, and HVAC systems should be left to a professional. 
You can expect to spend about $50,000 to $175,000 on interior finishes. 
‌‌ADDING EXTERIOR FINISHES
‌The second highest percentage of your budget will be spent on exterior finishes — including siding or stonework, roofing, exterior doors, doorways, windows, the garage, and more. Like the interior finishes, these components offer a personal touch to your home, but they will also up your home building cost significantly.
If you are building in a subdivision or neighborhood with a Home Owners Association, check your bylaws — because there are likely rules you need to follow when choosing your finishes. Some HOAs have regulations that restrict colors, building materials, and even landscaping. Keep these in mind when buying your external supplies. 
Exterior finishes are a great way to plan on saving money in the future. Choosing durable, energy-efficient materials can help insulate your home more effectively, saving you money on heating and cooling costs. Strategically placed windows throughout the house help heat the indoor area in the winter, and they also help save on lighting costs. 
When picking exterior finishes, consider how the weather will affect them. Extreme heat and cold, hail storms, and intense sunlight all have the power to wear out your siding and shingles. Look for materials that can withstand your area's harshest weather so you won't have to replace or repaint as often. 
Exterior finishes cost about $40,000 to $60,000 on average. 
PREPARING FOR EXTRA COSTS
‌You could plan for every scenario, but extra costs always come up during construction. For example, an issue may arise in which you need to file additional permits — which add to your budget. 
‌‌Once you've begun the build and your house begins to take shape, you might start visualizing other features to enhance your home, like custom landscape design. When the foundation is set, you might look at your backyard area and decide that it is big enough to accommodate a swimming pool or an outdoor kitchen for entertaining. ‌You might also consider adding landscaping, a driveway, and other surrounding structures like a patio or porch. And don't forget about other general expenses that may pop up, like a possible homeowners association fee.
‌‌These extras will add to your building costs. Landscape architecture costs for yard design alone range from $2,000 to $6,000. Even small touches like laying sod throughout the front and back yard cost an average of $5,000 to $15,000, depending on the size of your yard. 
TALK TO A BUILDER AND START BUILDING YOUR DREAM HOME
Just thinking about how much building a house will cost you can be overwhelming. But when broken down into smaller parts, the costs of a custom build will seem less daunting and more realistic. If you're ready to create your dream home from scratch, start by listing all of your dream components and then modify them to fit your budget. 
‌‌Leave a cushion in your budget for change orders and other unexpected expenses. It's easiest to plan for the high-end average of each step and save money to meet this number. Even when you find areas to save money during the building process, preparing your budget based on your high-end desires helps you create a cushion for unforeseen expenses. You might even surprise yourself and have enough money left over at the end for your backyard kitchen. 
‌Before shutting the door on the idea of custom building a home, book a consultation with a professional at Reinbrecht Homes. Our team has experience in helping people build their dream homes, and we know what it takes to achieve your vision. We will answer all of your questions and help you develop a realistic budget. We can also discuss the difference between doing a custom home and a semi-custom home (which can offer you the best of both words). Take the first step toward creating your personalized home today.