Deciding to build a house is a significant milestone and a considerable financial commitment. Before diving into the world of homeownership, it's crucial to evaluate if you can afford to buy or build a new house.
It requires careful consideration, strategic planning, and knowledge about all facets involved to ensure it's the right move for you. Whether it's your first time purchasing a home or if you are already an experienced buyer, we're here to help!
In this blog post, we will guide you through 7 essential considerations to help you assess your financial readiness and determine whether now is the right time for you to jump into homeownership.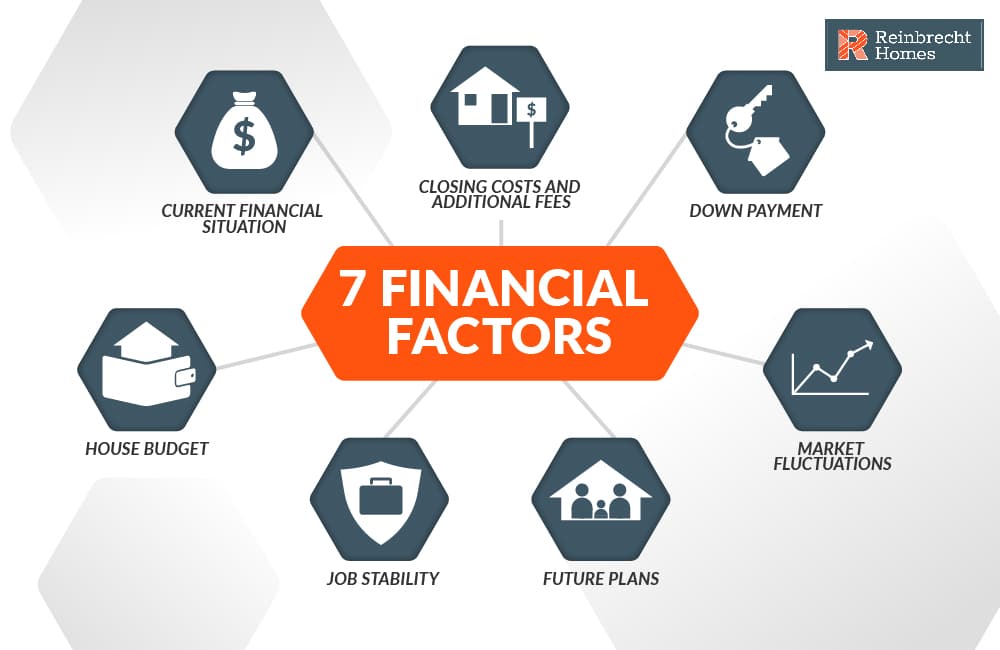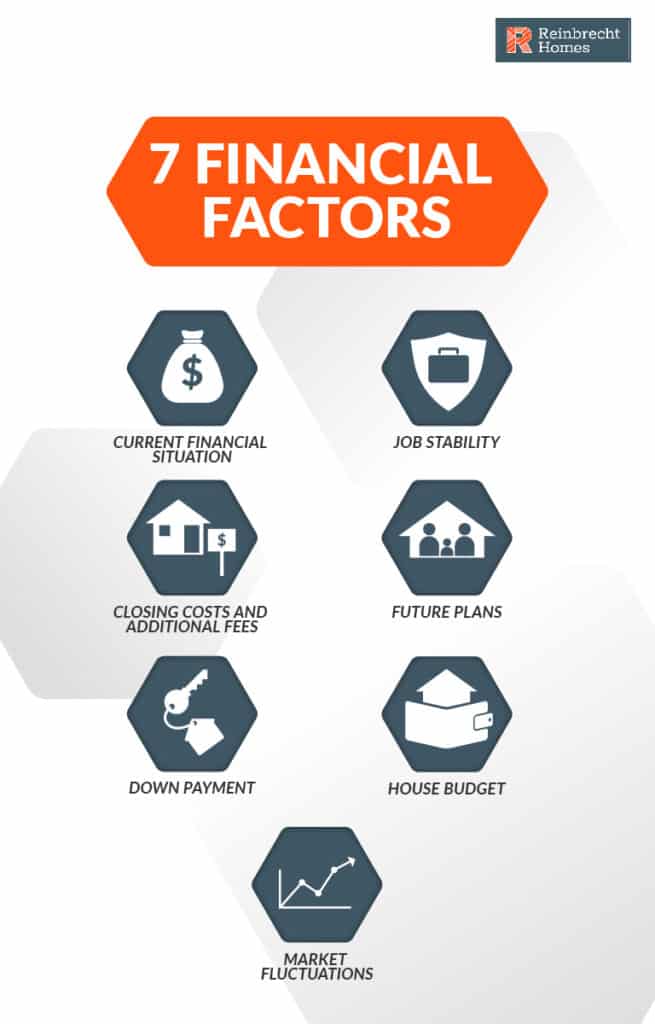 1. Evaluate Your Current Financial Situation
To determine if you can afford to buy or build a house, it's crucial to evaluate your current financial situation. Start by assessing your savings, including funds for a down payment, closing costs, and an emergency fund. This will help you understand how much you can contribute towards your home purchase without jeopardizing your financial stability.
Next, analyze your debt-to-income ratio (DTI), which is the percentage of your monthly gross income that goes toward paying off debts. A lower DTI demonstrates that you have a manageable level of debt, which is essential when applying for a mortgage. Lenders typically prefer a DTI of 43% or lower.
Lastly, understanding your credit score is vital in the home-buying process. A higher credit score increases your chances of securing a mortgage with favorable terms and interest rates. Aim for a credit score of at least 640 to increase your likelihood of obtaining a mortgage, although a score of 740 or higher is preferred by most lenders.
2. Estimate Closing Costs and Additional Fees
When evaluating your financial readiness, you'll need to estimate closing costs and additional fees associated with the purchase. These expenses can significantly impact your overall budget and should not be overlooked.
Home inspection fees, for instance, are typically required to ensure the property is in good condition and identify any potential issues that may need to be addressed before finalizing the sale. However, if you are building new, this is a part of a new home construction loan. At Reinbrecht Homes, for example, we pay a permit fee for a new home build most of the time. If the build is in a county without an inspector, we hire an independent inspector to supply our customers with a 2-10 Home Buyers Warranty. We don't charge extra for the inspection but we don't pay for the permit in this case.
Another cost to factor in is the appraisal fee, which is necessary for determining the fair market value of the property. This evaluation is crucial for the mortgage lender to confirm that the loan amount aligns with the home's worth, whether you are buying a previously owned home or building a new home.
Additionally, title insurance is a component of the closing process, as it protects both the buyer and the lender from potential issues with the property title and facilitates the transfer of funds and property ownership.
Service costs are another consideration. This refers to the costs due to local municipality in order to begin the building process.
By carefully estimating these costs, you can better prepare for the financial commitment of purchasing a house and ensure a smoother transaction.
To learn more about cost considerations for more long-term home planning, such as major appliance lifetime expectancy and maintenance and landscaping costs, download this in-depth home purchasing guide.
3. Consider Your Down Payment Options
When buying a house, your down payment represents the largest financial commitment. A traditional down payment requires you to put down 20% of the home's purchase price, which can be a significant amount for many homebuyers. However, there are alternatives to the traditional down payment that may be more suitable for your financial situation.
Low down payment programs, such as FHA loans and USDA loans, can allow you to put down as little as 3.5% or even 0% in some cases. These programs can be particularly helpful for first-time homebuyers or those with limited savings.
Additionally, there are assistance programs, like state and local grants, specifically designed to aid first-time homebuyers in securing a down payment.
Researching and understanding these various down payment options can greatly impact your ability to afford a house and ensure that you make a sound financial decision.
4. Determine Your House Budget
Estimating mortgage payments is a crucial step in determining your house budget. Use an online mortgage calculator to estimate monthly payments based on the purchase price, down payment, interest rate, and loan term.
Remember, a lower interest rate or longer loan term can help make the payments more manageable.
Considering property taxes and insurance is also essential when determining your house budget. Research the average property taxes for the area you are interested in, and obtain quotes for homeowners insurance. These expenses will be added to your monthly mortgage payment, so it's important to factor them in when calculating your total housing costs.
5. Assess Your Job Stability
Assess your job stability to gauge your financial readiness for buying a house. Start by considering the length of time you've been with your current employer. A stable employment history can make it easier to secure a mortgage and provide reassurance that you'll be able to manage your monthly payments.
Next, examine the overall outlook and stability of your industry. Is it experiencing growth or facing potential challenges? Knowing the prospects of your field can help you determine whether your job is secure and if there's room for salary growth.
This is important, as a higher income can increase your ability to afford a home and ensure you're prepared for any unexpected expenses that may arise.
6. Evaluate Your Future Plans
Evaluating your future plans is essential when deciding if you can afford to buy or build a house, as the decision should not just be about what's affordable at present. Think about your family planning and space requirements for the coming years.
Do you plan to start or expand your family? If so, you may need to account for additional space or consider a property with potential for expansion.
Anticipate any lifestyle changes that may affect your financial situation, such as a change in career, further education, or even retirement plans.
Additionally, consider the potential need for relocation due to work or personal reasons. Buying a home is a long-term commitment, and it's crucial to ensure that your plans align with this investment.
7. Prepare for Potential Market Fluctuations
Understanding local housing market trends is crucial when considering if you can afford to buy a house.
Research the current state of the market, as well as any predictions for future changes. This knowledge will help you make informed decisions about when to buy and how to negotiate the best price for your future home.
Flexibility in your purchase timeline can also be beneficial as it allows you to wait for more favorable market conditions or take advantage of sudden opportunities.
Consider the impact of interest rates on your mortgage payments. Keep an eye on current interest rates and any anticipated changes, as they can significantly affect your overall affordability and the long-term cost of homeownership.
Explore Financing Options with Reinbrecht Homes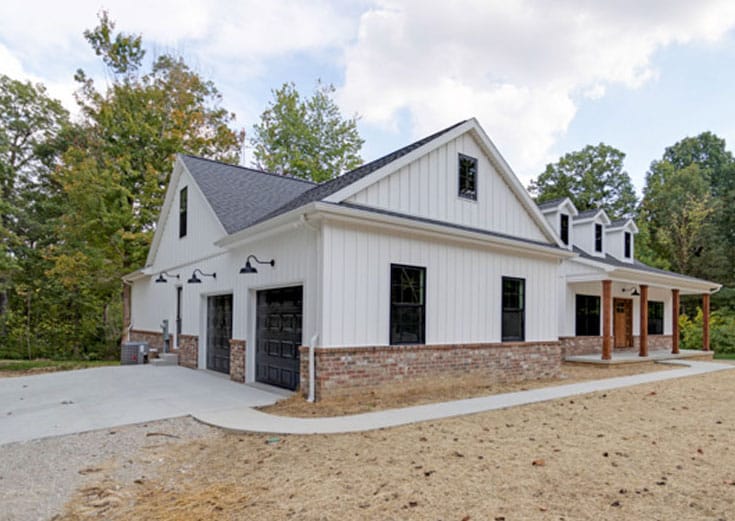 As you consider whether you can afford to buy or build a house, take these factors into account to help you make a well-informed decision. Explore various financing options to find the one that best suits your needs.
Reinbrecht Homes is a leading homebuilder with over 25 years of experience. We offer customizable floor plans as well as home financing options, such as FREE construction loans. Our team of experts will provide guidance and support throughout your home-buying journey, ensuring a seamless and stress-free experience.
If you're ready to create a home that's perfect for your lifestyle and budget, make Reinbrecht Homes your trusted partner in this journey.