When designing a new kitchen, it's normal to feel overwhelmed at the sheer number of material and design choices. One material choice that most homeowners are excited to select is their countertop material.
While granite countertops and quartz countertops are both stunning choices that add a unique look and feel to your space, each material offers distinct benefits and drawbacks.
At Reinbrecht Homes, our team understands that these personal touches can help you make a new property construction feel like a home.
So, which is the better choice if you're building a home today — quartz or granite countertops? Read on to learn everything that you need to know about each material before you make a selection for your family.
What Is Quartz?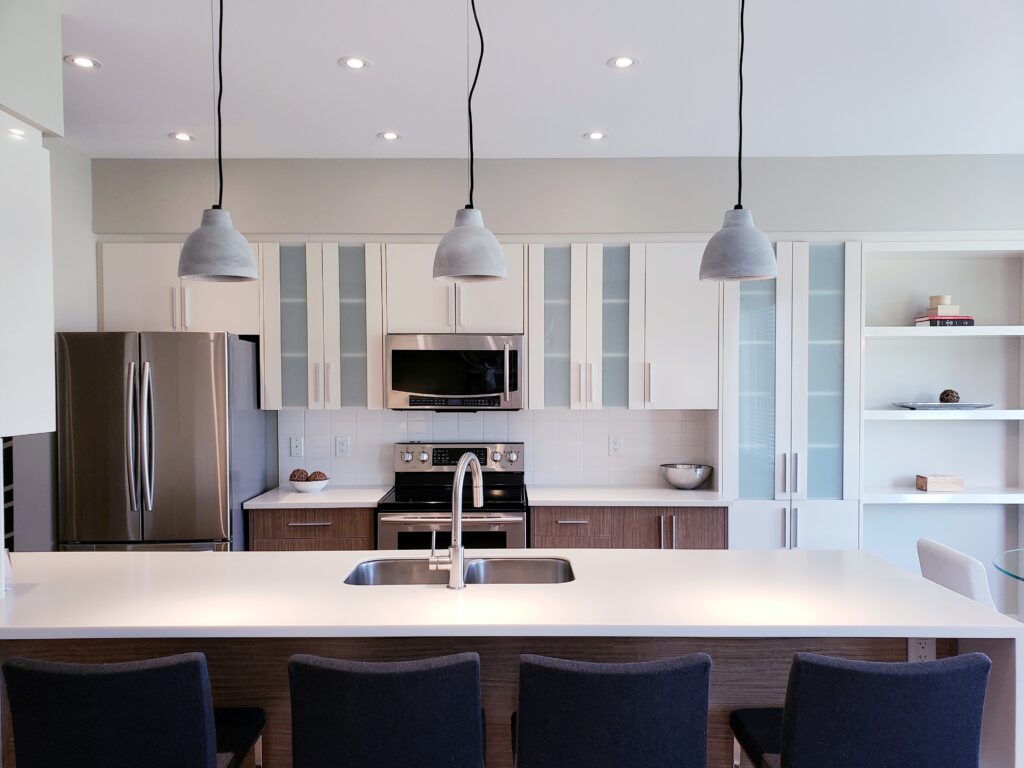 Quartz is a hard, crystalline material found in surplus quantities throughout the earth. Though quartz can be found in deposits around the world, it has only recently been incorporated into home construction through new countertop creations.
Quartz countertops are not constructed from whole, solid sheets of quartz. Manufacturers grind down natural quartz, transport it to a processing factory and combine the material together with other types of pulverized natural stone. Quartz countertops may be a combination of marble, granite, silica, and other industrial byproducts.
After processing, the quartz mixture gives the countertop the appearance of one consistent stone product. Because the rock is man-made, owners can be creative when designing their kitchen and bathroom spaces, using a wide range of color and pattern options.
Some manufacturers also offer quartz in materials and patterns meant to mimic other natural stone (like marble) and can even incorporate mica to make the countertops appear to shine.
Benefits of Quartz Countertops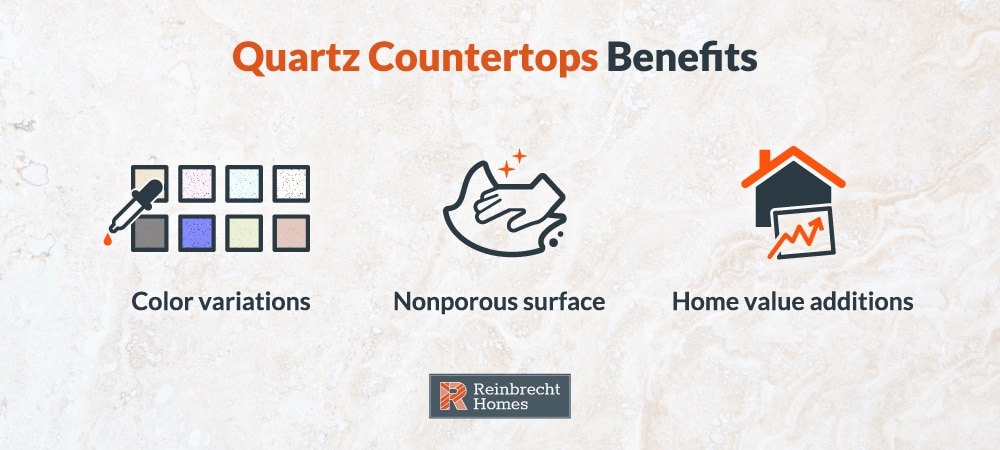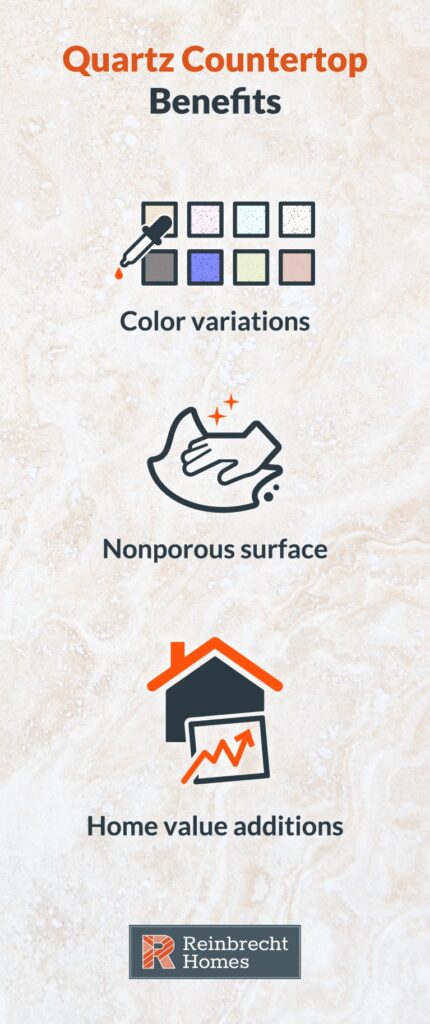 Quartz countertops can bring a clean, modern feel to any kitchen, which can make it a strong choice for homeowners looking for a contemporary feel with a twist. The following are some of the biggest benefits you'll enjoy.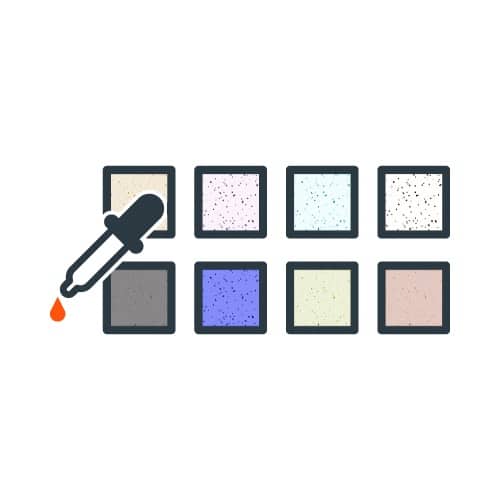 Color variations: Because the structure of quartz is largely man-made, you have much more control over the color, shade, and pattern of your countertops. You can even choose a quartz pattern that mimics the look of a granite or marble pattern, providing you with the look of these materials while also enjoying the other benefits of quartz.
This can make quartz a great option if you've got a very specific design or style scheme that you're going for. With virtually unlimited color options, you can fully get in touch with your inner interior designer when designing a home and incorporating quartz in your kitchen or bathroom.
Some companies even allow you to adjust or customize the shade of your countertops, providing you with an even crisper and more personalized addition to your new home construction.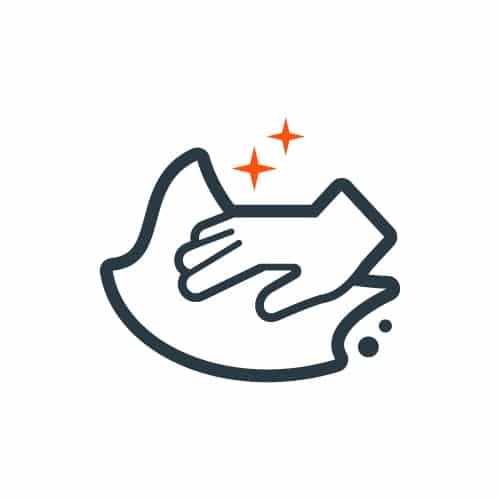 Nonporous surface: Unlike materials like marble, quartz is a nonporous material, meaning that it doesn't deeply absorb stains and odors as deeply because the material is more compact. Quartz countertops include resin in the concentration, which prevents moisture from seeping into the surface of the counters. This means that you won't need to remember or commit to a complicated sealing or special care routine. You won't need to make a mental note to buy cleaning products that won't dry out the counters — standard, general household cleaning supplies will work fine.
This can make quartz a strong choice for homeowners looking for a "set it and forget it" option for their space. If you're a homeowner who hates spending extra time cleaning up and who is willing to spend a bit more now to enjoy a maintenance-free lifestyle later quartz might be right for you.
Quartz countertops in your kitchen can be an investment that pays dividends for hands-off homeowners, as this room tends to see the bulk of messes in most homes.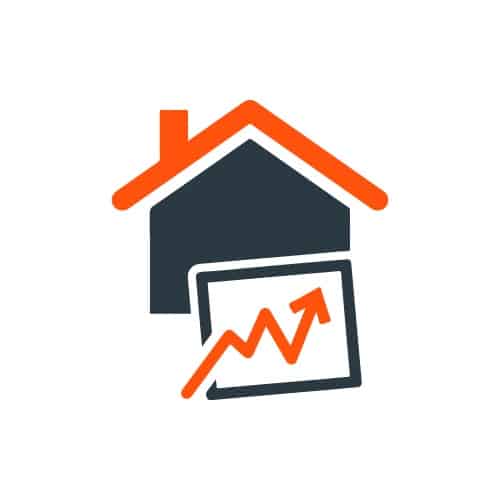 Home value additions: If you're in the process of building a new home from scratch, you might want to make material choices with future property valuations in mind. In addition to having a hot moment with today's shoppers and real estate design professionals, quartz countertops come with the benefit of being exceptionally durable.
Quartz has a high exterior pressure capacity and a naturally sturdy exterior, which makes it resistant to chipping and other damage that makes the material age. This means that when you eventually resell your home, you may see a higher final valuation when compared to other materials.
Drawbacks of Quartz Countertops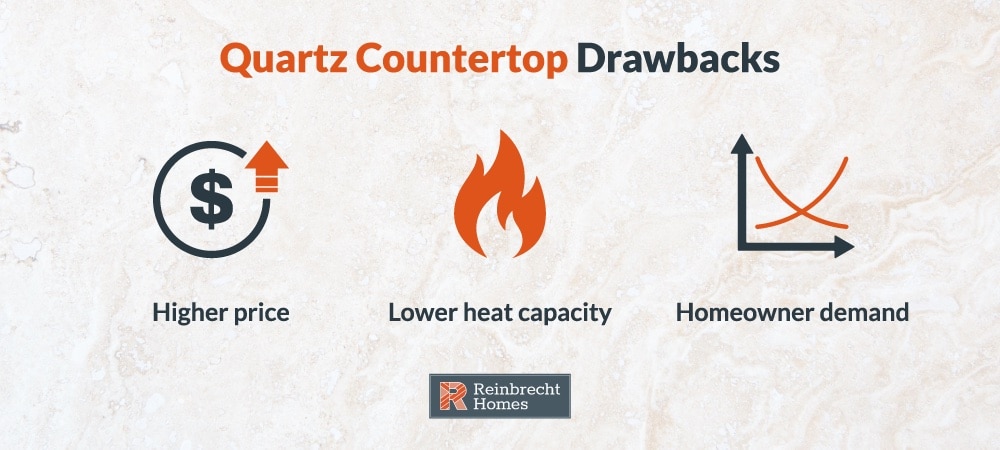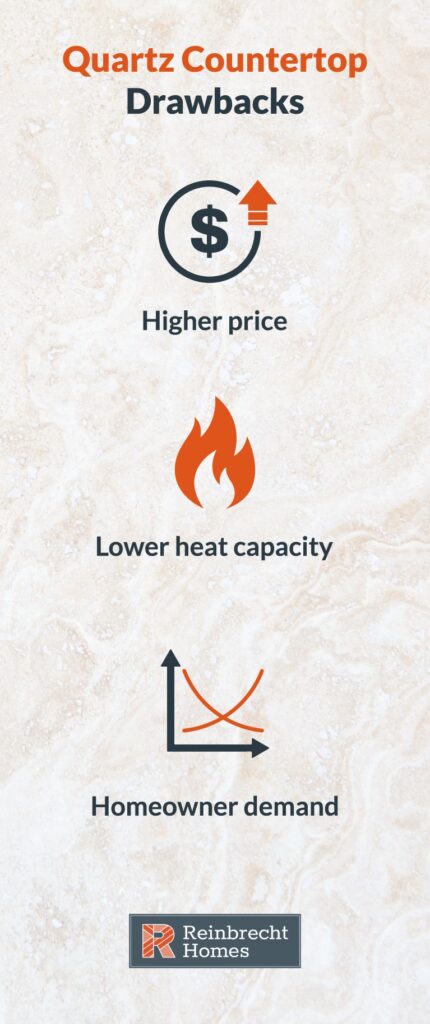 While quartz countertops are steadily gaining popularity thanks to their great looks and strong material, they're still not the most popular material on the market. Granite countertops are still more popular than quartz across homeowners, partially for the following reasons.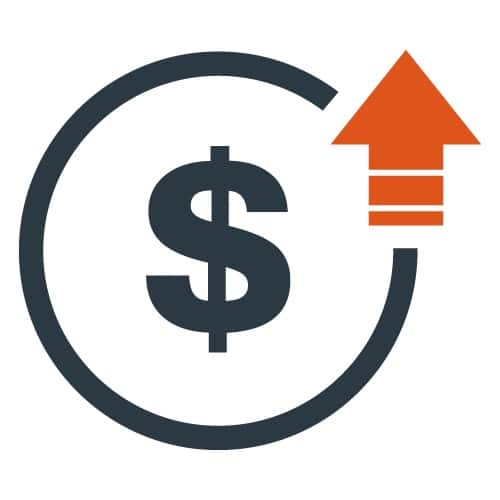 Price: Compared to other countertop materials like granite and plastic, quartz countertops are relatively new options, and there are not as many companies offering them. As a result, quartz countertops have some of the highest price tags you'll find when comparing estimates. If you're remodeling your bathroom or kitchen on a budget, quartz will likely not be the best option for you.
Lower heat capacity: While nonporous materials are better for repelling stains and odors, they are not able to retain as much heat. Unlike some natural materials like soapstone, quartz cannot always withstand direct heat application (for example, placing a hot pan onto the counter). If you cook regularly and you need a counter surface that has a higher heat capacity, quartz could not be the best choice. Be sure to use hot pads on your counter when cooking with pans and pots if you install quartz countertops.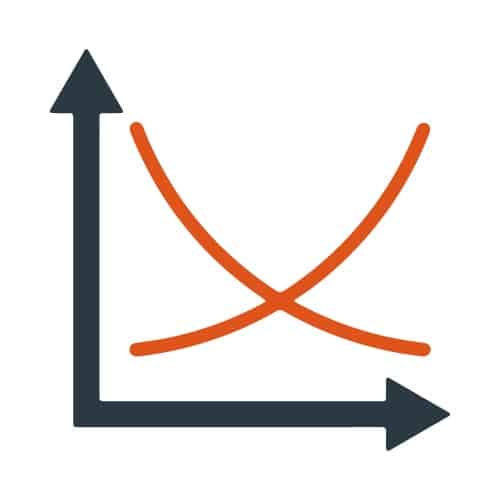 Homeowner demand: Quartz countertops will likely add value to your home in the long-term due to their ability to prevent moisture from causing damage. But it's still undeniable that more homeowners will be actively looking for granite countertops, which might lead to fewer visitors to a property when you begin showing. If you're remodeling an investment property for a quick resale, the more communally popular granite could be a more advantageous choice when comparing price versus added value.
What Is Granite?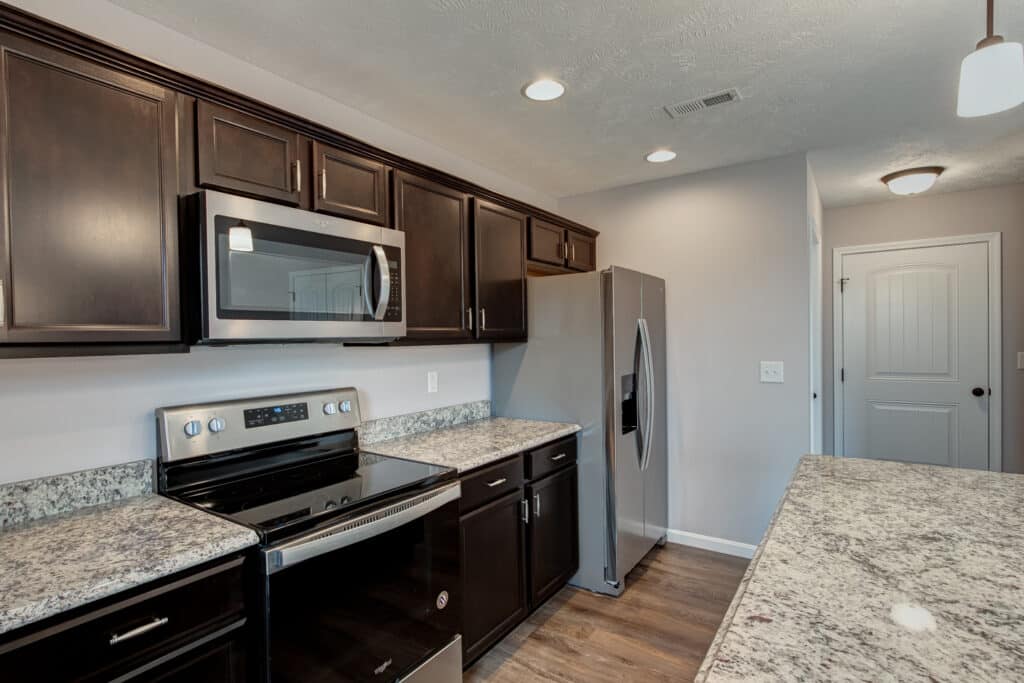 Granite is a type of igneous rock made of a mixture of environmental byproducts, like quartz and silica. Granite is a naturally occurring material that forms a variety of patterns depending on the rate that the materials oxidize at over time. Homeowners can find granite patterns in a wide range of colors, and no two patterns are exactly alike.
Unlike quartz countertops, granite countertops are typically constructed from a single piece of granite. They maintain the natural qualities of the stone themselves, which can be beneficial for certain parts of the home. For example, granite's natural matrix structure means that its highly porous, allowing it to absorb more heat than denser materials without causing damage.
Benefits of Granite Countertops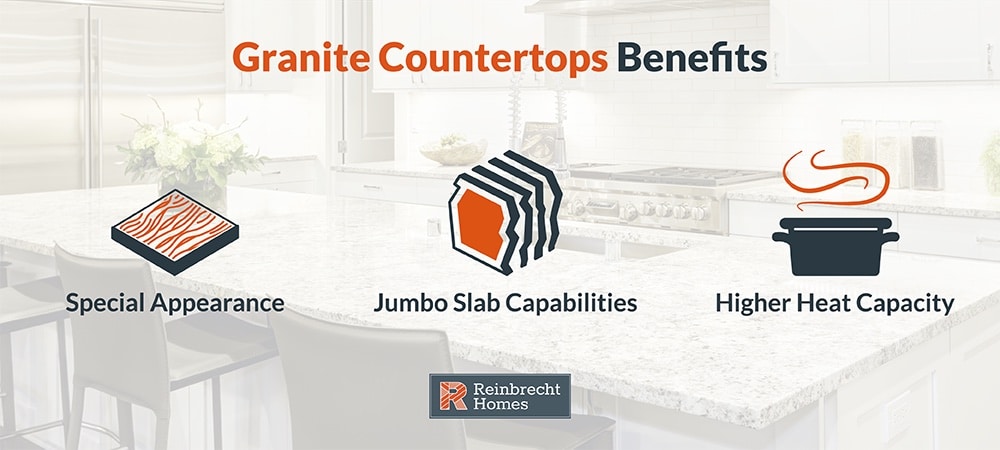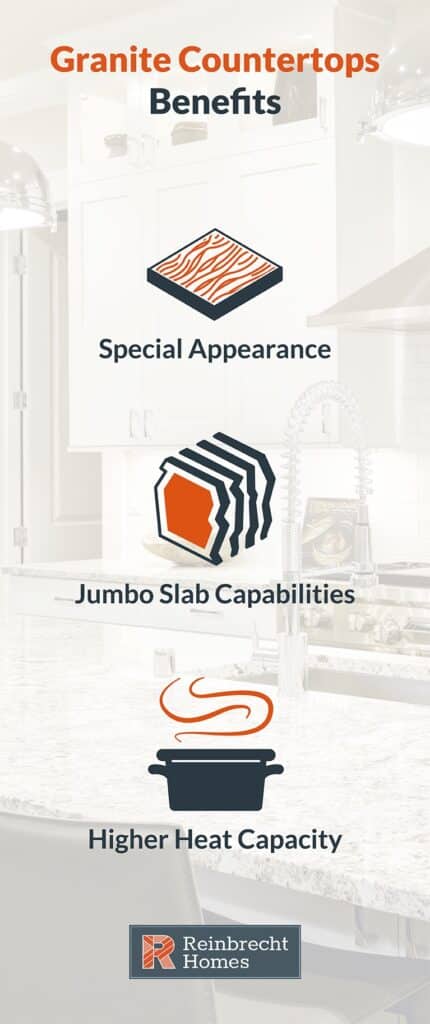 Crisp and bohemian with a natural look and feel, granite countertops are a kitchen classic. Homeowners have long loved the luxurious style of granite countertops, with each piece being 100% unique. As the product is totally natural, no two pieces of granite are exactly the same, and the stone has a variety of properties that make it ideal for kitchen spaces. Some of the benefits of granite as a countertop material include the following.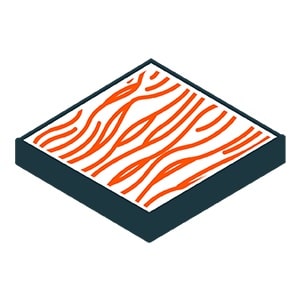 A special appearance: There are various patterns and shades of granite, with the appearance of each piece depending on the range of volcanic activity that was present when the slab was formed. It's possible to find granite counters in a wide rainbow of patterns and colors, each one-of-a-kind. If you're the type of homeowner who values the natural designs produced by Mother Nature, granite's natural design could be an attractive choice.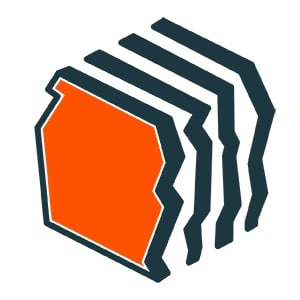 Jumbo slab capabilities: If you're looking to create a large kitchen island in your new home and you're particular about it matching your counters, you might want to choose granite over quartz. Some styles of granite are sold in "jumbo slabs" that allow you to create a single island using one slab of rock, avoiding the need for an unsightly seam down the middle.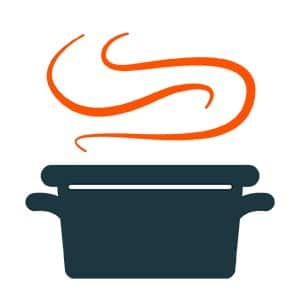 Higher heat capacity: As a natural material, granite is a bit more porous than quartz, meaning that it is also able to handle more heat. Unlike quartz, you can safely place hot materials on granite countertops. But some types of sealants may be affected by heat, so you'll still need to be careful after freshly removing items from your stove.
Drawbacks of Granite Countertops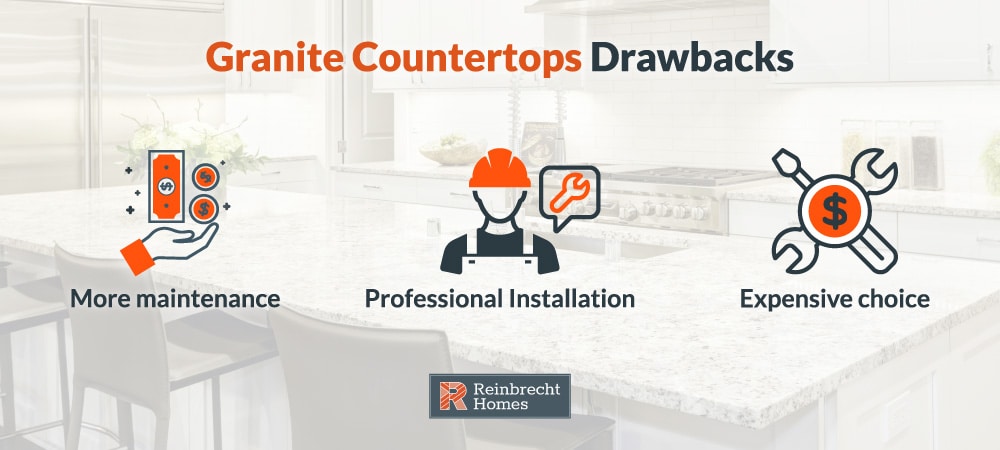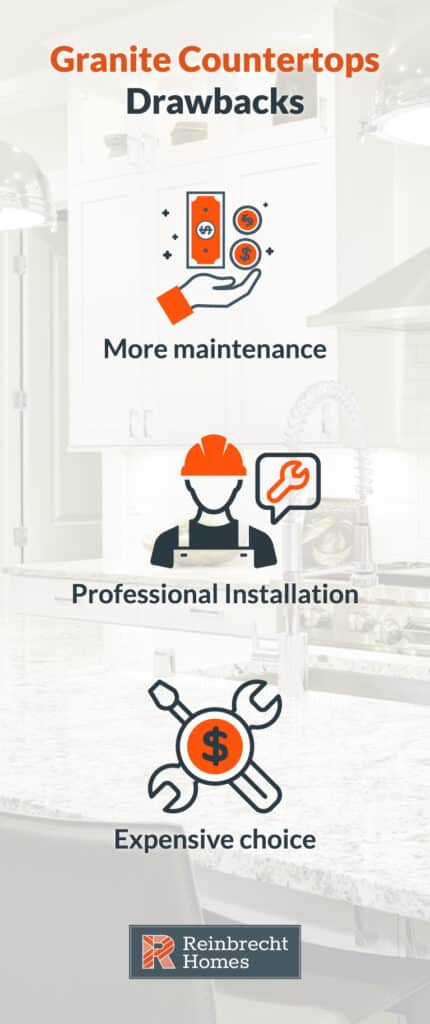 While some homeowners prefer granite because it isn't man made, its status as a natural material leads to some variations in consistency that you might find to be a dealbreaker. Some of the biggest drawbacks of granite countertops include the following features.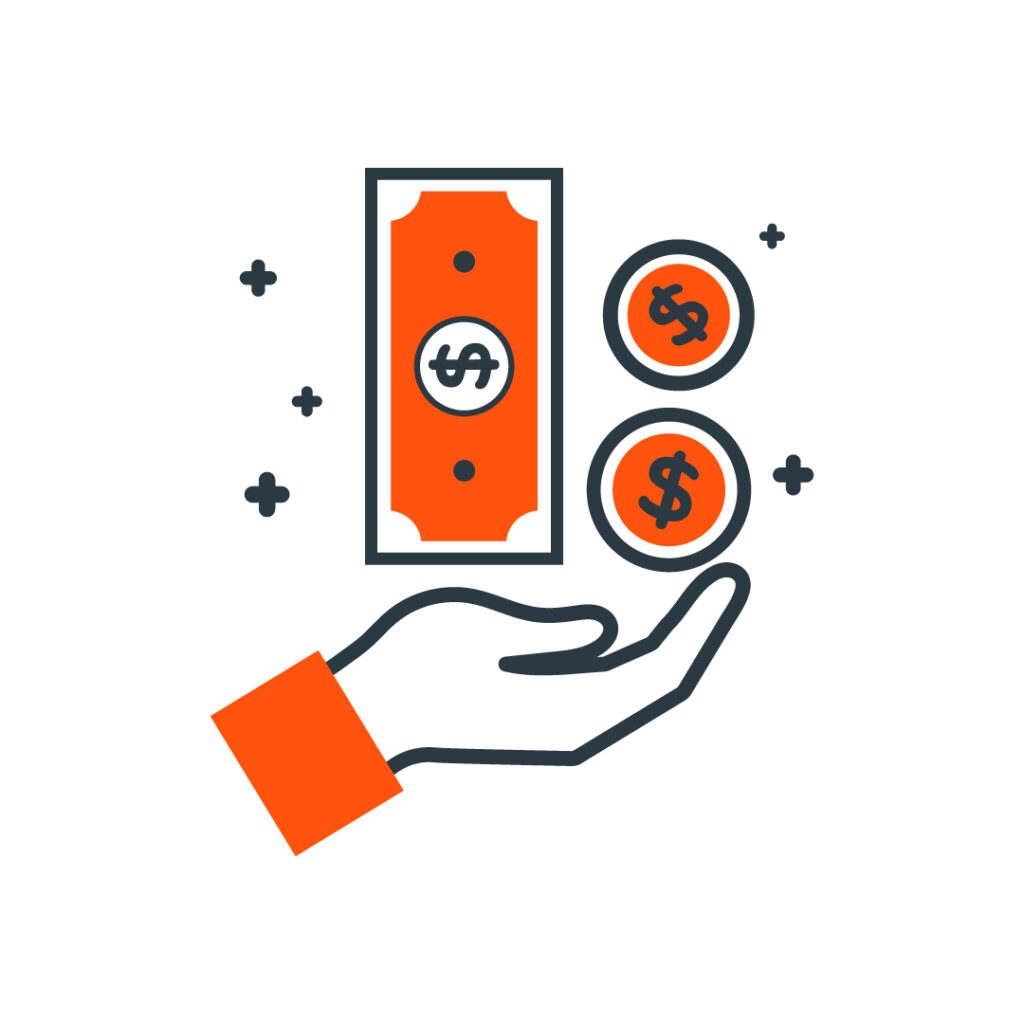 More maintenance: Granite is porous, which means that maximum stain prevention will require owners to seal the counters annually unless they pay extra for a sealant that has a longer lifespan and a warranty.
If you're a homeowner looking to install your counters without worrying too much about annual maintenance, quartz could be a better option for you unless you're willing to pay extra up front.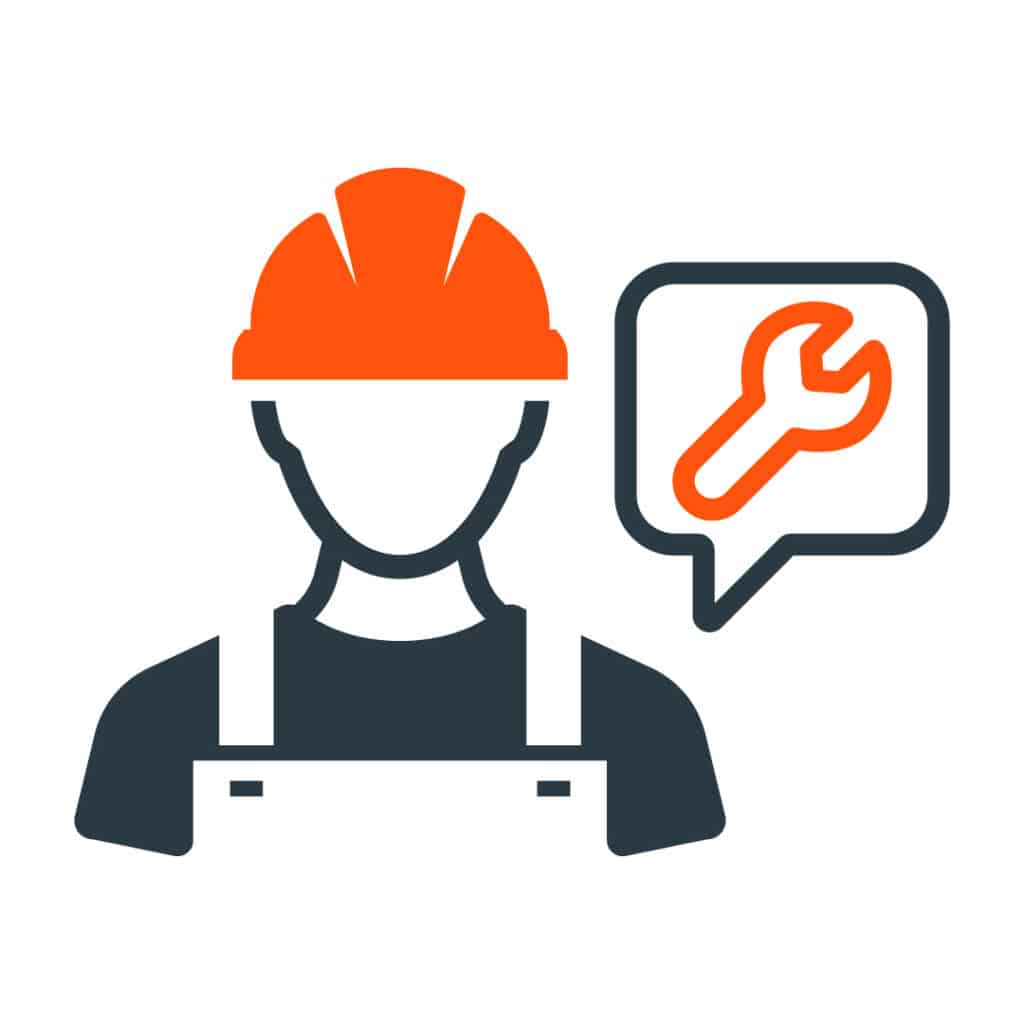 Professional installation required: As with quartz countertops, nonprofessionals should not attempt to install their own granite countertops. This means that you'll need to factor in both the cost of materials and the cost of installation. If you're looking to enjoy a DIY installation, choose a material that's easier to work with as a beginner.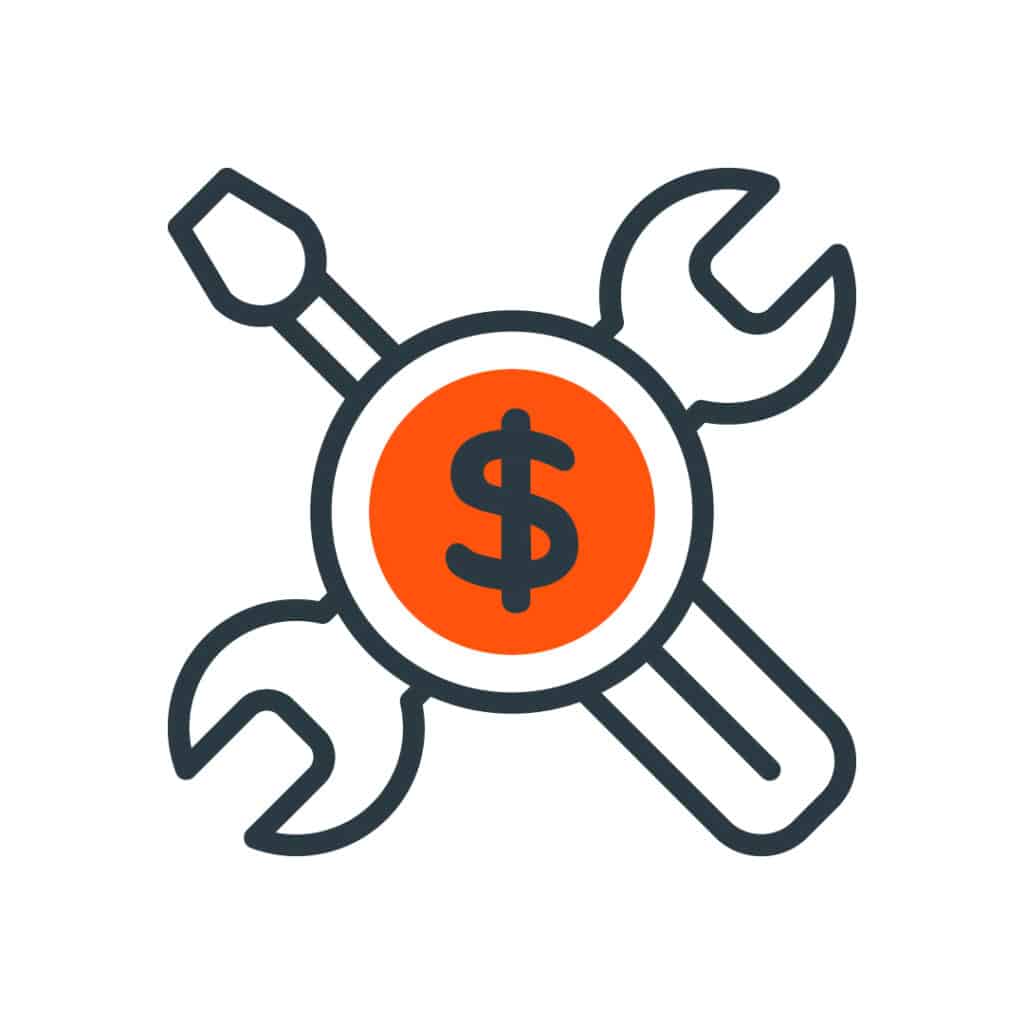 Still an expensive choice: While granite countertops may not be as expensive as high-end quartz models, they are still an extravagant selection that will add dollars to your budget. If you're aiming to finish your kitchen and are looking for every possible way to save, neither granite nor quartz may be suitable for your project. Similarly, damage to the stone requires professional repair, which may require replacing the entire stone, depending on its extent.
Questions to Ask Before Selecting a Countertop Material
If you're stuck between countertop materials, how can you choose between quartz or granite? The following questions may reveal the answer.
How much maintenance am I willing to do? In order to keep your granite countertops looking great, you'll need to be willing to commit to an annual sealing schedule or a higher price tag out of the gate for a sealant with a longer lifespan.
You'll also need to be mindful of the cleansers and ingredients you're using when you clean your counters, as heat and some chemicals can interact and damage the surface of granite. If you're looking for a more hands-off option, consider quartz countertops.
What are my cooking needs? If you're a bona-fide chef and you have a high-powered stove, you might be dealing with hot pans more regularly. Granite countertops are able to stand up to more direct heat thanks to their porous nature, which you might want to consider if you know you're guilty of damaging past countertops with heat.
What type of look am I going for? If you prefer the textured, natural look of granite in your kitchen, you will easily be able to match with more bohemian design schemes. If you're going for a more modern look, you may prefer to customize your design and color by choosing a custom quartz blend.
How much am I willing to invest? Quartz countertops are relatively new materials, which means that you might need to pay a premium per square foot of counter you need. If you're looking for a more affordable option that still gives you a great look, consider a more affordable strain of granite.
The Bottom Line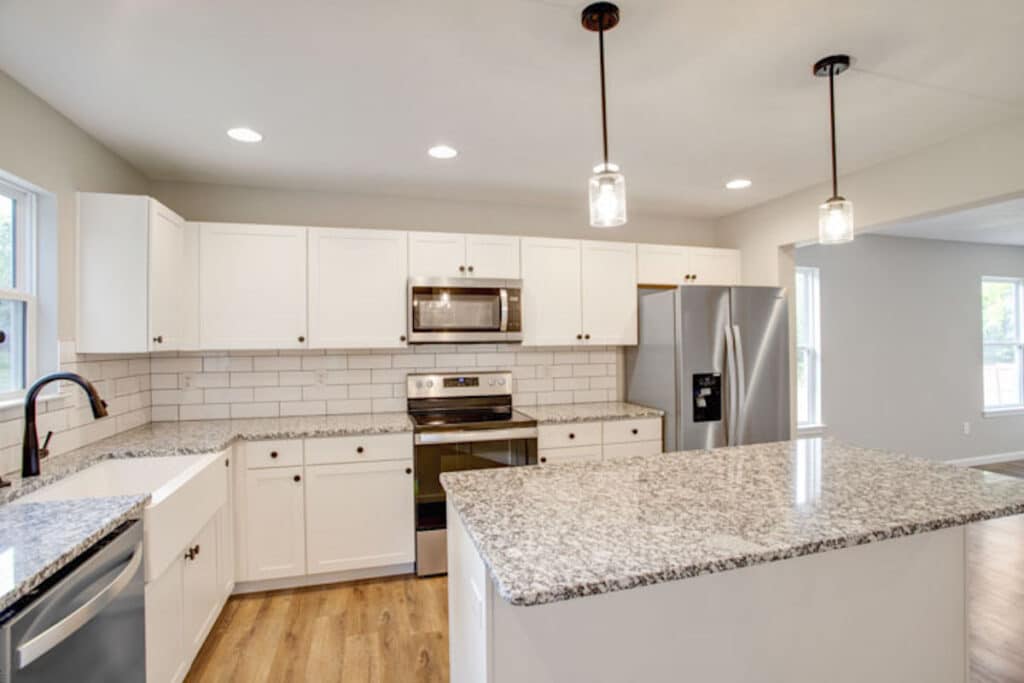 No matter which type of material you decide to add to your new home's construction, it's important to have a team of experienced building professionals on your side. If you're debating between multiple types of countertops, a reputable home builder can help guide you in the right direction.
Reinbrecht Homes takes out the research process for you by offering a straight cost offer and optimized floor plans with options for different needs and budgets.
Our team can help you avoid some of the most common mistakes that homeowners make when creating their own property construction — and help you fall in love with your home from the second that it's in turnkey condition.
At Reinbrecht Homes we have found that granite is the most popular surface for kitchens because of its beauty and durability. Our kitchen counters come standard in a high quality 3CM thick granite with an eased edge and three different color options. You can customize any kitchen with quartz countertops or select from an array of edges. To see all of our home standards, download our Semi-Custom Standard Features Guide.
Get in touch with the experts at Reinbrecht Homes today to discuss your personal home construction and property planning needs.