We go to great lengths to ensure our customers get the fixtures, trim packages, and other home selections they want in a house — at a quoted price that doesn't fluctuate.
We've been refining our selection process for years, mostly in response to some unfortunate industry trends, where builders fail to prioritize their clients' understanding of the process, at the expense of customer satisfaction.
And now, thanks to equal parts experience and technology, we've been able to refine our selection process to save customers both time and money.
If you choose to let us build your new home, here's what you can expect from Reinbrecht Homes during the selection process …
Phase 1:

Getting to Know Each Other, Face-to-Face

We like to kick off our initial meeting by working through a comprehensive survey, our goal being to generate the most accurate quote possible.

When complete, this survey gives us a clear idea of who you are, what you want, and how much you're reasonably ready to spend to build and finish your home.

At this point, our goal is to get all the cards on the table.

By encouraging our customers to really think about what they're looking for in a new home, line-item by line-item, we're better equipped as their homebuilder to help them avoid making big selection compromises after construction starts. (More on that later.)

We also encourage our customers to come to these meetings prepared. Start by collecting examples of finishes and fixtures you like, or take a look at our company Pinterest and browse our standard collections. We've even had customers take photos of home exteriors they like — it's not difficult for us to find matching or similar products.

Further Reading: First Meeting with a Homebuilder: What to Expect & How to Prepare

The time frame for these initial meetings will vary widely. All-in-all, it really only takes a few hours with the biggest variable being you and your schedule, but working through this type of intro survey with our team will save you a lot of stress in the long run.
Phase 2:

Providing You with Straight Costs

We like to provide straight costs for each home selection you make.

Keeping your costs exact will save you from going over budget once the build is underway.

Which brings up another unfortunate trend we've seen in the homebuilding industry — builders artificially pushing down allowances to convince homebuyers to choose them over their competitors. Falsely adjusting allowances will lower their quote price, leaving the customer to figure out that their allowances won't even come close to covering their final selections. In this scenario, the homebuyer will inevitably want to upgrade and a change order will be issued, pushing the final cost of their home past their initial budget.

We can keep that from happening by providing our customers with exact costs for their homes.

More Homebuilder Advice:
Phase 3:

Helping You Handpick Your Selections

This is the fun part.

After a contract is signed and before construction ever starts, we'll have our consultants meet with you to hand-select every item for your new home.

Using the survey completed in Phase 1, this part of our process could take place in the Reinbrecht Homes showroom, or any number of satellite showrooms, depending on your personal tastes and budget.

Here you'll get to make the decisions that ultimately determine how your new home looks and (more importantly) feels by picking out each item by brand, color, and style.

And don't worry, we'll help you keep track of your selections as you go.
Phase 4:

Getting Final Approval, Electronically

Once your final selections have been recorded, we'll assemble them into a single PDF document and upload it to your Buildertrend account where you can approve it electronically.

Keeping this part of the process electronic makes life a lot simpler for everyone involved.

The real beauty of this document is you'll have the ability to access it at any time during the build to review your choices. And if for some reason you need to issue a change order, we can also execute that directly in Buildertrend.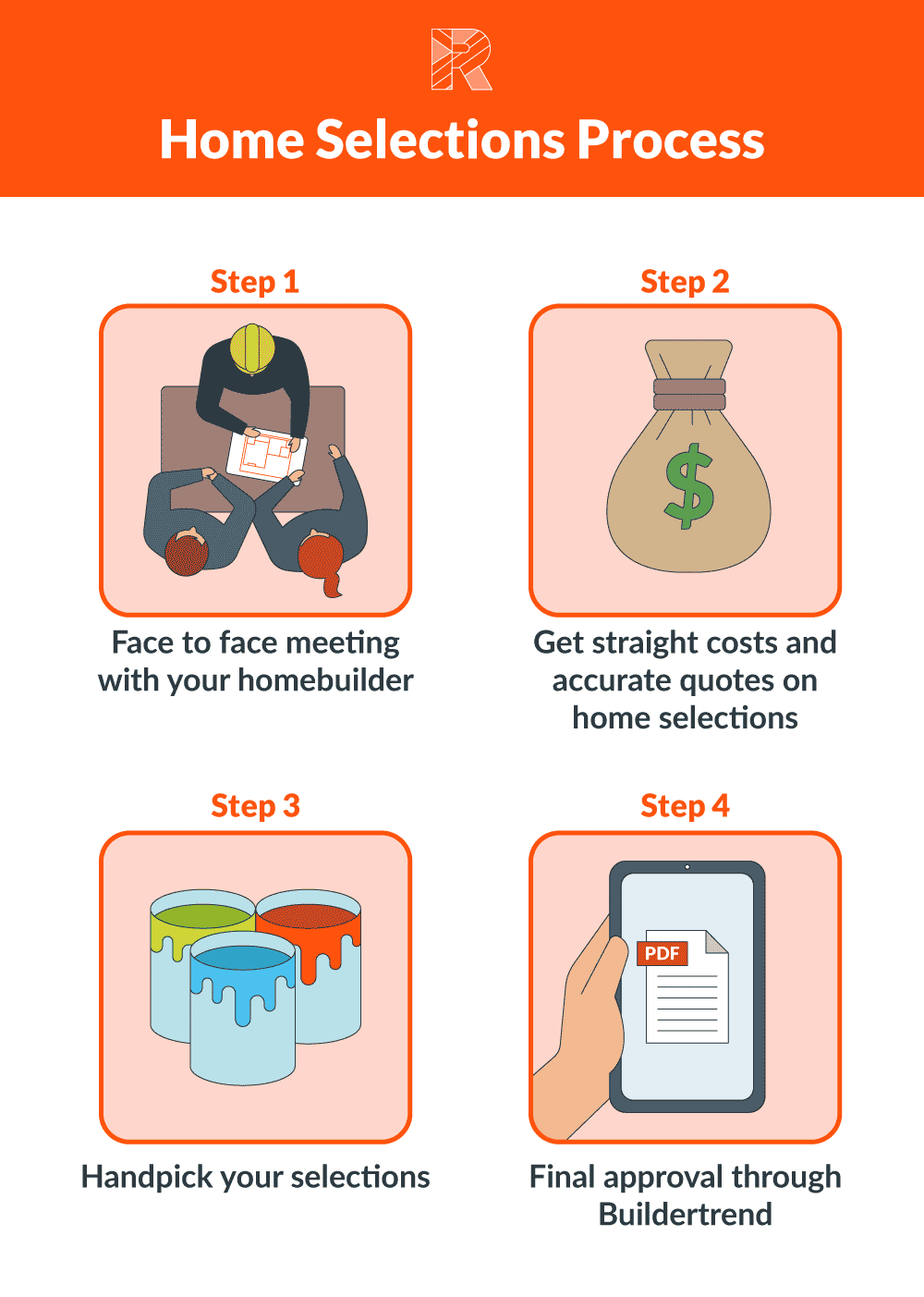 In Conclusion
This whole process is designed to leave you with the home you want and the selections that best fit your style, all at a price we agree to from the very beginning!
If you have any questions about the specifics of our selection process or the brands we carry, download our semi-custom standards guide.