Home ownership comes with a lot of built-in benefits. Not only does owning a home create stability, it also yields financial rewards, especially come tax season. At the same time, however, buying a home can be enormously stressful. That's because when you own your own home, you are responsible for keep everything in your home functioning, from the roof to the floor boards. 
The cost of repairing, or replacing, all of your home's components and fixtures can be astronomical. If you're not careful, your budget can take a hard hit. That's why many people choose to invest in home warranties to help pay for the cost of maintaining their home.
Not sure what a home warranty is? This article will explain how home warranties work, what they cover, and how to get the right coverage for your needs. Keep reading to learn more. 
What Is a Builder Warranty on a New Home?
A new home warranty is an agreement, usually issued by the same company that builds your home, to protect you if your home has defects in materials or workmanship. Your warranty is designed to protect you from unforeseen problems that should arise with your new home.  If you're familiar with the kinds of warranties that come with appliances or personal devices, then you already have a basic understanding of how warranties work.
A home warranty doesn't just cover any one item, like your dishwasher or your air conditioner. (In fact, it does not cover these things). Rather, a home warranty covers just about the whole structure of your home, as well as the major systems in your home. 
Sometimes, people aren't sure what the difference is between a home warranty and a home insurance plan. In fact, the two things are quite different. It's often a good idea to have both, since they tend to work well in combination with each other. This article will explain the difference and what each plan can do for you.
What Do Home Warranties Cover?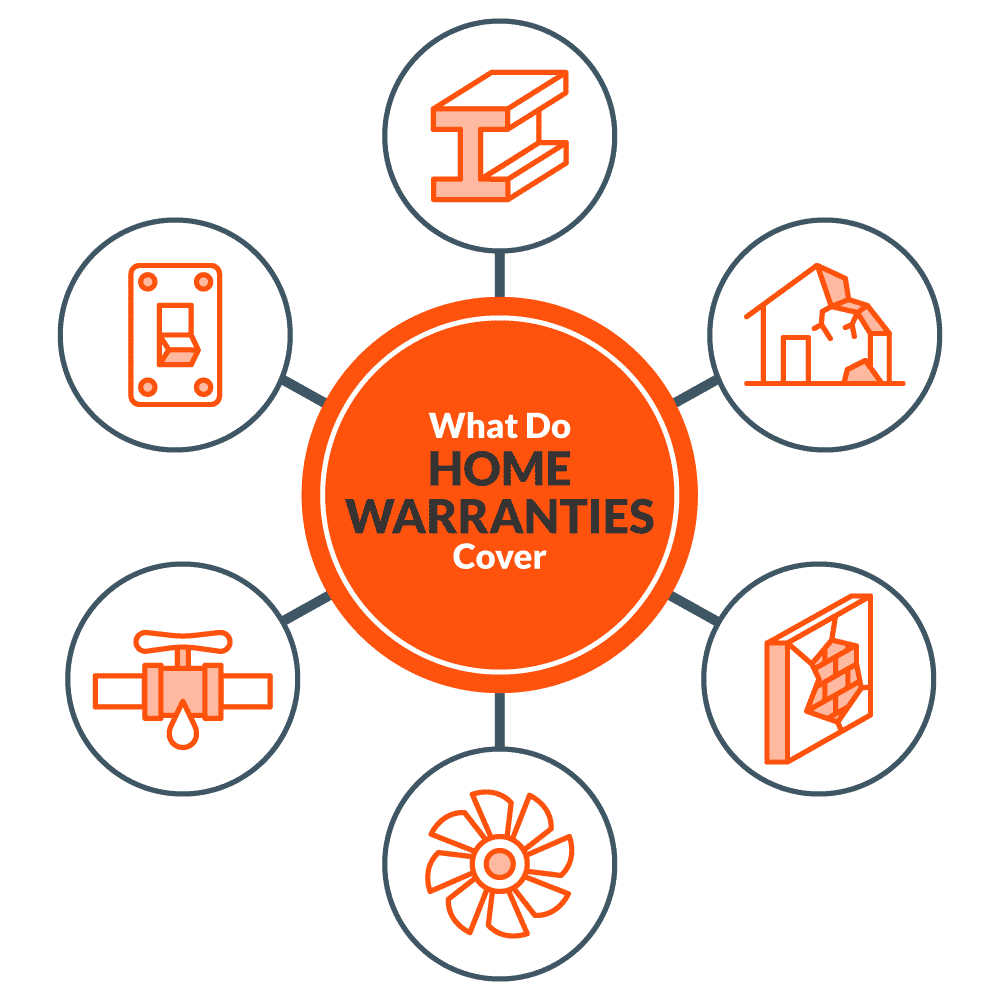 A Reinbrecht home warranty provides you with a two-year long workmanship and defect warranty. The warranty guarantees that your new home will be free from structural defects and from any defect in either materials or workmanship. It also guarantees that your home's electrical, plumbing, and mechanical systems will be free of any defects. However, items in your home that come with a manufacturer's warranty will not be covered, as these items are already covered by the original equipment manufacturer.  This includes things like your refrigerator, furnace or light switch.
Structural Components of Your Home‌
Your home warranty defines a structural defect as physical damage, in any form, to the load-bearing element of your home which affects their load-bearing functions to the extent that your home becomes unsafe. What qualifies as physical damage? Anything that results in your home becoming unsafe, unsanitary, or unfit to live in qualifies as physical damage. This does not cover damage caused by acts of nature, vandalism, or self-caused destruction.‌
Home warranties cover damage to your footing and foundation systems, your beams and girders, your lintels, your masonry arches, columns, and load-bearing walls. It also includes damage to your roof framing systems and to your floors. Depending on what part of the country you live in, the warranty may also cover your roof sheathing or your basement slabs.
Bear in mind that elements of your home that are not load-bearing are not covered under this warranty. Tiles, drywall and plaster, exterior siding, and roof shingles are just a few of the components that are not covered by the structural aspect of your home warranty.
‌Your home warranty will cover you if the grounds around your home lack proper drainage. It will also cover any damage to your landscaped areas that was caused by work on your home.
Cracks in your foundation can cause lasting and serious damage to your home, especially if they are not addressed as early as possible. Your home warranty will cover repairs if there is a crack in your foundation that's greater than a quarter of an inch wide. Cracks that allow water to leak into your basement are also covered by the warranty. The same is true of cracks in your basement or garage floor.
Heating & Cooling Systems
Your heating and cooling systems are some of the most important elements of your home. If they break down, they'll need to be repaired or replaced as quickly as possible. Depending on where you live, keeping your home at a stable temperature may even be a matter of health.
Home warranties will cover repairing or replacing your heating and air conditioning system if it isn't working correctly for a period of two years. Working correctly means that a heating system should be able to warm your home to at least 70 degrees Fahrenheit. Note that the warranty will not cover making minor adjustments and balancing dampers.
Your air conditioner, or cooling, system should be able to maintain a home temperature of 78 degrees Fahrenheit. 
A home warranty will help you pay for repairs to your plumbing system. The warranty may help you pay for damage if your pipes freeze and burst. It will cover leakage from any of your pipes. 
Clogs to sewer and water pipes will only be covered if they are due to negligence on the part of the builder. If you are responsible for those clogs, the warranty will not provide coverage.
If your water system stops delivering water, those repairs will also be covered by your warranty.
Problems with your electrical system are also covered by your home warranty. If your home's wiring is not working, or if your switches and electrical equipment aren't functional, they can be repaired or replaced. That's all covered by your home warranty.
How Long Is a Home Warranty?‌
A new home warranty normally lasts for one or two years. Some of the components in your warranty will expire after one year. Other components, like the plumbing and the electrical systems, will be covered for up to two years, and some structural components in your home will be covered for up to ten years. 
What Is a Standard Home Warranty?‌
A standard home warranty covers you for every potential defect that might arise from faulty workmanship on your home. A standard home warranty will also cover you for any defects that you discover in the structure of your home or in your home's distribution systems.
How Much Does a Home Warranty Cost?‌
A home warranty typically comes at a very low cost. On average, a home warranty will cost you less than half of one percent of the cost of your new home. That makes a home warranty a worthwhile investment for most home buyers.
Do I Need a Home Warranty?
‌Every home owner will need to make their own decision about whether they need to buy a home warranty. Broadly speaking, though, home warranties are a low-cost and high-return investment in your home. 
Even in a well-designed and well-constructed home, the reality is that things break. Roofs leak, foundations crack, and bricks crumble. A home warranty can help you pay for the cost of repairs caused by defects in the original building materials or workmanship.
Beyond that, a home warranty will give you peace of mind. You'll never have to lie awake at night wondering how you'll pay for repairs to your HVAC system, because you already know the answer – your home warranty will cover it. 
WHAT'S THE DIFFERENCE BETWEEN A NEW CONSTRUCTION HOME WARRANTY AND HOME INSURANCE?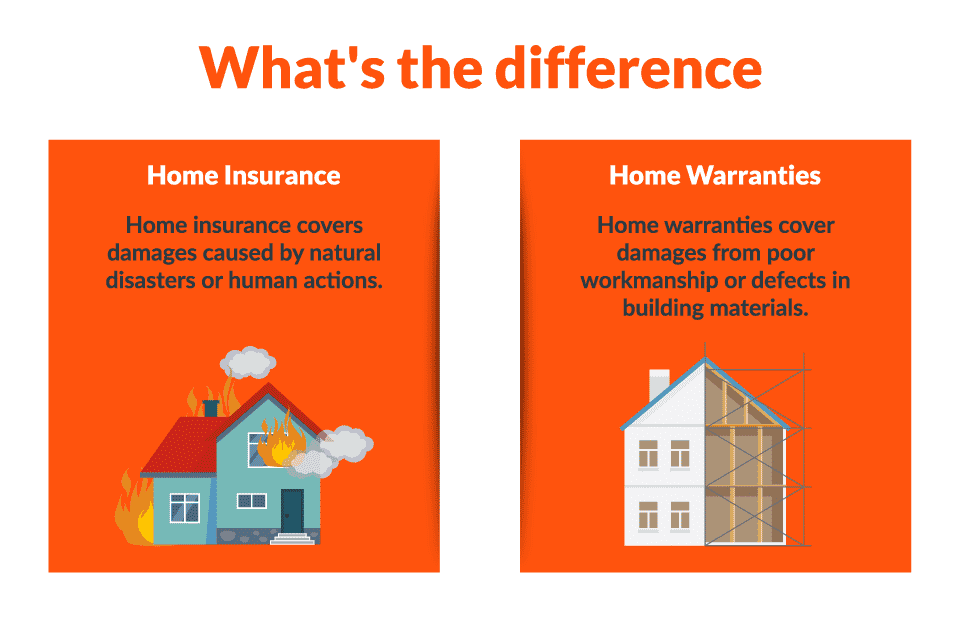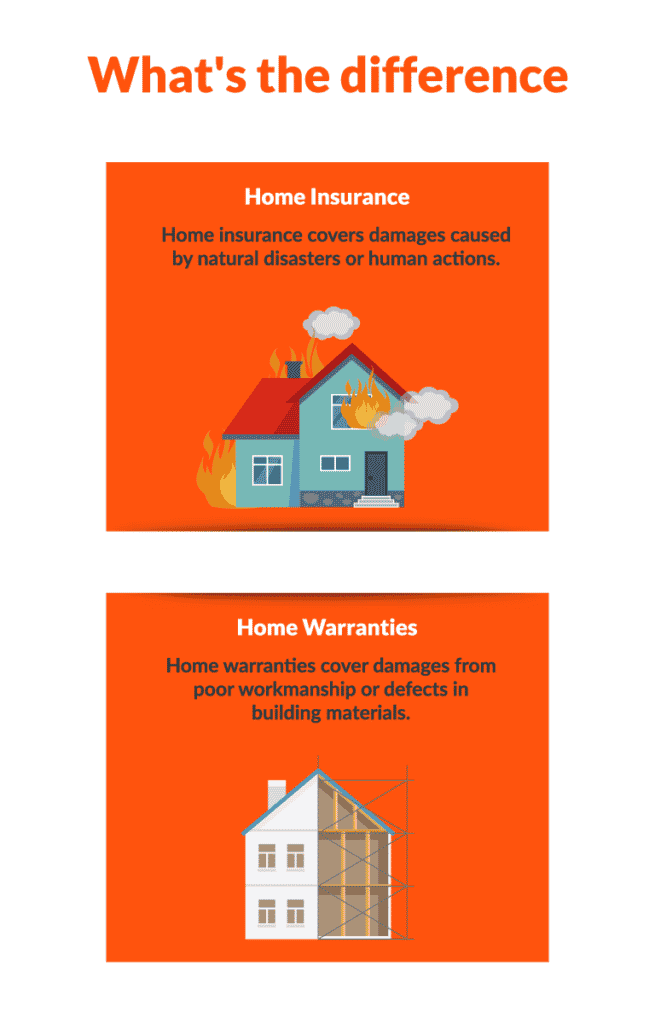 It can be tricky to figure out the difference between home warranties and home insurance. After all, both of them pay for necessary repairs to your home. Both are great to have in case of a problem. But they cover different kinds of issues.
One way to think about the difference is to remember that insurance covers damage caused by natural disasters or human actions. Home warranties, on the other hand, cover damage caused by potential defects in building materials or poor workmanship. In other words, homeowners insurance covers you in case of an unforeseeable emergency, while a home warranty helps you to pay for things that typically should not fail early on with a new home build.
For example, homeowners insurance (depending on the specifics of your policy) might cover you against theft, fires, and floods. A home warranty will cover you against a defective light switch.
How Does a Home Warranty Work?
Every home warranty is a little bit different, so it's always a good idea to do your due diligence when you look into purchasing a plan. Typically, though, this is how they work.
If something breaks in your home, your first step is to check your warranty booklet to see if it is covered. If there is confusion on whether or not something is covered, reach out to your builder or the warranty company.
Your builder or warranty company will take it from there. Typically someone will come take a look or you may be asked to send some photos of the problem depending on what the issue is. If the items are deemed to be part of the warranty they will be corrected or repaired, if not they will be your responsibility to handle on your own. You may also be billed by the warranty company or contractors for visits that are not covered under the warranty.
What Is Not Covered by Home Warranties?
A home warranty covers most structural, electrical, and plumbing-related damage to your home; it also covers your heating and cooling systems. Naturally, there are also items which your home warranty does not cover.
In general, large appliances – like refrigerators, washers and dryers, and dishwashers are not covered by home warranties. Don't worry – most of the time, those large appliances come with their own warranties. You may also be able to cover them with insurance.
‌Most importantly, your home warranty will not cover damage which can be attributed to you or to other people living in your home. Your warranty assumes that you will do your part by caring for and maintaining your home. If you fail to live up to that part of the bargain, and your lack of maintenance results in damage to your home, then you will not be covered by the warranty.‌
Buying a Home Warranty with Reinbrecht
Interested in learning more about Reinbrecht's home warranty plans? Our family-owned business builds homes for customers all across Southern Indiana, Eastern Illinois, and Northern Kentucky. We offer a ten year structural warranty for all of our customers, because we understand that home owners value the peace of mind that comes along with a warranty.
‌If you'd like to learn more about buying a home from Reinbrecht and protecting it with one of our ten year warranties, give us a call today. We'd be happy to answer any of your questions about our homes, our construction practices, and especially the protections provided by our warranties.