Building a new home is an exciting experience, and it can be easy to get overwhelmed by the details of the process. You may have lots of home building questions such as where to begin, how the process works, and how to prepare.
Here are some answers to the most common homebuilder and home building questions:
Should you build a home or buy a home?
One advantage of buying an existing home is convenience. Once you're approved by your lender, you can shop for a home you like & make an offer. An advantage of building a new home is customization. You'll be able to get exactly what you want. You may start out wanting to buy an existing home and end up building exactly what you want. On the other hand, you may start out wanting to build a home and find something on the market that fits your needs. In the end, the decision to build or buy comes down to which option is best for you.
How do I prepare to build a home?
When preparing to build a home, the first step is to research and get recommendations for homebuilders in your area. After you've found your homebuilder, you should schedule your first meeting with them. In this first meeting, you'll talk about floor plans, locations, and customizations. Once you nail down exactly what you want, your builder will be able to put together the estimate of the cost of your home. After you get the estimate, you should determine your home financing. Then, it's time to nail down the construction timeline and get ready for your new home to be completed.
How long does it take to build a home?
From initial contact, it can take anywhere from 6 months to a year to build a new home. Some projects may last longer than that if the home is more complex, if the weather is bad, or if there is a delay in available materials.
Are there hidden costs in home building?
Service costs are amounts you pay to the local municipality in order for the build to begin. Examples of these costs are building permits, sewer taps, and water taps. The building process cannot begin until those services are available. With service costs, you typically don't get anything tangible in return.
Hidden costs are costs for services provided by the builder that are included in other costs. For example, flooring installation will be included in the cost of labor and the flooring itself will be included in the cost of materials. With hidden costs like labor & materials, you get something in return. Permits and inspections are other examples of hidden costs for services. Different builders will have different policies regarding what fees are included in the build and what fees aren't, so this is something you should ask the builder about.
What if I want to build on my own land?
Be sure to involve the homebuilder before you start planning to build your new home on your land to make sure you cover everything. Regardless of whether you've inherited the property or recently purchased it, there are several hurdles that your homebuilder can help you overcome.
If you're planning your project independently, make sure you're up to date on any building restrictions in your area. You'll also want to consider groundwork items like utility and sewage hookup.
Some of those considerations are less complicated in urban areas. Regardless of where your land or lot is located, there may be a few unexpected factors, like:
Cost of Land Prep – This includes everything from necessary tree removal, to moving earth in and out of your land.
Cost of Driveways

Cost of Energy Efficient Building/Materials

Cost of Hooking Up Utilities – Gas, Electric, and Water will more than likely need to be routed to your new land.
Water Flow – Does your lot have one or more slopes? How does water move about the property?
Unseen Ground Conditions
Should you design your home for your future needs?
When building your forever home, it's important to think about the needs you'll have in the future. By implementing age-in-place elements (like low maintenance exterior finishes and walk-in showers/tubs) during the build, you can save yourself the money and hassle involved in implementing them later on.
Some elements to think about:
– Having at least one no-step entry to the home
– Soft-close cabinetry
– Low-maintenance landscaping & yard care
– "Bonus" rooms that can serve different needs throughout the life of the home
Does the cost per square foot matter when building a home?
Not all homebuilders use cost per square foot internally. Typically, it's a number generated for the customer's benefit, not the builders. Be sure to clarify how your homebuilder calculates the cost per square foot. Once you have that, you'll still want to have an in-depth conversation about the build cost so that you fully understand what's included.
The cost per square foot can be misleading. If you're trying to use cost per square foot as a means of comparing estimates between builders, you might be comparing apples to oranges. This can lead you to think you're getting a better deal, but you're actually not. Clarity is crucial when deciphering cost per square foot.
Should I build up, down, or out?
You can get the square footage you want from building up, down, or out, but the decision may depend on the shape of your lot and your budget. For example, building a single-story 2,000 sq. ft. ranch home may be above your budget, but 2,000 sq. ft.is something your builder can achieve by building a two-story home.
A few pros and cons of each:
Building up: Since this requires less material and labor, this is the least expensive option for increasing your home's square footage. However, this option requires stairs, which could change the floor plan significantly. This type of change could take away from space inside your house as stairwells can easily require 80-120 sq. ft. (or more) of living space.
Building down: Adding a basement adds a safe space for you and your family in the event of inclement weather. One disadvantage is building down opens you to potential issues with keeping construction on schedule. Weather can be one of the biggest impacts because if there is a lot of rain or the ground is frozen, it can be hard for the builders to get started.
Building out: Single-story homes allow more options for skylights and ceiling heights. Another bonus is that there won't be any extra noise from the stairs and second story traffic. But, building outwards does increase the footprint of the home, meaning it will require more excavation work in the yard. Maneuvering around power lines and sewer lines could add to the cost of the build as well.
What are the different types of home foundations?
The three most common types of home foundations are slab, crawlspace, and basement.
Slab foundations: These require the least amount of prep work and has a simple installation process. They are low cost and low maintenance, but they offer minimal protection to your home in bad weather events.
Crawlspace foundations: Homes that have crawlspace foundations are elevated a few feet above the ground. These cost less than basement foundations, but they take about the same amount of time to build as basement foundations do.
Basement foundations: These are a cheaper way to add more square footage to your home. They also offer storm protection and easy access for repairs. Though it is the most expensive type of foundation, the square footage you gain from it is most likely the least expensive square footage in your home.
Each home foundation works well for different home types, but ultimately, it's up to you to decide which foundation works best for you.
What goes into the estimate for building a new home?
Interior features, mechanical components, and exterior features are included in the estimate of a new home. No matter what builder you choose, make sure your estimate is detailed and specific. Communicate your wants & needs to your builder as clearly as possible so that nothing is missed. For example, some new construction contracts may not include decks or high-end patios, so it's important to communicate any extras as early as possible.
You'll also want to make sure that the features & finishes YOU want are budgeted into the estimate, not just the basic materials or builder's grade finishes that may not be the highest quality.
How does construction financing work for a new home?
There are three new home financing scenarios:
– You want to build on a lot owned by the homebuilder
– You want to build on your own land
– You want to build on a lot you'd like to purchase
Your construction financing may differ depending on who owns the deed to the land. Some homebuilders may offer internal financing or partner with lenders to offer special financing.
What is a "straight cost" in home building?
A straight cost offer removes the headaches and extra time you would spend on researching pricing structures. There's no guessing, estimations, or pricing adjustments halfway through the building process. This means that after you have chosen your customizations, gotten your estimate, and signed off on it, there won't be any upcharges or surprise costs.
What costs are out-of-pocket during home construction?
Typically, you would expect to pay for the land, the architectural plans, the down payment, and the interest payments during construction. These costs would all be considered out-of-pocket costs. However, some builders offer fixed costs (or straight costs) that allow you to know the cost of your home from the beginning of the process, and that cost won't change.
What types of loans are available for new construction homes?
There are two types of new home construction loans: construction-to-permanent and construction-only.
Construction-to-permanent loans cover the construction cost on your home in phases while it's being built. Construction loan terms are short-term (generally a 1-year maximum). The lender who approves your financing will pay your builder in installments during each phase of your construction process. These payments are called "draws." Typically, the lender will perform inspections on the progress of the home until it's finished. Then, the construction-to-permanent loan rolls over into what will be the buyer's mortgage.
A construction-only loan will cover the construction of your home in full, upfront. The borrower pays the closing costs, and when construction is finalized, the construction debt becomes your mortgage, which is considered a second loan, for which you pay closing costs a second time. These types of loans are best for people who have large cash reserves or those who want to shop for permanent lending options while their home is being built.
Regardless of how you build your home, there's a new home construction loan within your reach.
What about taxes?
When you receive your property tax bill, it is for the assessed value of your home in the previous year. This is because they are assessed every year and then due the following year. Depending on what time of year your new home is completed, you may not pay property taxes on the value of the home for a year (or longer).
There are property tax deductions (like homestead deductions and mortgage deductions) that can minimize the amount of taxes you pay on your new home. Learn more about those deductions & where to apply for them in this guide to property taxes & your new home.
Do I need homeowners insurance while my home is being built?
You should talk to an insurance agent before your construction plans are set in stone. This ensures that the location or details of your home don't cause a problem with insurance. For example, building in a flood zone may come with higher premiums. If you have the opportunity to find a different location before you're stuck with higher insurance costs, it can save you in the long run.
Unoccupied property poses risks for different problems than occupied property does. This is why coverage is important: it will protect your property before it's occupied. Learn more about homeowner's insurance and builder's risk insurance in this guide.
How do you pick a homebuilder?
When starting the search for a homebuilder, determining your top priorities for your new home can help you narrow down the builders that might be the best fit. Write down your must-haves and non-negotiables. From there, ask your friends & family for recommendations on homebuilders in the area.
Once you've compiled a list, do your own research and check out their websites. Look for customer feedback, warranty information, service guarantees, and floor plans that interest you. This should help you narrow down your top contenders. Reach out to them for more information on where they build, what their time frames are, if there are any additional fees associated with building, & what their process is moving forward.
However, there are some red flags to keep an eye out for during your search. Some of
these are:
– Their work history is unclear
– They lack a connection to the community you live in
– Unusually large initial down payments
– High-pressure sales tactics
– A lack of knowledge or care for the proper permits
– Your quote is substantially lower than the competitors
What should you expect during your first meeting with a homebuilder?
The main goal of the first meeting with a homebuilder should be to establish what you want. In the case that you already have a floor plan drawn or picked out, you might be able to jump right into nailing down details like finishes, materials, and costs. If you don't have a floor plan picked out, don't worry. Your builder will use the first meeting to get to know your preferences on size, budget, and layouts.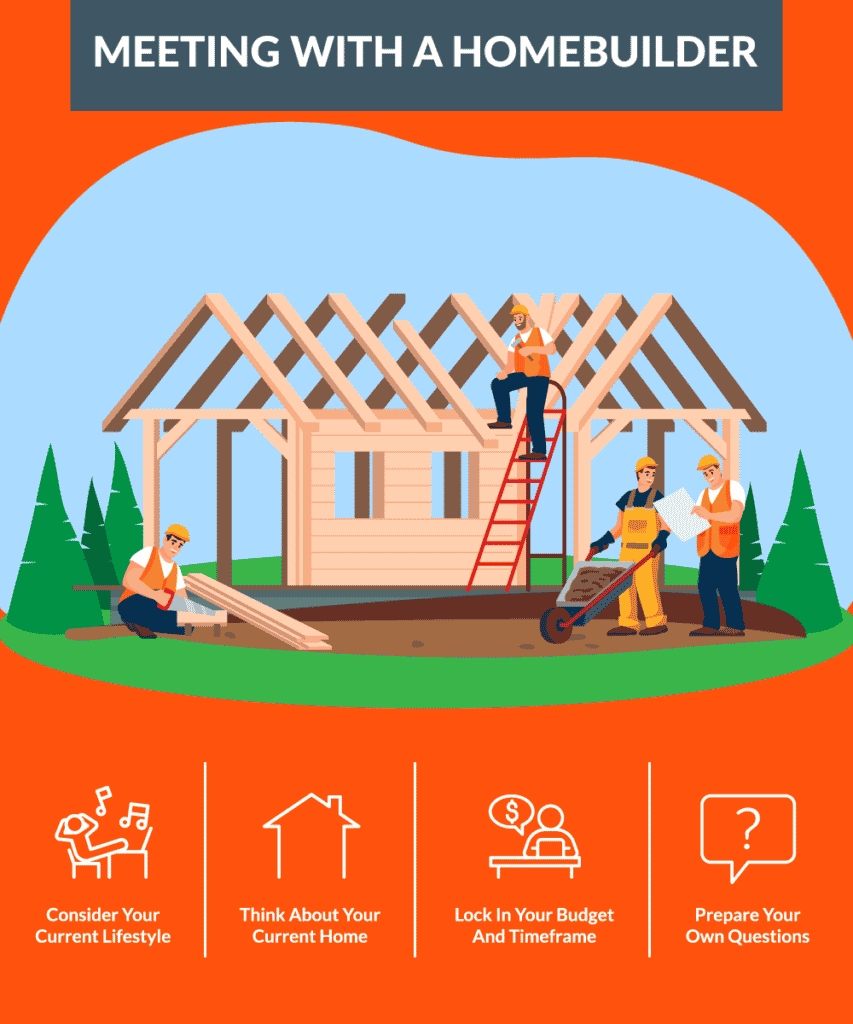 Here are some ways to help you prepare for your first meeting:
Consider your lifestyle: Do you work from home? Are you an entertainer, a chef, or a homebody? Think about the life you lead and want, and identify the rooms that are most important to you and your family! Be sure to prioritize them in your plans.
Think about your home today: More specifically, identify the parts of your current and past homes that you absolutely loved — and, more importantly, hated. Note these items and make a wish list of the home features you've always wanted!
Lock in your budget & timeframe: Two of the biggest variables in any build are time and money. Knowing the budget and timeframe you're comfortable working in sets constructive parameters on all future conversations.
Prepare to ask your own questions: Don't be afraid to ask questions about everything and anything. The key to a successful home building experience is regular, open, and honest communication.
What's the difference between a custom home & a semi-custom home?
Building a completely custom home is a detail-oriented process. When you choose to build a custom home, you're responsible for choosing every single detail about the home – from the number of bedrooms to the color of the doorknobs. Custom homes are ideal for people who have a vision of exactly what they want their home to be.
When you choose to build a semi-custom home, you start with a floor plan of your choice, and all of the other customization choices are yours from there. Semi-custom home building typically happens like this:
– Your homebuilder has a library of designs they're familiar with and can economically source materials for.
– You select a plan that meets your expectations and fits your family's needs.
– You work with your homebuilder to customize the home's selections, materials, and finishes.
If you have some ideas about what you want your home to look like, a semi-custom home might be right for you. Often, floor plans for semi-custom homes include bonus rooms that can serve many different purposes throughout the life of the home. This makes the house plans attractive and adaptable for many different lifestyles.
Regardless of whether you decide to build custom or semi-custom, you can still personalize your new home to make it your dream home.
What's a punch list?
Essentially, a construction punch list is the final to-do list for the homebuilder. Toward the end of the construction process, your contractor will walk through your new home and note anything that still needs to be completed or fixed. These can be things like missing hardware on cabinets or light switches not working.
Punch lists are important because they ensure that everything gets completed and ensure that all design aspects are correct. When nearing the completion of construction, it can be easy for small items to get overlooked. Catching incorrect installations or defects before the builders are done will allow them to correct those items and check them off the construction punch list simultaneously.
How can I keep up with the progress of construction?
Every homebuilder will have their own way of communicating with you during the build. Some might make it a point to update you when updates are available, while others might use a program like Buildertrend that allows you to view your new home in real-time at any time.
How do I maintain the energy efficiency of my new home?
Home efficiency is about keeping cold air out and hot air in (and vice versa). The construction process is crucial in maximizing the energy efficiency of your home. Ask your builder about the construction materials & processes they use to build energy-efficient homes.
Avoiding phantom energy is one way to keep your energy bills low. The energy drawn by electronics that are powered off and still plugged in, known as phantom energy, can be a cause of higher energy bills. Think about it like this: If you have multiple televisions, battery chargers, and DVD players that are powered off and plugged in for most of the day, that can add up to a lot of phantom power usage.
It's crucial to make sure that your heating and cooling systems are in great shape because they make up about 35%-40% of a home's energy use. Make sure you replace the filters regularly so that your systems aren't working harder than they need to. Remember, an energy-efficient home is a more cost-effective home.
Next Steps
If you're ready to get started on your new home, contact Reinbrecht Homes today. We'll help you every step of the way.